SprayWorks Equipment Group Details Development of Barrel Blazer Heater System
SprayWorks Equipment Group Details Development of Barrel Blazer Heater System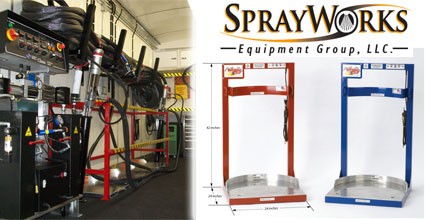 HARTVILLE, OH – October 24, 2012 – For years, spray foam contractors have struggled through the cold months trying to find effective ways to keep their materials warm enough to process by heating their shops, using makeshift heated storage units, and by using heat wrap devices. The professionals at SprayWorks Equipment Group have come up with a cost-effective solution, the patent pending Barrel Blazer® drum heater.
Jim Davidson is the Owner of SprayWorks who inspired the Barrel Blazer. According to Dave Penta, Vice President of Sales, one of the most challenging things that has plagued the industry is how to keep the materials warm enough to process.
"Over the years, you learn how to try to adapt," said Penta. "We would order materials and receive them cold from the manufacturers."
In the early 80's, Penta and Davidson built a heating box, which was kept between 75 and 80 degrees. Once loaded into the spray rigs and on-site, they didn't have many options to choose from when it came to maintaining temperatures in the drums.
"Sure, our rigs were insulated with spray foam and had heaters to try to maintain the environment, but that simply was not enough when it came to processing multiple sets of products," said Penta.
Penta said they would move drums in and out of the rigs utilizing tarps and heaters through the night only to show up to work the next day to find the heaters had kicked off the breakers and/or had simply burned out. Their only choice at that point was to buy another heater and wait hours before they were able to spray.
They also tried band heaters. "My first experience with one was when I put the first one on the drum and one of the guys on the crew moved a second drum into the rig, rolling it into place only to smash the rheostat to pieces," he said.
One of the main problems, according to Penta, was that they still had to get the drums warm enough to process from the bottom of the drums, where the pumps take up material. There were also tripped breakers due to insufficient job site power supply.
"We found the constant of banding and unbanding the drums day in and day out simply did not hold up," he said. "Once one fails, where do you get it repaired? Can it be repaired? And, if so, how long will it take and at what cost?"
The Barrel Blazer system resolves many of those problems because it is a serviceable unit designed to heat products from the bottom of the drum, where the pump takes up material. The unit's four-bolt hole pattern makes for quick and easy installation in a spray foam rig. Up to six heaters can run on a single 110v outlet. In addition, it adds support to hold the drums in place. Once installed, contractors can leave the units on overnight, go to work the next day, and be ready to spray.
"The Barrel Blazer is more than a drum heating device, it's a cost-effective piece of equipment that integrates itself and becomes a permanent key component within your system," said Penta. "It's simple to use and, best of all, all the heat is right where you need it most."
About SprayWorks Equipment Group LLC: With over 100 years of combined experience, the professionals at SprayWorks Equipment Group are industry leaders in spray foam equipment from PMC, custom spray foam rig manufacturing, and spray foam and polyurea training. Led by Jim Davidson, the inventor and manufacturer of the Spraybot® robotic spray foam application system and the Barrel Blazer® materials heating system, SprayWorks Group is your one-stop source for all of your spray foam and coatings application equipment and training needs. We deliver dependable equipment and services nationwide. For more information about SprayWorks Equipment Group LLC, please use the contact details and links provided below.
Contact Details
Name: Dave Penta
Email: Email Us
Phone No: (855) 852-6222
---
Disqus website name not provided.
SprayWorks Equipment Group Details Development of Barrel Blazer Heater System