Spray Foam's Big Role on a TV Hunting Show
Spray Foam's Big Role on a TV Hunting Show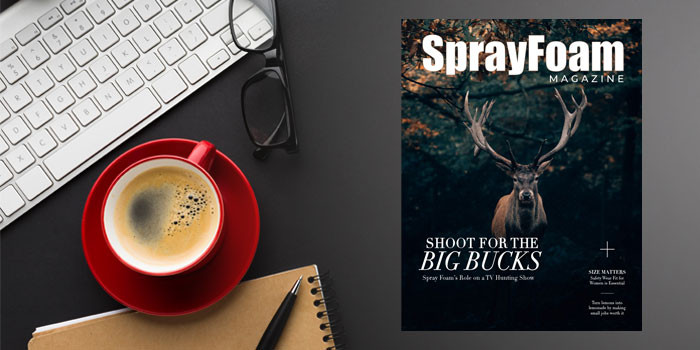 JUPITER, FL – March 30, 2020 – Let's go hunting! In the Spring 2020 issue of Spray Foam Magazine, we travel to Pennsylvania where a local contractor landed the dream job to foam a shooting shack for The Sportsman Channel hit TV show, The Bearded Buck. Coming out of the woods and into the serious matter of safety wear, we investigate how a nonprofit is helping shine a light on proper fitting wear and equipment for women in construction.
We also investigate Fire and Safety Codes and why there should be no room for individual interpretation of test results for thermal barriers for spray foam. Then quickly moving out of the fire we investigate living concrete and ask the scientist who helped discover the material, how it will potentially help the construction industry in the future.
Having small jobs may feel like a painful necessity but what if there was a method to change these smaller jobs into big business? We help find the solution.
Spray Foam Magazine's digital issue is now available online for free and on mobile devices through the award-winning Spray Foam Magazine App.

About Spray Foam Magazine:

Spray Foam Magazine is targeted to a global audience of building construction professionals and energy-conscious readers. It is distributed bi-monthly to applicators, manufacturers, distributors, specifiers, general contractors, architects, engineers, and managers in both the public and private sectors. For more information or free instant access, please use the links provided below.
Contact Details
Name:
Email: Email Us
Phone No: 561-356-5572
---
Disqus website name not provided.
Spray Foam's Big Role on a TV Hunting Show