Spray Foam Systems ProPak 300i Spray Foam Rig Is Put To The Test
Spray Foam Systems ProPak 300i Spray Foam Rig Is Put To The Test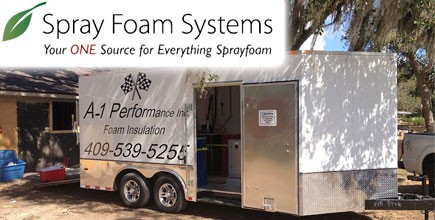 GREENSBORO, GA – October 29, 2012 – When Sam Edwards, Owner of A-1 Performance Insulation, Inc. (A-1), wanted to purchase the right rig for his new spray foam business, he turned to Spray Foam Systems LLC (SFS) for guidance.
Edwards, who also owns a heating and air conditioning company called Islander by Choice Heat-N-Air, is now expanding his business to include spray foam. More and more people involved in the heating and air conditioning industry are seeking spray foam as a supplemental business, according to SFS General Manager T.J. Peters.
"We see a lot of guys getting into the foam business," he said. "When you put foam in a house, you have to change the way the heating and air is put in too. A-1 can offer a complete package for a homeowner or builder by making sure the building science is correct in the structure."
When he needed to purchase his first spray foam rig, Edwards contacted SFS after he had researched several different suppliers online and came across their growing online store website. "T.J. filled me in on the new technology with the ProPak 300i and we made the decision that we wanted to be ahead of the curve and went with it," he said. "He had all the right answers, so I focused more on their company and went with him."
Edwards decided to purchase the tag-along version of SFS's new rig, the ProPak 300i, which comes with the new Graco Reactor® E-30i. Customers are given one free set of material on the rig if they make their purchase by the end of 2012.
Edwards is pleased with the rig's new features. "I like its simplicity, the user-friendliness of the way it's controlled and the way it's configured in the trailer. The computer controls are great," he said. The new system allows the owner to enter recipes, monitor and track jobs, download data, and access onscreen trouble-shooting if there is an issue. Peters adds, "The technology is really what makes the unit stand apart compared to others. They upgraded control with an advanced display module, which really makes it extremely simple to spray foam."
It was also necessary that A-1 was able to access their spray foam equipment easily because they often have projects at high-rise buildings at beach resorts and need to get the equipment onto the roof. Peters said that accessibility was a major factor when designing the rig. "When we designed the rig, we put barn doors on the side, not in the back," said Peters. "It's mounted on a pallet, so you can take it out of the rig through the barn doors and re-locate it to get jobs done simply. It's a versatile unit that can really get anywhere and still do very efficient work."
A two-day training course was provided with the purchase of the rig, so before taking on their first project, Edwards and his crewmembers attended training at SFS's Greensboro facilities (training can also be provided on the job).
A-1 wasted no time employing its new gear. "We've got it on the field right now, working today," Edwards said. The company is currently using the ProPak 300i at a residential retro remodel project in Brazoria, Texas where they are spraying the building envelope. A-1 is applying 3.5 in. of Gaco Western 0.5 lb. open-cell spray foam in the walls and 5.5 in. to the roof deck. The total spray area is 5,700 sq. ft.
If asked by his peers, Edwards said he would recommend the ProPak 300i. "You're going to make your money back in less maintenance and less time spent setting up. We can pull the trailer up, unload the hose, crank it up and start spraying within 15 minutes," he said. "It saves us a lot of time and money that we could spend elsewhere."
About Spray Foam Systems LLC: Russell Weaver formed Spray Foam Systems in 2000 in Mesa, Arizona. A business formed to make "the business" of spraying foam insulation and applying foam roofing more affordable to contractors. Russ's innovations with Froth Foams and DIY Packages mingled with his extensive sales background and magnetic personality formed the customer and vendor base. Today, Spray Foam Systems continues to operate as a full service provider for all types of spray foams and equipment. They are an authorized distributor of Graco products and stock a full line of reactors and parts. For more information about Spray Foam Systems LLC, please use the contact details and links provided below.
About A-1 Performance Insulation, Inc.: A-1 Performance Insulation professionals will customize an open or closed-cell foam insulation plan for your existing attic, metal building, or new construction project. The company is locally owned and operated. A-1 offers both an environmentally and economically responsible solution for your insulation needs. Cut your energy bills and also help reduce dependency on foreign oil. For more information about A-1 Performance Insulation, Inc., please call (409) 539-5255.
Contact Details
Name: T.J. Peters
Email: Email Us
Phone No: (855) 898-8928
---
Disqus website name not provided.
Spray Foam Systems ProPak 300i Spray Foam Rig Is Put To The Test