Spray Foam Scores a Touchdown At Notre Dame Stadium
Spray Foam Scores a Touchdown At Notre Dame Stadium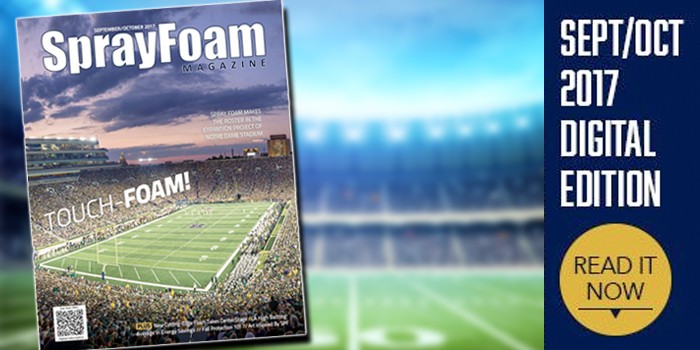 JUPITER, FL – August 29, 2017 – As the best insulating material on the planet, spray polyurethane foam knows no limits in terms of the type of structures it can safeguard. Whether it's a factory, a wine tank, or a spacecraft, spray foam's properties yield equal energy-efficient and structural integrity benefits to each structure that are second-to-none. The September/October 2017 issue of Spray Foam Magazine highlights another unique and historic structure: Notre Dame Stadium. Learn about how spray foam was installed behind the end zones of one of the most renowned college football stadium in the United States. A great read just before college football season gets underway!
Get the scoop on Spray Foam Magazine's digital issue – now available online for free and on mobile devices through the award-winning Spray Foam Magazine App. The print version of the issue will be mailed to subscribers in early September.
The issue also features the latest spray foam technology in the market and how it performed in the field; we inform you about ways to ensure energy code compliance based on updated codes; and we also show you how spray foam inspired comic art.
"We wanted to capture spray foam's versatility in this one," says Managing Editor Juan Sagarbarria. "I think the fact that we can discuss spray foam in the same breath as football, technology, and art, speaks volumes about the reach of this cutting-edge material."
Click Above to Read the Latest Issue
Highlights from the September/October 2017 Issue
Touch-FOAM!
Batting Thousands... In Energy Savings
New Beginnings in a Timeless Town
Energy Code Compliance at a Glance
Durable Patented Polyurea Liner Creates New Markets
How Not to Fall Down on the Job
R-tistic Value
About Spray Foam Magazine:
Spray Foam Magazine
is targeted to a global audience of building construction professionals and energy-conscious readers. It is distributed bi- monthly to applicators, manufacturers, distributors, specifiers, general contractors, architects, engineers, and managers in both the public and private sectors. For more information, or free instant access, please use the links provided below.
Contact Details
Name: Juan Sagarbarria
Email: Email Us
Phone No: (561) 768-9793
---
Disqus website name not provided.
Spray Foam Scores a Touchdown At Notre Dame Stadium