Rhino Linings Announces Year End Promotion
Rhino Linings Announces Year End Promotion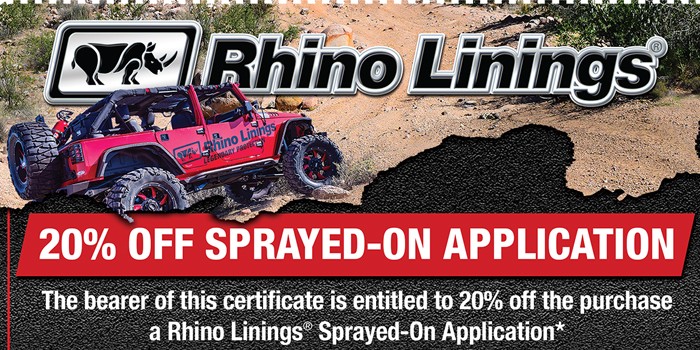 SAN DIEGO, CA – December 19, 2017 – Rhino Linings Corporation, a recognized innovator in the protective coatings industry, best known for its sprayed-on truck bed liners, announced their year-end coupon – 20% off of all sprayed on applications. This coupon is available to all consumers, and will be honored at participating Rhino Linings dealerships within the United States and Canada.
Rhino Linings is dedicated to continued engagement with its consumers. This promotion is intended to capture potential new prospects for the holiday season. "For almost 30 years, Rhino Linings has proved to be the trusted sprayed on bedliner, and we'd like to offer a token of gratitude to our fans – a coupon, so that everyone can 'put a Rhino' under their tree. Our sprayed on applications can be used on trucks, Jeeps, ATVS, cars or accessories," said Pierre Gagnon, president and CEO of Rhino Linings Corporation.
To obtain the discount, the coupon needs to be printed and brought to a participating Rhino Linings dealer within the United States and Canada, and is open to US and Canadian residents 18 years of age or older. The promotion ends December 29, 2017.
RELATED Ultimate Linings Introduces New Polyurethane Spray Foam Product Line, LiftThane™ , Graco Launches Ultra® and Ultra® MAX Professional Airless Handheld Sprayers, VersaFlex Announces Polyurea Training Programs for November

About Rhino Linings Corporation
Rhino Linings Corporation, established in 1988 and headquartered in San Diego, California, is a privately-held corporation and world leader in protective coatings and linings. Products manufactured and distributed by Rhino Linings Corporation include polyurethane, polyaspartic and epoxy coatings, concrete coatings, spray foam insulation and sealants, and interior and exterior stucco. Rhino Linings Corporation has a global retail and industrial applicator network consisting of more than 2,000 independently owned and operated businesses in almost 80 countries.
Contact Details
Name: Rhino Linings Corporation
Email: Email Us
Phone No: 858-450-0441
---
Disqus website name not provided.
Rhino Linings Announces Year End Promotion