Regional Ohio Training and Technical Center Makes Healthier Indoor Air Quality a Priority with SPF
Regional Ohio Training and Technical Center Makes Healthier Indoor Air Quality a Priority with SPF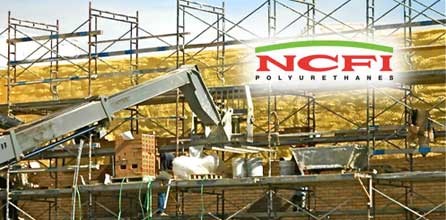 MOUNT AIRY, NC - April 5, 2012 - The Vanguard-Sentinel Career and Technical Center serves Fremont, Ohio, Sandusky County, and the extended region between Toledo and Cleveland, with vocational education and training. The school has a reputation for the highest quality career education as a state School of Character in 2009, and 2010, National School of Character 2010, and now the school will boast some of he cleanest air in the nation and save money doing it.
Thanks to InsulBloc, a unique spray-applied insulation by U.S. company NCFI Polyurethanes that works as an air and water barrier, the new 20,000+ sq. feet building will carry the certification of the American Air Barrier Association (ABAA), an organization that provides codes, standards, and test methods for products, assemblies, and applications of air barriers—control the unintended movement of air into and out of a building enclosure.
Air barrier systems "wrap" the building shell and protect the building from the effects of air leakage and air transfer. When conditioned air leaks out of a building and unconditioned air leaks into a building we must then use additional energy to then condition this air. According to the ABAA, air leakage can increase energy costs 30-40 percent in heating climates and 10-15 percent in cooling climates.
"Great air barriers also provide protection against pollutants entering the building or the building enclosure," said Dave Fritzinger, President of Energy Shield, the Pontiac, MI company that applied the air barrier insulation to Vanguard-Sentinel. "Water vapor, suspended particulates, dust, insects, and smells are all pollutants we want to keep out. Water vapors leak into building enclosures and can condensate and forms liquid water—a key ingredient to the growth of mold and, subsequently, mold spores. Older schools and public buildings without products like InsulBloc are spending millions remediating mold problems. Newer building methods for high-performance buildings—buildings that save money, improve health of occupants, and are sustainable, require air and water barriers and smart architect firms like Fanning Howey (Vanguard-Sentinel designer), and builders like Cold Harbor Building (Vanguard-Sentinel general contractor), are out front championing high-performance."
Energy Shield has been providing insulation and air barriers for 38 years, and is certified by the ABAA. Fritzinger says the building and insulation application process is tested at the 5 percent, 50 percent, and 95 percent stages the degree of coverage are within the ABAA's standards. "We test daily for density, adhesion, and thickness of the InsulBloc application. It's an exacting process and while it's a good deal of extra work, it keeps our foam mechanics and the work we do to the highest standards and that's important in school construction," Fritzinger said.
According to Fritzinger, Energy Shield has been working with InsulBloc and NCFI for 25 years. "We trust their products and people. They've been doing it since the 1960s. They offer consistent quality—zero quality control problems—unparalleled support and the decades of experience many other foam suppliers just plain can't. Plus, they were one of the first to be certified by the ABAA and that means InsulBloc meets or exceeds the standards for air quality all schools and public buildings need," he said.
Mitch Clifton, Director of Business Development for NCFI, said, "Energy Shield and the Vanguard-Sentinel school are great examples of better, more responsible building in the U.S. We appreciate the chance to work with them, and we're proud InsulBloc is helping schools like Vanguard-Sentinel save money on energy costs and providing better, healthier air quality for their students and educators. It's why we're in business."
ABOUT NCFI
NCFI, headquartered in Mt. Airy, NC since 1964, manufactures polyurethane foam chemical systems for spray foam-in-place insulation (SPF), roofing, marine floatation, packaging, specialty molding, and many other uses. The company also offers a complete line of flexible foams for furniture seating, transportation seating, bedding, carpet underlay, and packaging. NCFI also has manufacturing plants in Hickory, N.C., Dalton, GA., and Salt Lake City, UT. To learn more about NCFI please visit the links listed below.
Contact Details
Name: Dale McGlothlin
Email: Email Us
Phone No: 855-852-7111
---
Disqus website name not provided.
Regional Ohio Training and Technical Center Makes Healthier Indoor Air Quality a Priority with SPF