Spray Foam Distributors of New England Partners With Bayer for Applicator Instruction Program
Spray Foam Distributors of New England Partners With Bayer for Applicator Instruction Program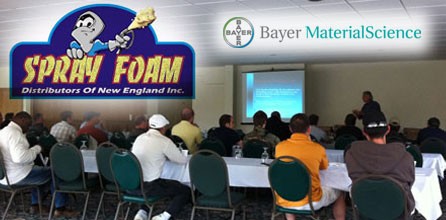 WOODSTOCK, NH - April 9, 2012 - It's Springtime for Bayer MaterialScience's Spray Polyurethane Foam Applicator Program (AIP), with two programs on the 2012 agenda being held this month. The programs are designed as informational sessions with integrated hands-on learning experiences.
"There was really a need for it in the industry to do these programs to make sure that we can bring to the forefront health and safety information and proper application," said Bayer's Martha Vandamme, who organizes the AIP.
The forthcoming program, focused on wall insulation applications, will be hosted in partnership with Spray Foam Distributors of New England (SFDNE) at their facility in Woodstock, New Hampshire. The second April program will be held from April 17-19 in Phoenix, Arizona. Although Bayer started the AIP in 2011, supplementing customer knowledge is nothing new to either company.
"We've always stressed the importance of training and have always provided training to our customers," said George Spanos, owner of SFDNE. "It's easy to sell foam, but it's difficult to give support and really try and make sure everyone's doing the right thing."
The key to the AIP is that not only are applicators getting a broad education in current industry practices, but they're also being accredited as Bayer applicators.
"It's a good fit, being with a name like Bayer that everybody knows, it makes everyone feel comfortable," Spanos said. "We partner with them because we really like the quality and consistency of their products. They are by far the leader in the industry."
The program delves into health and safety, building science, chemistry, equipment, spray techniques, and troubleshooting, as well as Bayer's product line.
"We'll heat up a substrate or even freeze a substrate to show what it's like when your application is not at the right temperature," said Vandamme, giving one example of AIP's hands-on experiences. Spanos echoed the thoroughness of the AIP, "these classes are much more hands-on than what is offered by SPFA."
AIP classes cost $500 to attend and are limited to 15 attendees. Upon attending the full 3-day program and attaining a score of 70% or higher on AIP's 50-question test, participants will receive a certificate denoting their accreditation. Before being able to sign up for the program, participants must meet the following prerequisites:
1. Completion on CPI Safety and Health on-line training at www.spraypolyurethane.org
2. Completion of Bayer MaterialScience Applicator Fundamental Program at www.spf.bayermaterialscience.com
3. Company must have a safety and respirator program that complies with OSHA requirements.
When all is said and done, AIP has earned nothing but praised from attendees of all skill levels within the industry.
"We get a good response all the time from every program, everyone from new applicators to seasoned people in the business," said Spanos. "They make comments like, 'I've been doing this for ten years, but I still learn something new.'"
Spanos summarized, "It's really for people who want to get up to date with the current thinking, because the industry is always changing."
For more information about AIP, please use the links provided below.
About Spray Foam Distributors of New England: SFDNE is the largest distributor of Bayer products in the Northeast. They are official authorized distributors of Bayseal Spray Foam insulation and Roofing Materials from Bayer MaterialScience. They are also the largest and most qualified distributors of Graco spray foam and coatings application equipment in the Northeast. Located in Woodstock, New Hampshire, SFDNE actively services all of the New England states from New Hampshire to Massachusetts, Connecticut, New York, New Jersey, Rhode Island, Vermont, and Maine. For more information on SFDNE, please use the links provided below.
About Bayer MaterialScience LLC: Bayer MaterialScience LLC is one of the leading producers of polymers and high-performance plastics in North America and is part of the global Bayer MaterialScience business with approximately 14,700 employees at 30 production sites around the world and 2010 sales of 10.2 billion euros. The company manufactures high-tech polymer materials and develops innovative solutions for products used in many areas of daily life. for more information, please use the links provided below.
Contact Details
Name: George Spanos
Email: Email Us
Phone No: (603) 348-8880
Disqus website name not provided.
Spray Foam Distributors of New England Partners With Bayer for Applicator Instruction Program