A Call of Duty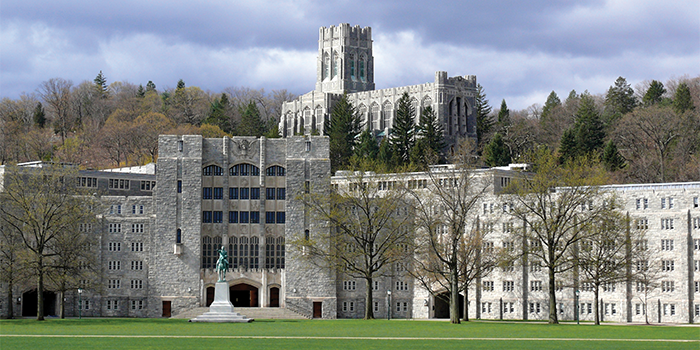 Spray Foam Magazine – Halfway between Syracuse and Albany and just south of Utica is the small town of West Winfield, New York. This is the location of Upstate Spray Foam Insulation, co-owned by Billy Gibson and Jesse Christian. The company specializes in all types of insulation for homes and businesses. Company projects can range from small crawlspaces to multi-year projects, such as the one they're working on at West Point, America's oldest Military Academy.
Upstate can be seen traveling to all parts of New York State, from state line to state line. They even contract and travel into northern Pennsylvania, as well as Western New England areas.
The company's roots go back to 2004. However, in 2021 as long-time employees; Billy and Jesse bought out Jesse's father (Jamie) and have begun to build off from the company's past. Billy explains, "We went from being employees to owners and we are looking to keep things growing. Right now we run up to eight crews daily and we keep six spray foam rigs busy." The company does all types of commercial and residential work, and now employs up to 30 people.
Billy started in the field with the company back in 2007 and Jesse has worked with the company in some capacity since he was 12 years old. "Jesse and I have worked together for over 15 years now, and we've got a pretty good relationship. There's nobody better than him in terms of applicator talent, he's a master installer. We feel he is the best there is as far as spray foam goes."
As of writing, the Upstate Spray Foam Insulation team is working on the Lee and Sherman Barracks. In order to work on any of these West Point projects, the crew needs to get background checks and special clearance.
The company makes every effort to keep up with today's latest innovations in the building industry for both residential and commercial markets. The company is an accredited contractor with the Building Performance Institute (BPI). This organization sets strict guidelines for insulating residential homes. It's important for an insulation business to carry this accreditation. Any "contractor" can insulate a home but if you want to ensure that it's done right, you want one with the BPI accreditation.
Upstate has installed closed-cell foam to the walls and rooflines of several barracks throughout the West Point campus during the years long renovation projects.
Upstate also maintains accreditation on the commercial contracting side. They are accredited with the Spray Polyurethane Foam Alliance (SPFA), Insulation Contractors Association of America (ICAA), and Air Barrier Association of America (ABAA). These organizations have been established for the betterment of the industry and are well respected organizations. Being associated and accredited by them helps Upstate maintain their high level of quality workmanship among its staff and up to date with the latest news and products.
West point, established in 1802 by Thomas Jefferson, the United States Military Academy, also known as West Point, is strategically built on the banks of the Hudson River next to a 90 degree bend. Before the establishment of the Academy, the location was advantageous to the Continental Army who established a fort on the site. An elevated area of land 500 feet above sea level proved a strategic position for Fort Putnam. The position of the fort enabled the Continental Army to prevent British Naval ships from sailing north on the Hudson and dividing the Colonies. To this day it is the oldest continuously operating post in the U.S., 50 miles north of New York City.
For over two hundred years, the U.S. Military Academy has graduated leaders of character, including some of America's most notable leaders. There's a familiar saying uttered by alumni, "Much of the history we teach has been made by those we have taught."
Presidents Grant (18th President - Class of 1843) and Eisenhower (35th President - Class of 1915) both attended West Point as did General George Patton and General Douglas MacArthur.
In 2013, Upstate Spray Foam Insulation became involved with a very unique project. As Billy explains, "We had gotten a contract through a company called J Kokolakis Contracting down in Florida. They're a general contracting firm that was doing work at West Point, and because we were doing work for them on a different project, they asked us to put in some pricing on the barracks. The next thing you know, we're down there, and since then we've never left."
One thing led to another, "Eventually another contracting firm started winning work at West Point, and then they called on us as well. So, it's just been a good run down there. Unofficially, we've been pretty much the exclusive spray foam contractor at the academy for quite some time now."
Billy goes through the list of all the buildings Upstate has done spray foam insulation for, "Just about every year they do a barracks renovation. We've gone through Scott Barracks, MacArthur Long Barracks, MacArthur Short Barracks, Grant Barracks, Pershing Barracks, Eisenhower Barracks, Building 620 Barracks, West Point Chiller Plant, the West Point Elementary School and the West Point Visitors Center. We're currently at Lee and Sherman Barracks. Looking forward, we have contracts at Cullum Hall and the Cyber Engineering and Academic Center, that's all under construction."
Special clearances from West Point are needed with each project. "All of our guys get background checks before they are even allowed on site. Then there's usually three gates of access where you have to get trucks searched and in some cases, sniffed by dogs. It's high security to get to where we need to go every day." This was a little intimidating for Billy's crews at first, but they've adjusted.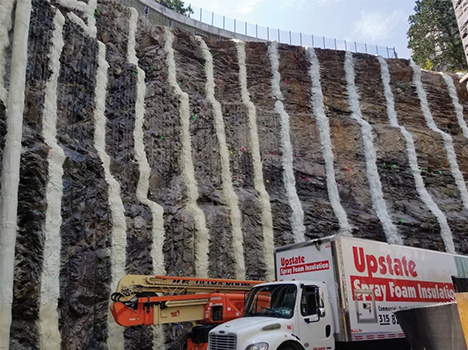 Spray Foam was used to insulate drainage ducts down the rock face. This type of terrain is common at West Point. Upstate was contracted to insulate the drainage ducts to prevent freeze up. An artificial rock was then sculpted over the existing ledge rock and drainage ducts to appear like natural stone.
Billy reflected on his time spent on the grounds. "It's beautiful. It's kind of tucked in right along the Hudson River and hard to get in and out of. It's not an easily accessible academy for the most part. It's got a unique spot right there along the river." He continues, "Every time I pull in there, it's eye opening. The amount of history that's there is something that can't be taken lightly. To see the academy, to walk the grounds is pretty special. It's pretty neat to be able to be a part of that and to think of all the history there, on the grounds where so many high ranking officials and world changing leaders got their start."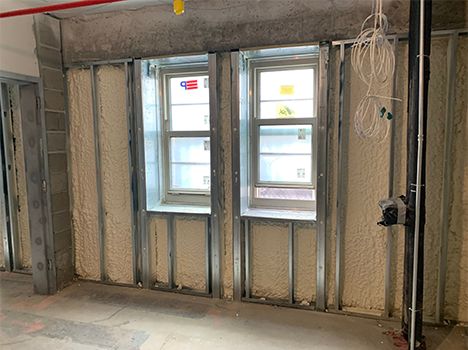 Spray foam installed to the interior walls of the West Point Elementary School building.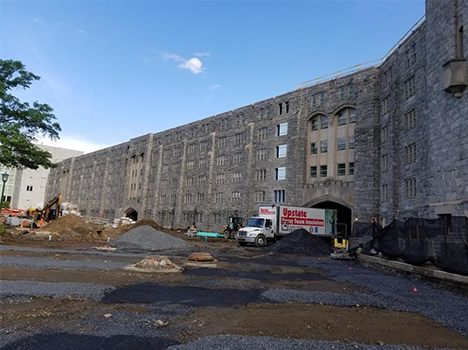 At times this has made working at West Point different from any other project Billy and his crews have worked on. "We do have to take some precautions, whether we're taking different access points to get in and out, they might have high security in certain areas. We have to work closely with the academy to make sure that we're not running our equipment and generators in an area that needs to be quiet for their classes, events, and things like that."
On rare occasions there have been times where the crews have had to completely shut down a project. "There were a couple times where dignitaries had shown up on the base to partake in some sort of festivity, and we're trying to do our work. For example, President Trump was making a visit to the academy, so the job site was shut down," Billy explains, "It becomes a point where everything is off limits, of course, they'll want to shut down the project, and we'll make sure everything looks presentable, the site is cleaned up. So when we're down there, we'll get a notice that we need to demobilize or shut down because the president is going to be flying in. That's not anything out of the ordinary for us."
Surprisingly, Upstate's relationship isn't with the school but with the Army Corps of Engineers and the general contractors. "Those are essentially our customers, the general contractor who was hired to do the work and do the renovation," Billy specifies. "Upstate's main goal has been to shore up the insulation and provide the moisture barrier. All of our work is inspected and approved by the US Army Corp of Engineers. One reason for the choice of spray foam is because of the masonry structures, and masonry being known to be cold/damp and NOT a very good condition for a permeable insulation. Spray foam is ideal because of its impermeability."
The project has been ongoing since they started in 2013. All the barracks and buildings have been going through a complete renovation. They've pretty much been working through the whole campus. Billy tells how it's progressed, "Each of them are individual projects, but yes, it's years long barracks renovation projects, doing one barrack at a time. They're all separate projects. So they're renovating the finishes, and as part of the project they're insulating the walls and various rooflines with spray foam. Typically each building takes about a year to complete for us but the project as a whole can last up to two years."
The depth of the spray ranges from two and a half to three inches depending on design. This also helps because the cavities are typically two-by-four inch depth so spray foam can meet a high R-value in that cavity rather than other types of insulation needing a larger cavity which forces the confines to get smaller inside.
Pershing Barracks
Pershing Barracks was originally constructed for academic purposes from 1891 to 1895. The building incorporates elements of Gothic, Tudor, and Romanesque styles, and is notable for its faux turrets, peaked sally ports, and a clock tower. The majority of West Point's buildings are constructed from gray and black granite. Today Pershing is home to 270 cadets and six officers and is one of the many buildings that Upstate was contracted to install spray foam throughout. The building will be much more efficient, as two pound closed-cell foam was applied to its walls, tightening up the masonry wall assemblies. Upstate also sprayed various rooflines with the same product.
Billy described the set-up process, "All of our equipment is truck mounted and the equipment that we use consists of Graco H25 proportioners and Graco ProConnect guns. Our equipment is powered by Morse Generators. The foam that we spray is supplied by Huntsman Building Solutions. We also use Thermal Foams out of Syracuse, New York for our air/vapor barrier membranes that are installed as part of the project." Billy notes that with the spray foam they use, "...there's a shorter re-entry period, so once we spray our foam in place, as long as there's some minimal ventilation in place, other trades can re-enter the building in a timely fashion." They also utilize No-Burn Protective coating for thermal barriers for polyurethane spray foam, and rated assemblies. Henry Blue Skin is the product of choice for the vapor barrier.
Another unique part of the project is that expanded metal lath may be used to enhance spray foam adhesion to the masonry structure which may be painted with old coatings that do impair the adhesion to the masonry. "While the metal lath is a nuisance and can be time consuming, it has been needed and does serve a purpose," adds Billy. The expanded metal lath is sourced locally.
"I say we have an emotional connection to the academy already with all the amount of years we've put in down there now. So we take it in high regard. You know, it is definitely a place that we're proud of. We have a bit of a legacy working there that we're proud of. It's spanned across many years now, and we're outlasting a lot of the people that are already there. We see changes in the US Army Corps of Engineers. We see changes in the inspectors. We see changes in the general contractors, but we've been a constant, and that's pretty cool to see."
Outside of work Billy makes time for his family and other interests. "I'm trying to get better at leadership, and I like to read, I like to try to learn and grow. If you're not growing, you're dying. I'm a big believer in that. But we've got a great staff so keeping them pleased is important. I've been married since 2010 to my wife Samantha and we have two kids and they're the reason for a lot of what I do. I enjoy spending time with family, working on our home and vacationing together of course."
For use by SprayFoamMagazine.com & Spray Foam Magazine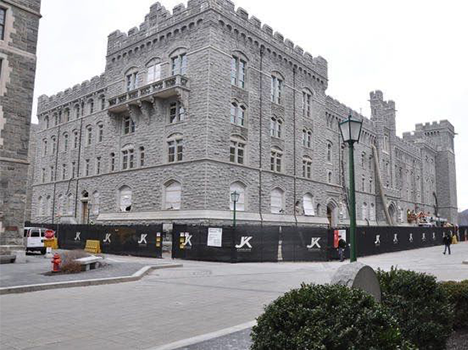 Pershing Barracks was originally constructed for academic purposes from 1891 to 1895. Spray foam was installed throughout the entire building to tighten up the masonry wall assemblies.

Disqus website name not provided.