Harnessing Comfort & Efficiency
Harnessing Comfort & Efficiency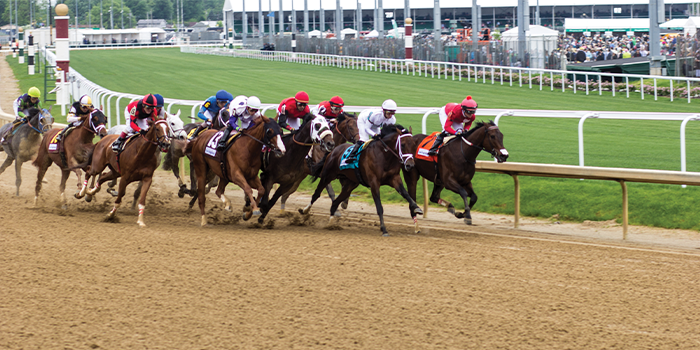 Spray Foam Magazine – When there is a strict deadline, there's no time for horseplay! Located in Louisville, KY, the Churchill Downs Racetrack (CDRT), is one of most well-known horse racetracks in the world. Famous for hosting The Kentucky Derby, the annual horse racing event held in the United States since 1875, this grand track is situated on a striking 175 acres. With a one-mile dirt track, a 7/8-mile turf track, a stabling area, saddling paddock, stable area barns lodging approximately 1,400 horses and providing seating for 60,000 guests, it's a truly impressive scene.
There have been major capital investments to create new and exciting guest experiences at the CDRT, all needing to be completed between 2022-2024. From the luxury Homestretch Club to the paddock area redesign (which needs to be ready for the Kentucky Derby in 2024), these projects are on a strict timeline. It should come as no surprise then that a quality material like spray polyurethane foam was involved with one of these projects
Spray-Tec is a commercial roofing and insulation company serving Kentucky, Indiana, and Ohio.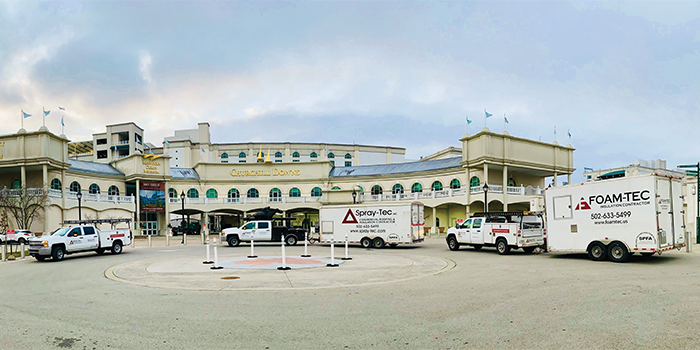 To meet construction deadlines, Spray-Tec mobilized two crews of three men each and two sets of equipment at one time.
They specialize in spray applied systems for commercial, industrial, and institutional buildings and have built up a trustworthy reputation over almost 35 years for delivering great work. When it came time for the architect of the CDRT project to investigate spray foam insulation, they turned to Spray-Tec. The Spray-Tec team has a great relationship with Churchill Downs and Calhoun Construction, the General Contractor on the project and after their bid was accepted by both, they were awarded the work.
The $45 million Homestretch Club project will enable ticketed guests in the Homestretch Club to have access to 18,600 sq.ft. of the new interior first-class hospitality space in the first-floor concourse area. This space will be transformed into a newly reimagined, high-end air-conditioned club atmosphere. It's here where guests can place a bet, indulge in the all-inclusive food and beverage offerings, and mingle with other guests. This premium hospitality space will feature a grand staircase and a 100 ft. feature bar, making it a sophisticated option for special events celebrated at Churchill Downs.
The area of the spray foam project is just under 10,000 sq.ft. The client wanted sound dampening between the floors of their luxury suites and required additional insulation to the interior, due to the unconditioned space below. The Spray-Tec crew sprayed the underside of the luxury suites from the ground floor.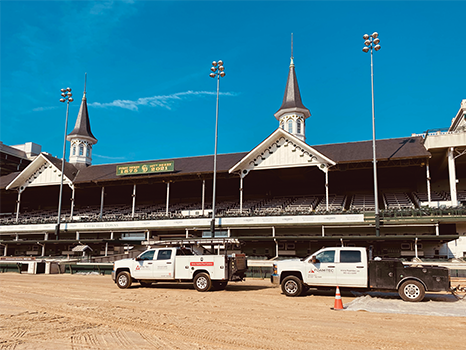 Doubling up on crews enabled the work to get done on time.
The metal pan under the concrete floor was brand new, so, after sweeping and blowing a minor amount of dust that was kicked up from construction traffic, the crew was able to get right to work.
Churchill Downs and the general contractor needed the work done quickly, so Spray-Tec mobilized two crews of three men each, and two sets of equipment at one time. GacoOnePass closed-cell foam was proposed in the spec and could be sprayed at the required two-and-a-half-inch depth in a single pass. After approximately nine-and-a-half sets of foam were applied, the crew proceeded to spray 16 wet mils of DC315 intumescent coating over the SPF.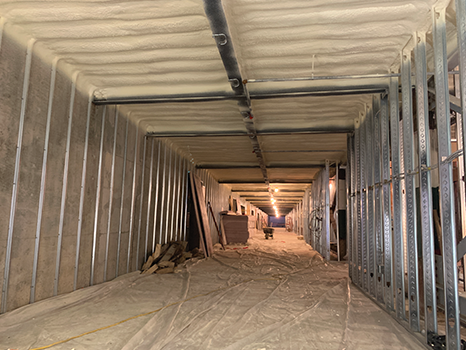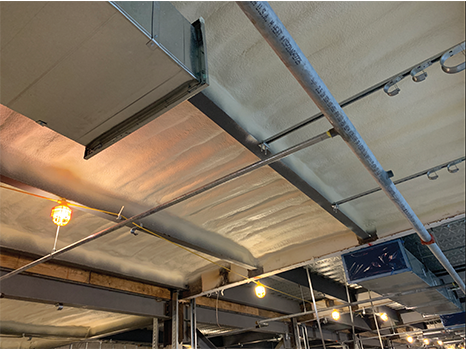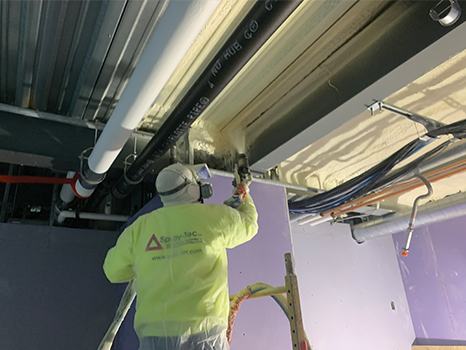 The Spray-Teccrew sprayedthe undersideof the luxurysuites for sounddampening.

Due to Spray-Tec's "doubling up" on crews, they were able to finish the job in five days. Both Churchill Downs and the general contractor were happy with the result and impressed that their strict time frame was met. Choosing a quality company like Spray-Tec was a stable decision and a sure bet the work will be of the highest quality.

For use by SprayFoamMagazine.com & Spray Foam Magazine

Disqus website name not provided.
Harnessing Comfort & Efficiency