NCFI Geotechnical Products Receive Certification
NCFI Geotechnical Products Receive Certification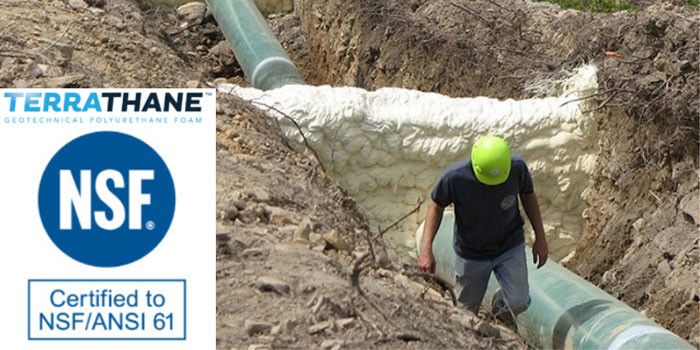 MOUNT AIRY, NC — October 25, 2019 — Three of NCFI's geotechnical polyurethane materials, TerraThane 24-003, 24-010, and 24-042, now carry the National Sanitation Foundation (NSF) and American National Standards Institute (ANSI) Standard 61 certification for safe use in and around drinking water and other water sources.
"NSF/ANSI 61 is the most widely recognized industry standard for protecting public health. It is required for many projects involving materials that come into contact with potable water," says Patrick Burchett, market manager for NCFI's Geotechnical Division. "Three of our most popular products now carry this certification, meaning they've been tested to meet safety standards for projects in and around water sources."
Burchett says, "The infrastructure rehabilitation market for seawalls, or levies, storm water conveyance systems, municipal water treatment, and other applications in fresh and seawater environments is immense. We're giving contractors who work on these projects the right certification, and the performance-tested products they need to get the job, and get the job done right."
Josh Burcaw, Geotechnical Division EVP, says NSF/ANSI 61 is the legally recognized national standard in the United States for the human health effects assessment of drinking water contact materials. "Our products are the choice of contractors in the US and Canada, and the new 61 certification gives them more power to bid and get jobs that require it. As you can imagine, when the stakes are as high as safe drinking water and environmentally sensitive environments like aquifers, bays, oceans, lakes, streams, and rivers, undertaking a testing process like this is time-consuming and costly. Materials must be scientifically superior, consistent, and safe. We made receiving this important certification a priority, so our contractors have an important competitive advantage." Burcaw says his division will continue adding certifications for products that bring added value for the contractor.
NSF is a global independent, non-for-profit, non-governmental accrediting organization devoted to research, education, and service. The organization is perhaps best known for its role in developing standards and criteria for equipment, products, and services that bear upon public human health and food safety.
ANSI is a private, not-for-profit organization dedicated to supporting the U.S. voluntary standards and conformity assessment system and strengthening its impact, both domestically and internationally.
ABOUT NCFI NCFI, was founded in 1964 and is headquartered in Mt. Airy, NC. The company manufactures polyurethane foam chemical systems for spray foam (SPF) insulation, geotechnical, agricultural, roofing, marine flotation, packaging, specialty molding, and many other uses. The company also offers a complete line of flexible foams for furniture seating, transportation seating, bedding, carpet underlay, and packaging. NCFI also has manufacturing plants in Dalton, GA., and Salt Lake City, UT. NCFI belongs to the Barnhardt Manufacturing Company, Inc. family of companies. To learn more about NCFI please visit www.NCFI.com
Contact Details
Name: Dale McGlothlin
Email: Email Us
Phone No: (202) 341-8615
---
Disqus website name not provided.
NCFI Geotechnical Products Receive Certification