Michigan Contractor Takes Quality on the Road
Michigan Contractor Takes Quality on the Road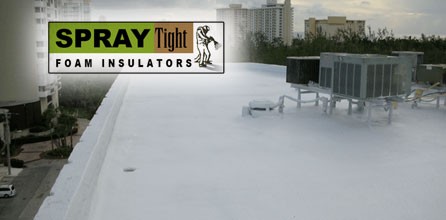 METAMORA, MI - January 5, 2012 - Eric Qualls is a jet-setter. He may be in Napa Valley one month and Mexico City the next, and last year you could have found him on-set of a film being shot in Michigan. No, Qualls isn't the next tabloid-gracing socialite. He's a spray foam contractor whose quality work has given him a professional following across the globe, and some quirky job proposals at that.
"Once you establish yourself, and follow through with top-notch work, word-of-mouth does the rest," said Qualls, founder and owner of Spray Tight, Inc. "Customers are willing to pay top dollar for top-notch work, and they're willing to recruit outside the local offerings."
Qualls was based out of Florida until re-locating to Metamora, Mich. in 2005. He continues to divide his time, living and working out of Florida during part of the year, and his scope of service naturally expanded as his reputation for quality grew.
Spray Tight typically makes trips for larger-scale jobs only. Qualls specializes particularly in commercial flat roofs, due to his long history with such projects in Florida. "In Florida, that's almost all we did. Not until Michigan did we start to see more jobs involving wall insulation," he said.
The most ear-catching job he mentioned, however, had nothing to do with roofs, or any typical building construction for that matter. Last year, Qualls was recruited to help create set pieces for a movie being shot in Michigan. Qualls and his team applied closed-cell foam to 50-foot movie set structures that served as backgrounds and key pieces in the film.
"We basically created the backdrop... set up backgrounds for the movie's settings," Qualls said. "It was one of the more interesting projects we've done."
Qualls established Spray Tight, Inc. in 2006, although he has been spraying foam for many years longer. He recalled getting started in the industry as a 17-year-old picking up tips from his stepfather. "I was amazed by the way foam works then, and I am still amazed by it now," he said. "It's an interesting product, scientifically speaking, and its ability to completely transform a roof into a seamless, leak-free membrane continues to fascinate me."
To find out more about Spray Tight, Inc. please visit the links below.
Contact Details
Name: Eric Qualls
Email: Email Us
Phone No: 810 366-0568
Disqus website name not provided.
Michigan Contractor Takes Quality on the Road