Merit, Character & Skill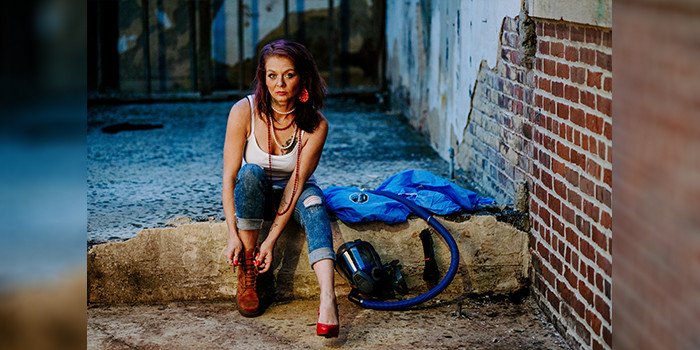 Spray Foam Magazine - Winter 2021 – The Spray Foam Magazine team has been watching Jennifer Edwards and her career progression ever since she was one of our Notable Talent winners last year. We are therefore excited to announce that Jennifer Edwards of Glenn Insulation, Inc. is the Spray Foam Magazine Contractor of the Year winner for 2021. The vast number of messages about Edwards were not only about her skill at the job but her great character too. We spoke to Edwards to ask about her career and why she is thrilled to be recognized by the industry.
In 2016, Edwards got into the SPF industry after meeting her boyfriend, Willy Johnson, who is the lead sprayer for Glenn Insulation. This spray foam company is owned by Scotty Glenn and is based in Charleston, Missouri. Starting as a helper Edwards was quick to learn and was trained to be a sprayer within a year. When we contacted Edwards to let her know she had won she said, "Honestly, I didn't really expect to win. I guess with it being such a male-dominated industry, we sometimes get looked over. I was shocked, I am extremely happy not just for myself, but that a woman that's really 'in it' has won."
Edwards has been working different jobs since the age of 11 and when she was a little girl, she dreamed of becoming a veterinarian. However, life took her in a different direction and Edwards is happy that it did. She still loves animals and helps with wildlife and animal rescue whenever she gets a chance. Edwards points out that she doesn't really have hobbies and describes herself as a homebody. Preferring to put her feet up and relax by watching her favorite crime and cop shows after a hard day of work.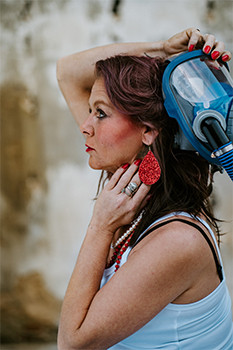 When Edwards talks about her boss, she makes a point of saying how supportive he is, "Scott is one of the most supportive bosses in my entire career. He goes out of his way to give me the freedom to expand my knowledge in the industry and that's great. You know some company owners can be a bit iffy letting their employees be a big part of their business, but Scott is very supportive, and I learn from him in everything that he does. I think when he sees I have won this year's cover he will say, 'See, I told you.'"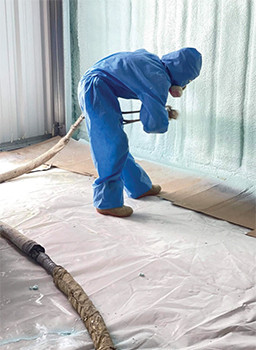 Edwards favorite jobs to spray are full-on metal shops, as it gives her a chance to shine and show off her spraying skills. But a specific project that stands out to her was for a local school for literacy day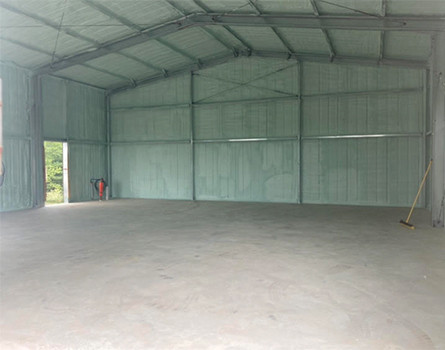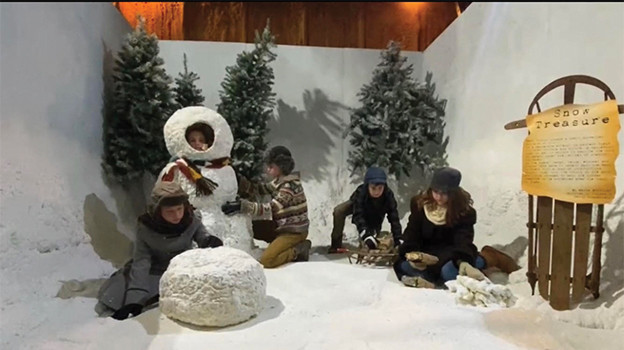 She sprayed a wall and foam balls to create a snow theme to set the scene as the kids (pictured from left to right – Daylee Buchanan, Lettie Glenn in snowman, Elizabeth Christian, Cecily Hall, and Callie Bryant) reenacted an expert from a book.
Edwards has many jobs she reflects on with fondness, but she found one recent project was particularly enjoyable. Her boss's daughter had a special assignment at school for literacy day, so Edwards turned up at the school to help. The children built a wall and Edwards's spray foamed all over it and then they made foam balls to create a snow theme. The kids painted the scene to resemble an excerpt from a book. According to Edwards, "It was a great success and the kids had a real blast." Throughout the interview there is evidence indicating Edwards's kind heart, from the kids' school project to saving animals. She delivers this in a coy, almost modest way. This underlying fabric to her personality also seeps through into her work, caring, determined, and humble.
Edwards describes herself as an independent person and a lot of that was due to her dad's advice, Edwards said, "My dad taught me that a man always has a place in your life, but you have to be able to do things on your own. You are not always going to be able to have a man by your side to do everything. Believe me, I'm not a feminist by any means, but I think that's what my kids respect about me. If they take that to heart, then I think that is going to help them when they get in a relationship. Be there for your wife or partner, but allow her room to grow."
Edwards still likes to see certain people's reactions when she tells them what she does for a living. "One of my favorite parts about being in the industry is that you meet a lot of different kinds of people," she describes. "Some of the older gentlemen that are set in their ways have a funny reaction when they meet me. We show up on a job site and the man will approach Willy and shake his hand and then Willy will allow me room to introduce myself and they will say something like, 'I see you got the little boss lady with you.' Willy will say something like, 'Yep, she's going to spray your building here.' They looked shocked. That one never gets old," laughs Edwards.
Although Edwards does not let being a woman on the job define her, she does notice a certain cliché that can be given to a woman in the industry. In fact, any kind of construction manual labor job. She is quick to point out that this does not slow the woman down, but she feels it can sometimes hold back some company owners. Edwards emphasizes, "Sometimes we can be viewed as dainty and fragile, the old school way of looking at things."
Edwards describes her dream job as spraying a full-on metal shop. She describes them as being open with really no obstacles to go around. She likes these builds as it gives her a chance to shine and allow more room to show off her skills. Edwards emphasizes, "Compared to say a house where you are spraying wall cavities and it can be covered up. I can take my time and make it look great and when people come in and see it, they say, 'Wow, looks great! Who sprayed this?' It's a conversation piece for the owner and then that can allow your company's name to be recognized."
Spray foam contractors can work long, physically demanding, hours but this doesn't bother Edwards who said, "I'm used to hard work, but one thing I can't get used to is the rush. When you are on site and the insulation comes into a project it's often hurried along. All these other contractors can take their time but as soon as we are called on site it's like, 'hurry up and get it done and get out.' I wish more customers knew what's involved in our part of the job and for them to give us a little more leeway rather than rushing us in then rushing us out."
Running into a difficult situation on a job has happened to most, if not all, contractors and Edwards has had her fair share of dangerous occurrences. One particularly stands out to her. The job was at an old bank and the crew, including Edwards, was not informed about the leaks that the bank's roof had and the fact that these leaks had rotted out the rafters. The crew was downstairs and Edwards had gone up in the attic to check some foam that she had sprayed the day before as she was concerned if there was an issue with the foam due to all the dust. She also wanted to make sure the foam had not shrunk back. Suddenly, one of the rafters broke and she went through a four foot drop down ceiling with her arm breaking the fall by getting caught. Edwards remembers, "I was literally hanging by my arm and I was swinging over the loan officer's desk. All of the people in the bank ran to the office and were just standing there looking at me dangling with their hands over their mouths saying, 'Oh my gosh,' but people froze and didn't help me. I'm screaming, 'Somebody grab my feet. Give me something to stand on.' And they literally just stood there. I had to swing myself up by my arm to get back into the attic to get down to where the rest of the crew were. A lot of contractors will say, 'I do work by myself all the time.' That's great, but it can be dangerous, especially if you are in attics or anywhere on site. That's why you should have a two-person crew and I voice that a lot. Working by yourself is dangerous, it really is."
Edwards always focuses on what is important in her life; her love of her work, family, colleagues and the industry. She points out, "I'm not looking to get rich; I am just one to have good friendships and as long as my family is happy and healthy and I get to be a part of this world long enough to see my kids have their own families, I'm happy. The confidence Edwards says she has gained through this industry, and the multitude of respect is, "Unbelievable." She wakes up every morning knowing she can go to work and if she has any issues, she can reach out to anybody in this industry, and they go out of their way to help. "That is the biggest impact the industry has had on me, the contacts and the friendships I have gained," concludes Edwards.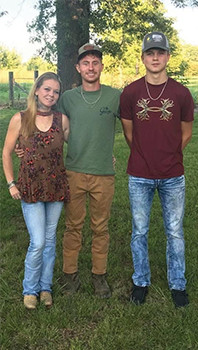 Edwards came highly recommended for the Contractor of the Year by her fellow contractors in the industry. "All day Jennifer Edwards. Nobody better to rep the cover," Bill Bilben, co-owner of Atticus Insulation LLC, weighed in on the Spray Foam World Wide Facebook group. RIGHT: Edwards with her sons, Sam (middle) and Jason Lee (right)
From all the team here at Spray Foam Magazine, "Congratulations Jennifer," the fact you have won this award based purely on your skills, is a big step in the right direction for everyone in the industry.


Disqus website name not provided.