It's Electric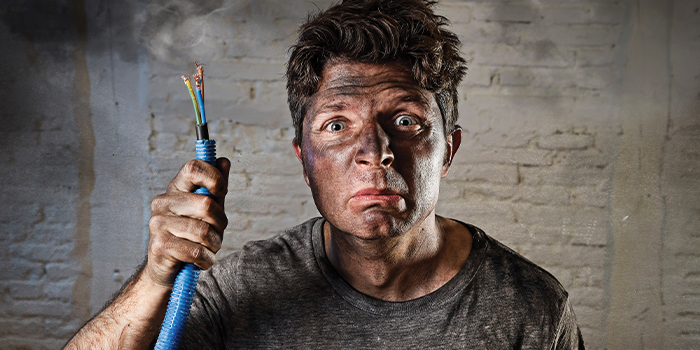 SPRAY FOAM MAGAZINE – Construction work requires electrical power for numerous reasons, and oftentimes, sites have to use temporary wiring as a solution. Therefore, it's imperative that building managers follow the rules set by the Occupational Safety and Health Administration (OSHA).
What is temporary wiring according to OSHA standards?
OSHA does not have a temporary time limit on temporary wiring in the construction industry. However, The National Electrical Code (NEC), or NFPA 70, provides a clearer guide to how long temporary wiring can be on a construction site. Clarifying that temporary wiring can be at the construction site until the job is completed and then must be removed immediately.
What are OSHA's rules for powering temporary wiring systems and lights at a construction site?
Temporary lighting is often required at a construction site to help prevent workers from having to work in limited light. Consequently, it is one of the main temporary power requirements. OSHA standard 1926.405 (a)(2) stipulates:
If you have no other choice but to use metal shell sockets, make sure they are grounded.
Do not hang temporary lights by their cord unless they are specifically made for that job.
Lights must be secure from breaking and potentially endangering any workers. For example, light placement and bulb securing is crucial when putting the lights in place.
Is there a voltage limit in OSHA's temporary wiring standard?
There are definite margins on wiring over 600 volts but standard 1926.405(a)(2) does not provide a definitive voltage limit for temporary wiring. However, it does state that systems over 600 volts must have the proper safeguarding to stop unauthorized and unqualified people being able to gain access to the area. This basically means that there needs to be some kind of barrier to the wiring.
Does OSHA include power tools, extensions, and lighting in temporary wiring standards?
In short, yes, they do. Conversely, the standards do refer to extension cables, and the ones used for both equipment and electric tools need to be three-wire. Extension cords if run through pinch points and doorways must be protected from any damage.
Extension cables that are used for temporary lighting or power tools are separately mentioned under the same standard, 1926.405(g). Construction managers must follow both sections within the standard.
Construction workers are electrocuted each year during refurbishment work on commercial and residential buildings.
Events within buildings involve both qualified electricians and other trades people. This usually occurs when people are working on or close to equipment that is either:
assumed to be dead but are live.
known to be live but safeguards are not taken.
There are many more occasions which damage equipment and thousands of 'close calls' which could have resulted in fatalities. It is therefore just as important to take temporary wiring safety just as seriously as permanent wiring.
Electricity can kill and dissimilar to most other hazards on a construction site, it can't be seen, felt, heard, or smelt. With electricity there is no advanced warning of danger. SO, do it the right way and follow the standards.
To read OSHA's temporary wiring standards in full, visit Wiring methods, components, and equipment for general use: www.osha.gov/laws-regs/regulations/standardnumber/1926/1926.405
For use by SprayFoamMagazine.com & Spray Foam Magazine


Disqus website name not provided.