Honeywell Insulation Technology Debuts At Abu Dhabi's Masdar City
Honeywell Insulation Technology Debuts At Abu Dhabi's Masdar City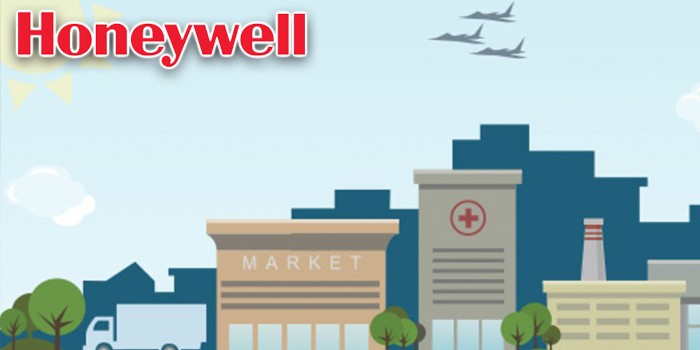 ABU DHABI, UNITED ARAB EMIRATES
– August 11, 2017 – Honeywell announced it is showcasing Solstice® Liquid Blowing Agent (LBA) as the key ingredient of the roof insulation of Honeywell's upcoming high-tech office complex in Masdar City, Abu Dhabi. The innovative technology is cost effective and promotes energy efficiency while being durable in extremely hot climates and meeting stringent environmental and building regulations set by the UAE capital.
Solstice LBA is used in spray foam to insulate, air seal, manage moisture and improve structural strength in commercial and residential buildings. Solstice LBA is non-ozone-depleting and has an ultra-low global warming potential (GWP) of one, which is 99.9% lower than current hydrofluorocarbons (HFCs) used in the industry and equal to carbon dioxide.
According to Amir Naqvi, regional marketing leader, Honeywell Fluorine Products, Middle East, Turkey and Africa, Solstice LBA, which is based on hydrofluoro-olefin (HFO) technology, is an ideal solution for the changing regulatory environment in the region and around the world, which aims to phase out older gases such as hydrochlorofluorocarbons (HCFCs) while phasing down HFCs.
"Honeywell is committed to developing technologies that help regional governments achieve their long-term sustainability goals. The Middle East is an Article 5 region as per the Montreal Protocol and, currently, HCFCs and other ozone-depleting substances are being phased out," said Naqvi. "Solstice LBA enables the region to leapfrog directly from HCFC blowing agents to HFO technology that's more environmentally friendly than current alternatives, and we are very proud to debut this technology here in the Middle East at Masdar City," he added.
Honeywell's Solstice LBA technology supports Masdar City's commitment to creating a low carbon city by using sustainable building materials and lowering energy consumption. The solution falls in line with UAE Vision 2021 and the nation's focus on tackling climate change and developing environmentally-friendly and sustainable buildings.
"We welcome Honeywell and the company's legacy of technological innovation to Masdar City," said Yousef Baselaib, executive director, Sustainable Real Estate, Masdar. "Honeywell understands the importance of playing an active part in achieving the UAE's vision for a sustainable future, and the advantages that can be realized through a cutting-edge sustainable urban development like Masdar City. They will be joining a growing community of around 500 registered companies and tenants who share their spirit of innovation and entrepreneurship."
Spray foam for roofing is growing in demand in the Middle East and around the globe because of its superior insulating and waterproofing properties and ability to be monolithically applied to all shapes and types of surfaces. Blowing agents are a critical ingredient in foam insulation, allowing the foam to expand and enabling its excellent insulating performance, which in turn affects energy use.
The roof system at Honeywell's new office was the result of a collaboration between Honeywell and Covestro. Installation of the system was completed by specialists Water Seal Co. LLC.
"The Solstice LBA system fulfils environmental requirements and is commercially viable – key considerations for us and for our client," commented Mohammad Asghar, managing director, Water Seal Co. LLC. "Masdar City is one of the most exciting developments ever undertaken in the UAE – and potentially globally – in terms of scale and commitment to environmental sustainability, and using the right solutions and technologies is key to achieving these ambitious goals."
Masdar City broke ground in 2008 and is today recognized as one of the world's most sustainable urban communities, combining influences from traditional Arab architecture with modern technology to dramatically reduce water and energy consumption. The City is currently experiencing the most rapid development in its history, with development agreements in place for schools, offices, hotels, shops, restaurants and private homes which will see around 200,000 sq. meters of development every year for the next five years.
Honeywell has been present in Abu Dhabi since the 1970s, and is opening a new office facility at Masdar City to consolidate its presence in the UAE capital, and support future growth.
Honeywell is a Fortune 100 software-industrial company that delivers industry specific solutions that include aerospace and automotive products and services; control technologies for buildings, homes, and industry; and performance materials globally. Our technologies help everything from aircraft, cars, homes and buildings, manufacturing plants, supply chains, and workers become more connected to make our world smarter, safer, and more sustainable.
Contact Details
Name: Tanuja Singh
Email: Email Us
Phone No: +91 80 2658 8360
---
Disqus website name not provided.
Honeywell Insulation Technology Debuts At Abu Dhabi's Masdar City