Graco Announces its Top 20 High Performance Coatings and Foam Distributors
Graco Announces its Top 20 High Performance Coatings and Foam Distributors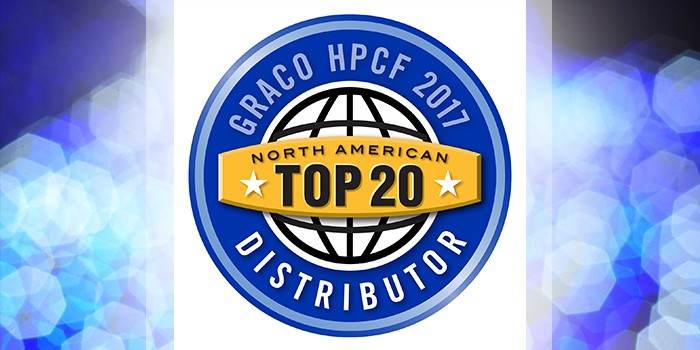 MINNEAPOLIS, MN – February 20, 2018 – Graco Inc., a leading manufacturer of fluid handling equipment, formally announced its Top 20 High Performance Coatings and Foam (HPCF) North American distributors for 2017.
The distributors were selected based on the total value of their equipment purchases from Graco during 2017. For seven years, Graco's HPCF sales group has recognized the Top 20 distributors for both Protective Coatings Equipment (PCE) and Foam and Polyurea Equipment (FPE).
The Top 20 North American PCE distributors are: Abrasive Products & Equipment, LLC; Advanced Finishing Systems; AirTech Spray Systems; BF Sales Engineering, Inc.; Bolair Distribution Inc.; C.H. Reed Inc; C.J. Spray Inc.; Coast Industrial Systems, Inc.; Dove Equipment de Mexico S.A. de C.V.; EnDiSys; F&S Equipment and Supplies Inc.; Howard Marten Fluid Technologies Inc.; Intech Equipment & Supply; Marco Group International; Midway Industrial Supply; Spray Equipment & Service Center Inc.; Spray Pump Services LLC; Spray Solutions and Equipment S.A. de C.V.; Spray-Quip Inc.; and Tape Industrial Sales, Inc.
RELATED VersaFlex Mourns Founding Member, Jeff Downing, Graco Announces Gusmer H-20/35 Sprayer and Reactor 2 Mobile App, Listening to the Contractor, Graco Appoints Emily C. White to the Board of Directors

The Top 20 North American FPE distributors are: Accella Performance Materials; Bolair Distribution Inc.; Chemline Inc.; C.J. Spray Inc.; Demilec Inc.; Foampak Inc.; Howard Marten Fluid Technologies Inc.; IDI Distributors Inc.; Intech Equipment & Supply; LINE-X; Millennium Custom Coatings (MCC); Paratus Supply Inc.; Parker-Lajoie Industries Ltd.; Pinnacle West Enterprises Inc.; Rhino Linings Corporation; Service Partners LLC; Spray Foam Distributors of New England Inc.; Spray Foam Systems, LLC; Spray Poly Parts; and Ultimate Linings, Ltd.
ABOUT GRACO
Graco Inc. supplies technology and expertise for the management of fluids and coatings in both industrial and commercial applications. It designs, manufactures and markets systems and equipment to move, measure, control, dispense and spray fluid and powder materials. A recognized leader in its specialties, Minneapolis-based Graco serves customers around the world in the manufacturing, processing, construction and maintenance industries.
Contact Details
Name: Ryan Morgan
Email: Email Us
Phone No: 612-623-6290
---
Disqus website name not provided.
Graco Announces its Top 20 High Performance Coatings and Foam Distributors