Eyes Wide Open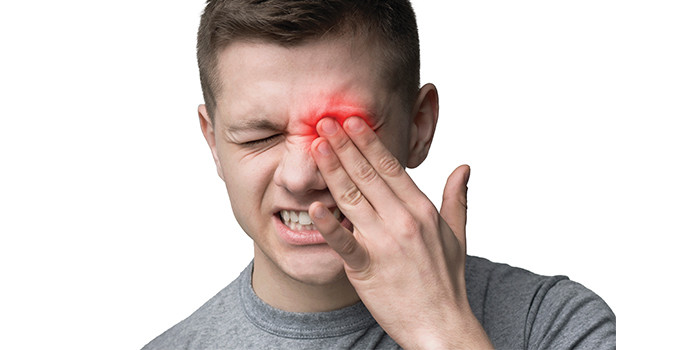 Spray Foam Magazine – Fall 2022 – Most spray foam contractors are already aware of the safety standards OSHA sets for eye wear protection, yet with any human, accidents can and will happen. According to the U.S. Bureau of Labor Statistics, about 20,000 eye injuries occur in the workplace each year. They range from superficial eye injuries to severe trauma that can cause permanent damage, vision loss and blindness.
It is therefore crucial to issue reminders to all employees regarding safety precautions and in this case, eye care for chemical exposure and the steps one must take if an accident does occur.
A hand wash and eye wash station are obligatory and a first aid and medical necessity. As stated by OSHA, these precautions are to be implemented, "Where the eyes or body of any person may be exposed to injurious corrosive materials, suitable facilities for quick drenching or flushing of the eyes and body shall be provided within the work area for immediate emergency use. As the standard states, an eyewash and/or safety shower would be required where an employee's eyes or body could be exposed to injurious corrosive material."
Choosing the Correct eyewash Station
When choosing an eyewash station for your rig consider the following:
Plumbed Eyewash – Brings plumbed tap water to the eyes through the eye station. This can be a pricey choice as well as being problematic to move, regulate water temperature and maintain, so maybe a trickier option to carry in the rig.
Portable Eyewash Station – As the name implies, this is an easy station to move from jobsite to jobsite. Like the plumbed wash, the portable option must also be regularly maintained. This is to ensure that the delivery of water is working when needed and the water/saline balance is correct.
Maintain
Be sure to change the water in the eyewash station on a regular basis. Water inadequately maintained in an eyewash station has a higher probability to contain organisms that flourish in stationary or untreated water and are therefore likely to cause infections. If a worker then uses this unmaintained eyewash station, the organisms may not only affect the eyes but could be inhaled and or have a bad reaction on the skin too. If a worker has been exposed to a hazardous chemical or material and has an eye injury, this can heighten the risk of having a bad eye infection if the water has not been maintained.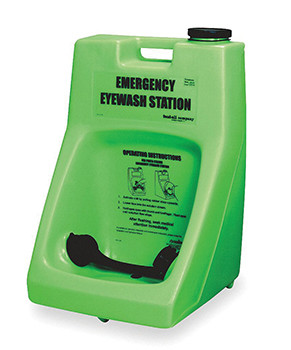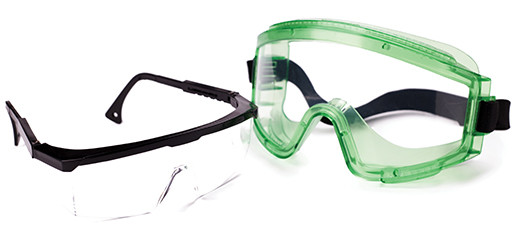 Training
Train all employees on site on the correct use of eye washing following an accident and make sure they all know where the eye station is located. »
Easy Access to Water Station
The workstation must be in easy reach for all workers, free from obstructions and not near any steps or elevated areas. It also needs to be under 60 ft of the hazard.
What to do in an Emergency
Do not rub the eyes
Rinse with clean water for at least 15-20 minutes.
Eyewash stations are best and eyewash bottles are not approved, but in an emergency if an eye station is not immediately available, any clean water should be used.
Seek medical attention ASAP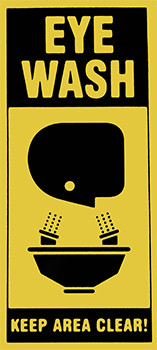 The emergency room physician will resume rinsing (flushing) the eye(s) with water, saline, or Ringer's solution. Ringer's is a combination of sodium chloride, potassium chloride, calcium chloride, and sodium bicarbonate in the concentrations in which they occur in body fluids. The eye flushing will not cease until the eye returns to normal. Pain relief may also be given by dropping anesthetic directly into the eye. The worker will probably leave the emergency room with a patch over their eye to ease additional stress and light strain.

Important to Remember:
When working with hazardous chemicals, wear goggles or some type of protective eyewear and in the case of spray foam applicators, a full respiratory mask. Always keep chemicals out of the reach of children.
Hazard Recognition
According to OSHA, many workers are unaware of the potential hazards that chemicals present in their work environment, which makes them more vulnerable to injury. The following link to references aids in recognizing and evaluating hazards associated with isocyanates in the workplace. (https://www.osha.gov/isocyanates/hazards)
Safety Department is Brought to You by Tennessee Chill Box

Disqus website name not provided.