Spray Foam Magazine Honors an American Hero in Fall Issue 2022
Spray Foam Magazine Honors an American Hero in Fall Issue 2022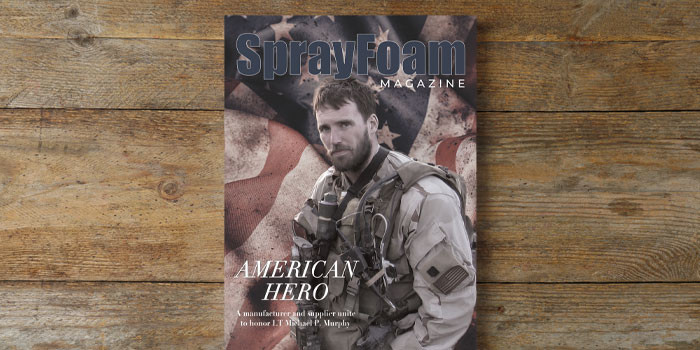 JUPITER, FL – September 30, 2022 – Spray Foam Magazine's Fall 2022 issue is crammed full of "Lights, Camera, Action!" but the headliner of this issue was a real-life star. We salute a hero and remember the great sacrifices he and his fellow Navy SEALS made when we visit the LT MICHAEL P. MURPHY NAVY SEAL MUSEUM in West Sayville, New York. We take a closer look at how SPF was installed in this special space in American military history, and how a SPF crew, supplier, and manufacturer joined forces to make this happen.
After visiting New York, we carried on up north and dropped in on our friends in Canada to find out how one company's culture makes for a productive sales team. We also chat to Canadian contractors and pay a visit to a brand-new winery.
Escaping to the movies, we uncover the truth behind the material used to help retrieve the buried set from the original 1923 movie, The Ten Commandments. Once we dug up a few interesting facts on this amazing discovery, we headed to a movie studio in Massachusetts. Movie studios are a great example of how to make a large space come to life with materials like SPF. Not only did it help insulate this studio's space, but it was also used for sound dampening. Noise reduction is imperative on a TV or movie set due to the highly sensitive microphones which detect the minutest background noise. Helping reduce sound from typical human activity, transportation, inclement weather, and various other sources from entering the soundstage area. SPF really did take center stage.
Fall 2022 Issue Highlights:
About Spray Foam Magazine: Spray Foam Magazine (SFM) is targeted to a global audience of building construction professionals and energy-conscious readers. It is distributed bi-monthly to applicators, manufacturers, distributors, specifiers, general contractors, architects, engineers, and managers in both the public and private sectors.
---
Disqus website name not provided.
Spray Foam Magazine Honors an American Hero in Fall Issue 2022