Dow Innovations are Key to Enabling Rio 2016 Olympic Games
Dow Innovations are Key to Enabling Rio 2016 Olympic Games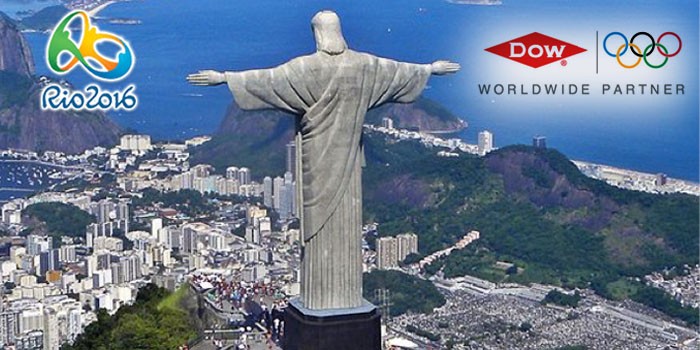 RIO DE JANEIRO, BRAZIL
- August 8, 2016 - As the world convenes in Brazil for the excitement of the Rio 2016 Olympic Games, The Dow Chemical Company, the Official Chemistry Company of the Olympic Games and Official Carbon Partner of Rio 2016, is proud to provide innovative, science-based solutions for one of the most respected and prestigious global events. Celebrating 60 years of presence in the region, Dow is involved in more than 20 projects connected to the Games, spanning from field-of-play technologies to venue construction, transportation, city infrastructure, and carbon mitigation.
"With our knowledge and broad portfolio of solutions, Dow is demonstrating how science can power the world of sports," said Louis A. Vega, Dow global vice president of Olympic & Sports Solutions. "Our technologies are present in all key competition clusters for the Rio 2016 Games, as well as the city's extended infrastructure. As the Official Chemistry Company of the Olympic Games, we are able to address the needs of organizers, athletes, media and spectators in order to help make the Rio 2016 Games a success."
With solutions incorporated throughout numerous Olympic venues, Dow is proud to mark 60 years of operation in Brazil and further expand its business in a highly strategic and important region.
Field-of-Play Technologies
Rio 2016's hockey competition at the Deodoro Park will be played on a high performance innovative synthetic turf system which uses DOWLEX™ linear low density polyethylene resins in the yarns as well as Dow's polyurethanes technologies for the backing of the carpet.
The balls utilized on the Olympic hockey competition rely on a tailor made micro-foamed polyurethane (PU) core developed with Dow polyols. The PU core uniquely provides higher-performance and more consistency than hockey balls made with traditional vulcanised cork and rubber cores or solid polymer cores.
Dow Plastic resins were utilized in the pipes from the draining and irrigation system underneath the natural grass pitch of Maracanã stadium, venue of the Opening and Closing ceremonies and key football matches. Additionally, Dow technologies were used in flooring applications and waterproofing systems for concrete and metal structures within the stadium.
RELATED Lapolla Industries Introduces FOAM-LOK™ 2800-4G Spray Polyurethane Foam for Roofing Applications, Demilec Introduces Heatlok High Lift Spray Foam Insulation, SES Foam Reveals The Secrets of a Successful Spray Foam Contracting Business Sale
Athletes' Village
Construction chemicals and paints formulated with coating technologies from Dow were used in buildings in the Athletes' Village to provide beautiful, long-lasting protection and finishing.
The 28 modular water tanks will help provide a reliable water supply system for athletes, coaches, officials and referees participating in the Games were manufactured with resins from Dow's Propylene Glycol.
More sustainable waterborne acrylic epoxy road markings were applied on bike lanes inside and around the Village in the neighborhood of Barra da Tijuca, as well as at the iconic Copacabana beach.
Athletes from 200+ countries competing in Rio will sleep on comfortable, mattresses made with polyurethane technology from Dow.
Olympic Park
Dow Wire and Cable technologies provide protection and durability to the energy and data cables installed at venues including the Olympic Tennis Centre, Olympic Aquatics Stadium and the Main Press Centre/International Broadcast Centre (MPC/IBC) complex, where media tell the stories of Rio 2016 to billions of fans.
The IBC building also features Dow technologies in the Exterior Insulation and Finishing Systems (EIFS) panels of the building façade. This innovative system enabled completion of the façade in 30 days, while standard technologies take up to six months to be installed.
Infrastructure solutions in and around Rio
The roof at the city's novel Museum of Tomorrow (Museu do Amanhã) is protected with 100% acrylic resin to provide waterproofing and exterior durability to this iconic structure. In addition, the reflective roof helps keep the building up to five degrees cooler.
Flooring solutions and polyurethane insulation panels from Dow were utilized in the major renovation that took place at Viracopos International Airport in Campinas, São Paulo, one of the main cargo transportation hubs for the Games.
On the most important road connecting Rio to São Paulo, Rodovia Presidente Dutra, road marking solutions based on Dow's FASTRACK™ coatings technologies provide reliable pavement markings.
DLP™ and WALOCEL™ solutions for adhesive mortar were utilized in some of Rio's new hotels, as well as in the Olympic Park and Athletes' Village.
"From infrastructure solutions to an innovative carbon mitigation program, we are excited to showcase our technologies in Brazil and share our successes with our customers and partners on a global stage," said Fabian Gil, president of Dow Latin America. "Rio 2016 marks the 60th anniversary of Dow Brazil and also inaugurates a new chapter of meaningful collaborations and business success for the Company across the region."
About Dow: Dow combines the power of science and technology to passionately innovate what is essential to human progress. The Company is driving innovations that extract value from material, polymer, chemical and biological science to help address many of the world's most challenging problems such as the need for clean water, clean energy generation and conservation, and increasing agricultural productivity. Dow's integrated, market-driven, industry-leading portfolio of specialty chemical, advanced materials, agrosciences and plastics businesses delivers a broad range of technology-based products and solutions to customers in approximately 180 countries and in high-growth sectors such as packaging, electronics, water, coatings and agriculture. In 2015, Dow had annual sales of nearly $49 billion and employed approximately 49,500 people worldwide. The Company's more than 6,000 product families are manufactured at 179 sites in 35 countries across the globe. On June 1, 2016, Dow became the 100 percent owner of Dow Corning Corporation's silicones business, a global company with sales of greater than $4.5 billion in 2015, 25 manufacturing sites in 9 countries and approximately 10,000 employees worldwide. References to "Dow" or the "Company" mean The Dow Chemical Company and its consolidated subsidiaries unless otherwise expressly noted. More information about Dow can be found at www.dow.com
Contact Details
Name: Jamie Ellis
Email: Email Us
Phone No: 989-636-3325
Disqus website name not provided.
Dow Innovations are Key to Enabling Rio 2016 Olympic Games