Dow is 'Innovating for You' at UTECH 2018
Dow is 'Innovating for You' at UTECH 2018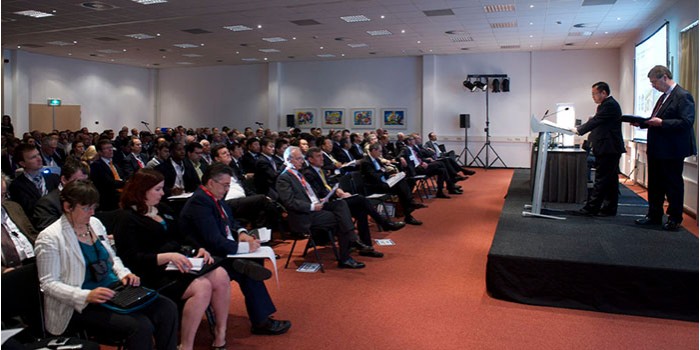 HORGEN, SWITZERLAND – May 14, 2018 – Dow Polyurethanes, a business division of The Dow Chemical Company, will be showcasing an extended portfolio of technologies and latest innovations at UTECH Europe 2018. Exhibiting at Stand 2230, Dow will present a range of polyurethane solutions that help differentiate products and contribute to help meet sustainability goals, opening new exciting opportunities for its customers and the industries they serve.
Innovations featured at UTECH Europe 2018 include envelope insulation technologies that can improve sustainability, efficiency and fire safety in buildings; foam materials that can deliver a very comfortable experience for bedding and pillow applications; adhesives, binders and engineering elastomers solutions that help improve performance and durability of infrastructures; and automotive materials that contribute to improved vehicle performance, safety and fuel economy.
"At UTECH Europe this year we will demonstrate what we mean by our brand promise Innovating for You," explained Jon Penrice, Vice President Dow Polyurethanes Europe, Middle East, Africa and India (EMEAI). "We are committed to drive meaningful innovations that address global challenges and unmet market needs. We do this through the application of science, a collaborative value chain approach, continuous investments and a strong focus on sustainability."
New Capabilities to Drive Innovation
Collaboration is crucial to drive innovation that works for the customer. Two new capabilities will be presented at UTECH that intend to improve market response times and help Dow customers accelerate technology innovation: a space dedicated to sleep science and an independent R&D center dedicated to testing and prototyping activities for the manufacturing of PU sandwich panels for thermal insulation. Marcel Moeller, Marketing Director Dow Polyurethanes EMEAI said, "Our focus on sustainable, collaborative innovation shows our commitment to the industry and our customers. By working with our customers and listening to market needs, we can develop products that meet both their present and future needs."
RELATED SPF VS. Fiberglass & Cellulose , The Men Behind the Empire , High Performance Polyurethane Systems from Covestro Ensure Energy-efficient and Safe Buildings, SWD Urethane Products Now Available Nationwide through POLR

Dow specialists contribute to UTECH debate
Dow leaders and technical specialists will address UTECH Conference participants with a series of inspiring and informative sessions:
Jon Penrice, Vice President Dow Polyurethanes EMEAI will provide a thought provoking keynote during the Plenary Session discussing "Emotion and function - creating value via marketing the innovation." Tuesday, 29 May – 13:05, Euro & Florin Rooms.
Marcel Moeller, Marketing Director Dow Polyurethanes EMEAI will speak at the Environmental Session discussing how Dow is "Addressing the challenges & opportunities of the Circular Economy." Wednesday 30 May – 11:00, Euro Room.
Paul Cookson Senior R & D Manager, Consumer Comfort, will address 'Improved fire safety without flame retardants - an industry challenge or opportunity?' Tuesday 29 May – 16:00, Euro Room.
Alberto Mercati, Associate Marketing Director Construction Insulation, Dow Polyurethanes EMEAI will discuss 'Beyond ? – what's next for insulation.' Tuesday 29 May – 16:00, Florin Room.
Alberto Fangareggi Senior R&D Director, Dow Polyurethanes EMEAI will discuss new opportunities offered by 'Composites – the next frontier for PU.' Wednesday 30 May – 16:45, Florin Room.
About Dow Polyurethanes
Dow Polyurethanes develops and delivers a broad portfolio of technologies and customized solutions to customers in a variety of industries under its DurableScience, ComfortScience and InsulationScience category brands. Applications range from industrial and infrastructure solutions, to consumer comfort solutions in flooring, furniture, bedding and footwear, to automotive solutions for interior, and energy-efficient insulation materials. The business manufactures and sells key chemical components as well as fully-formulated polyurethane systems for rigid, semi-rigid and flexible foams, and coatings, adhesives, sealants, elastomers and composites. Dow is the world's largest producer of propylene oxide (PO), propylene glycol (PG), and polyether polyols, and is a leading producer of quality aromatic isocyanates, such as MDI. Striving to meet the specific needs of its customers in their local geographic regions, Dow Polyurethanes operates a global network of production sites and systems houses, as well as innovation and service centers. The business has an ongoing initiative to lead the industry in providing high-performance products that meet critical market needs and contribute to a more comfortable, healthier and resilient society.
About Dow
The Dow Chemical Company (Dow) combines science and technology knowledge to develop premier materials science solutions that are essential to human progress. Dow has one of the strongest and broadest toolkits in the industry, with robust technology, asset integration, scale and competitive capabilities that enable it to address complex global issues. Dow's market-driven, industry-leading portfolio of advanced materials, industrial intermediates, and plastics businesses deliver a broad range of differentiated technology-based products and solutions for customers in high-growth markets such as packaging, infrastructure, and consumer care. Dow is a subsidiary of DowDuPont (NYSE: DWDP), a holding company comprised of Dow and DuPont with the intent to form three strong, independent, publicly traded companies in agriculture, materials science and specialty sectors. More information can be found at www.dow.com.
Contact Details
Name: Neil Fernandes
Email: Email Us
Phone No: +971 44537173
Disqus website name not provided.
Dow is 'Innovating for You' at UTECH 2018