Combining Knowledge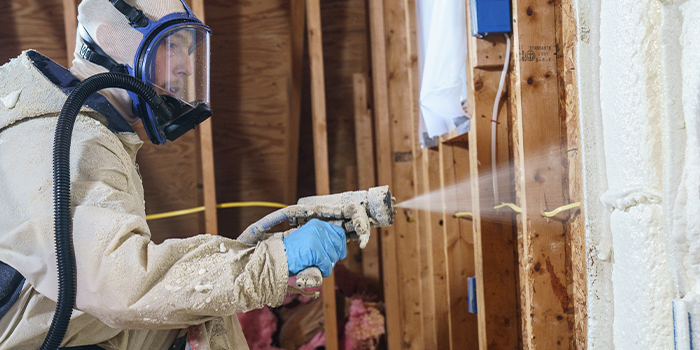 Spray Foam Magazine – Winter 2022 – As spray foam continues as a growing force in the building materials industry, one company, Natural Polymers LLC, is at the forefront of science-based quality with its Ultra-Pure™ Low Volatile Organic Compound (VOC) spray foam for both open- and closed-cell formulations. Founded by Ben Brown 18 years ago, Natural Polymers was recently acquired by Owens Corning, a global insulation leader, based in Toledo, OH and known as the inventor and a leader in fiberglass insulation.
Dedicated to continuous innovation, Owens Corning launched PINK Next Gen™ Fiberglas™ batts and rolls in 2021 with advanced fiber technology for a "soft as cotton" product. They also offer ProPink® loosefill insulation, FOAMULAR® NGX rigid foam board and Thermafiber® mineral wool insulation. With the acquisition of Natural Polymers, both company's teams are aligned toward continuing to develop quality insulation solutions coupled with product performance that provides peace of mind for contractors, remodelers, and homeowners.
"The Owens Corning insulation portfolio includes a spectrum of industry-leading solutions to help ensure our customers always have the right product for the right application, and now, through the acquisition of Natural Polymers, that includes applications for spray foam," said Jason Decker, General Manager – Spray Foam, Natural Polymers. "Natural Polymers' spray foam insulation technology is truly ahead of its time."
And that was Ben Brown's vision in the early 2000s. He started out in R&D for a large manufacturer and learned from the product development side how products like spray foam insulation were made. He knew back then that spray foam did not yet have wide acceptance in the home improvement industry – maybe some niche markets in Texas and Canada, and he saw an opportunity.
"My knowledge of chemistry and developing products took me on a journey into residential contracting, where I also sought to bring better products to my area of Chicagoland," said Brown. Working with architects, he introduced these products into the region as a contractor. He also got challenged by homeowners who had concerns about spray foam, many uninformed. He made it his mission to create a spray foam with lower VOC emissions.
One perception Brown noted was that homeowners didn't realize the same chemicals in spray foam were already in their carpeting and appliances, and subject to similar testing and building codes.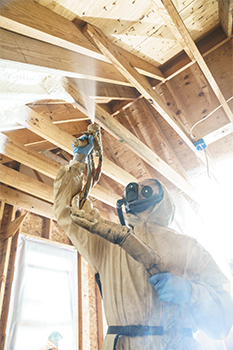 The Natural-Therm line is offered in open- cell and closed-cell formulations.
Natural Polymers has a traditional line of low VOC products called Natural-Therm®. Natural-Therm® is offered in both open- and closed-cell formulations. "These great products are the foundation, and what our latest offering Ultra-Pure™ is built from," said Brown. Ultra-Pure™ for both open- and closed-cell formulations come in a 2.0 lb. density closed-cell spray foam and a 0.50 lb. density open-cell spray foam. Brown explained that when developing these spray foams, Natural Polymers evaluated any reactions that might occur during the foaming process and targeted them with special reactive and odor-capturing agents to mitigate potential unwanted smells or trace amounts of VOC. This resulted in the creation of Ultra-Pure™ spray foam with a low chemical emissions signature and a better foam by design," said Brown. These methods are now replicated with applicators and contractors in the field.
Natural Polymer products meet GREENGUARD Gold standards for Indoor Air Quality (IAQ) In addition, Ultra-Pure meets or exceeds all current building code requirements and is below the California air quality standard CA 01350.
"We are heads above some of the competition who are more focused on growth than product innovation,'' said Brown. "Our focus on quality is very much in sync with our new parent company Owens Corning, and will support us as industry leaders," said Brown.
Ultra-Pure™ Low VOC spray foam products can only be installed by a System Trained Installer (STI) trained in the complete system requirements and is available through IDI Distributors, which began in early 2022.
According to Brown, Ultra-Pure is designed for experienced pros who want to differentiate themselves in their markets. The installers are trained to do basic checks and VOC testing first, to see if high levels are already in the house especially for retrofits. "Through IDI Distributors, we help contractors tell that story when they talk with customers," said Brown.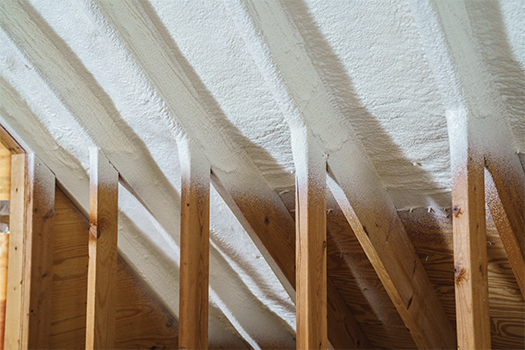 Ultra-Pure's other contractor benefits that contribute to good insulation jobs include delivering higher yields to get the job done faster, with a smooth surface profile. The products are very user friendly with wide processing windows to allow for a more consistent spray foam process.
When choosing insulation, today's builders and contractors need the flexibility to reliably meet the requirements for any job. "The acquisition of Natural Polymers is a logical extension of Owens Corning's Next Gen insulation platform as they continue to bring more comfort, precision, and sustainability to market in products across our portfolio," said Decker.
"Natural Polymers is excited to provide our customers with a solution they can feel confident about using and recommending for applications where spray foam is the right choice," he added.
United under common goals and focusing on innovation and sustainability, Natural Polymer's efforts led by Decker and Brown are combining their knowledge and teams. Both say all these characteristics combined will help build Ultra-Pure into a new platform to become one of best in the spray foam industry. Learn more about Ultra-Pure Low VOC Spray Foam at www.naturalpolymersllc.com or learn more about Owens Corning at owenscorning.com.
*Spray Foam Magazine does not take editorial positions on particular issues; individual contributions to the magazine express the opinions of discrete authors unless explicitly labeled or otherwise stated. The inclusion of a particular piece in the magazine does not mean that individual staff members or editors concur with the editorial positions represented therein.
For use by SprayFoam.com & Spray Foam Magazine


Disqus website name not provided.