Better Building Blocks For Homebuilding
Better Building Blocks For Homebuilding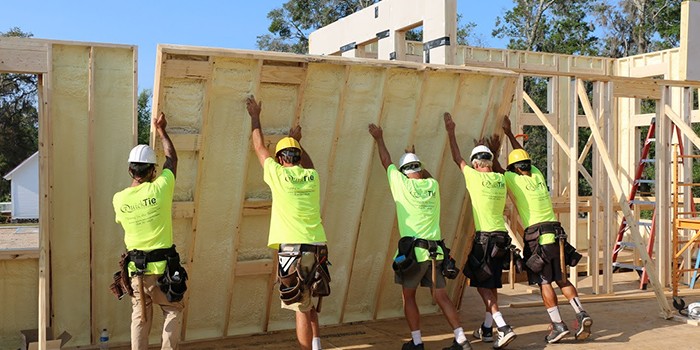 PITTSBURGH, PA – January 9, 2018 – Residential builders and panelizers seeking new building technologies that are cutting-edge, cost-effective and energy-efficient should look no further than PUReWall™ panels from Covestro LLC. At the International Builders' Show (IBS), Jan. 9-11, in Orlando, Florida, Covestro will showcase PUReWall™, a high-performance, insulated structural wall panel that takes residential construction to the next level.
Covestro is partnering with the top residential homebuilders and panelizers throughout the U.S. to implement PUReWall™ panels into the residential construction marketplace. The innovative design of PUReWall™ panels replaces traditional exterior sheathing and house wrap with a combination of polyisocyanurate (polyiso) continuous insulation on the exterior and structural spray polyurethane foam (SPF) in the wall cavity.
PUReWall™ panels are manufactured at a panelization facility, in a controlled environment, and installed at the construction site. This alleviates jobsite workforce bottlenecks, produces less waste, requires less wood use and results in a faster framing time for builders.
PUReWall™ panels also provide the following advantages:
Increased R-value and decreased air infiltration, contributing to a higher Home Energy Rating System (HERS) index score.
Produces a wall assembly that passes ASTM E331 with an integrated weather-resistant barrier featuring polyiso board with coated glass facers on both sides and taped joints backed by at least 1.5 inches of closed cell spray foam.
Scalable to provide thermal performance in the wall assembly as part of an overall building envelope approach making PUReWall™ panels suitable to use in a Net-Zero capable structure
Adaptable to meet all Climate Zone U values in IRC 2015
Adaptable to meet California's Title 24 energy efficiency code requirements
Has minimal potential for condensation in the wall assembly in both hot/humid and cold climates versus conventional wall assemblies
RELATED Dr. Thomas Toepfer to be new Chief Financial Officer of Covestro, Covestro LLC Announces Upcoming Leadership Changes , Covestro and Haier Sign Global Strategic Cooperation Agreement, Regional Finalists Chosen For Inaugural Young Champions Of The Earth Prize

PUReWall™ panels are available in a range of configurations to meet advancing building codes in any U.S. climate zone, with demonstration panels for each located at the Covestro booth:
PUReWall™ 60: U-0.060 (R-17) for Climate Zones 1-5 in IRC 2015 [2x4 construction with framing 16 or 24" on center (o.c.), 1" polyiso continuous insulation, 1.5" spray polyurethane foam insulation]
PUReWall™ 45: U-0.045 (R-22) for Climate Zones 6-8 in IRC 2015 [2x4 construction with framing 16 or 24" o.c., 2" polyiso, 1.5" spray polyurethane foam insulation]
PUReWall™ T24: U-0.052 (R-20) for California Title 24 requirements [2x4 construction with framing 16 or 24" o.c., 1.5" polyiso, 1.5" spray polyurethane foam insulation]
PUReWall™ 30: U-0.030 (R-33) for beyond code wall assemblies for aspirational building designs, such as Net-Zero ready [2x6 construction with framing 16 or 24" o.c., 2" polyiso, 2.0" spray polyurethane foam insulation and fiberglass batt]
Attendees at IBS can visit Covestro's booth (#W8160) to see PUReWall™ panels first-hand and speak with the company's building and construction experts.

About Covestro LLC:
Covestro LLC is one of the leading producers of high-performance polymers in North America and is part of the global Covestro business, which is among the world's largest polymer companies with 2016 sales of EUR 11.9 billion. Business activities are focused on the manufacture of high-tech polymer materials and the development of innovative solutions for products used in many areas of daily life. The main segments served are the automotive, construction, wood processing and furniture, electrical and electronics, and medical industries. Other sectors include sports and leisure, cosmetics and the chemical industry itself. Covestro has 30 production sites worldwide and employed approximately 15,600 people at the end of 2016.
Forward-Looking Statements
This press release may contain forward-looking statements based on current assumptions and forecasts made by Covestro AG. Various known and unknown risks, uncertainties and other factors could lead to material differences between the actual future results, financial situation, development or performance of the company and the estimates given here. These factors include those discussed in Covestro's public reports which are available on the Covestrowebsite at www.covestro.com. Covestro assumes no liability whatsoever to update these forward-looking statements or to conform them to future events or developments.
Contact Details
Name: Russ Glorioso
Email: Email Us
Phone No: +1 412-413-2051
Disqus website name not provided.
Better Building Blocks For Homebuilding