Chemours Breaks Ground on New State-of-the-Art Innovation Center
Chemours Breaks Ground on New State-of-the-Art Innovation Center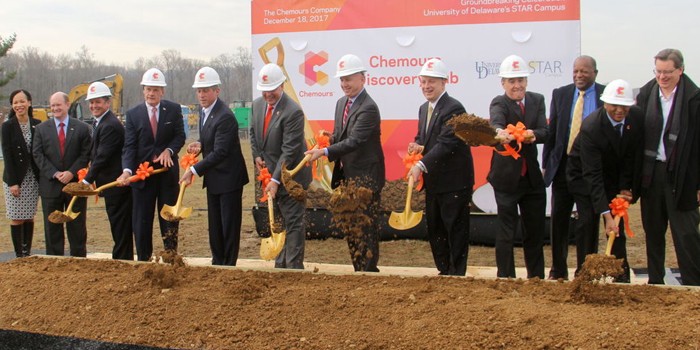 WILMINGTON, DE – January 11, 2018 – The Chemours Company (Chemours) (NYSE: CC), a global chemistry company with leading market positions in titanium technologies, fluoroproducts and chemical solutions, announced that it has broken ground on the company's new state-of-the-art research and innovation facility on the University of Delaware's Science, Technology and Advanced Research (STAR) Campus. Inspired by a vision for the facility to be a center for discovery, the space will be known by a name benefitting that vision: The Chemours Discovery Hub.
In partnership with University of Delaware, The Chemours Discovery Hub will conduct cutting edge research focused on new process, product, and application development to better meet customer and market needs. Construction on the new 312,000-square-foot facility, representing an investment of approximately $150 million, is expected to be completed by early 2020.
To celebrate this partnership, University of Delaware leadership, the Governor, federal elected officials, and other local and state officials joined Chemours for the groundbreaking event at the STAR Campus.
"This is much more than a brick-and-mortar story; it's about the discoveries to come that just might change or at least shape the future," said Chemours President and CEO Mark Vergnano. "The Chemours Discovery Hub will serve as a gathering place—a center for activity where vision, ambition, intelligence, and creative energy will flourish—not just for years, but for decades to come."
RELATED Better Building Blocks For Homebuilding, Chemours Named Winner of 2017 Polyurethane Innovation Award, New Study Suggests Strong Outlook for Green Homes, New Construction Starts in 2016 to Grow 6% to $712 Billion, According to Dodge Data & Analytics

"Today's groundbreaking goes far beyond a new building for Chemours," said UD President Dennis Assanis. "As partners in innovation and economic development, Chemours and UD will build dynamic connections across business, education, research, learning and discovery. We are breaking ground on a new era of opportunity at the STAR Campus for the University of Delaware, our state and our shared future."
Delaware Governor John Carney added: "Collaboration between businesses and educational institutions has never been more important to the future of our economy," said Governor Carney. "This partnership between Chemours and the University of Delaware will drive innovation on the STAR campus, and connect Delaware students with leaders in their fields. Chemours' investment in this state-of-the-art facility also will continue a long tradition of important scientific discovery in Delaware, and keep good, high-paying jobs right here in our state."
About The Chemours Company
The Chemours Company (NYSE: CC) helps create a colorful, capable and cleaner world through the power of chemistry. Chemours is a global leader in titanium technologies, fluoroproducts and chemical solutions, providing its customers with solutions in a wide range of industries with market-defining products, application expertise and chemistry-based innovations. Chemours ingredients are found in plastics and coatings, refrigeration and air conditioning, mining and general industrial manufacturing. Our flagship products include prominent brands such as Teflon™, Ti-Pure™, Krytox™, Viton™, Opteon™, Freon™ and Nafion™. Chemours has approximately 7,000 employees and 26 manufacturing sites serving approximately 4,000 customers in North America, Latin America, Asia-Pacific and Europe.
Chemours is headquartered in Wilmington, Delaware and is listed on the NYSE under the symbol CC. For more information please visit chemours.com.
Contact Details
Name: Alvenia Scarborough
Email: Email Us
Phone No: +1.302.773.4507
---
Disqus website name not provided.
Chemours Breaks Ground on New State-of-the-Art Innovation Center