BASF Revolutionizes the Residential Building Envelope with the HP+ Wall System
BASF Revolutionizes the Residential Building Envelope with the HP+ Wall System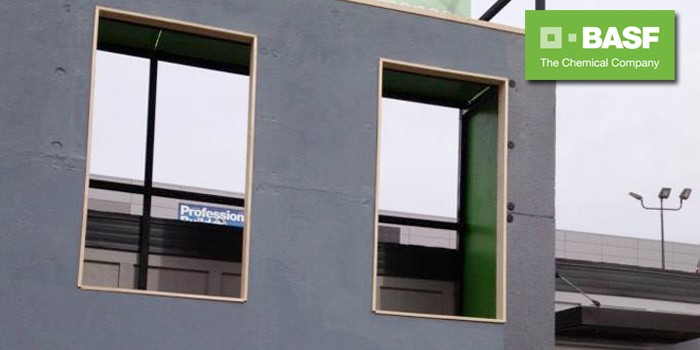 CHARLOTTE, NC – August 25, 2015 – Following a successful preview at the 2015 International Builders Show in Las Vegas, BASF announces that its HP+™ Wall System is available to the residential construction industry.
The first-generation wall enclosure system features advanced wall-framing technology and leverages the BASF BEYOND.High Performance® approach, which combines innovative chemistry and applied building science. By offering consultative services alongside its products, BASF helps builders identify cost-shifting opportunities so they can incorporate upgraded insulation solutions that have long been cost-prohibitive.
The HP+ Wall System combines three BASF products: Neopor®, a graphite-enhanced and rigid thermal foam insulation that helps mitigate the risk of moisture inside of wall cavities; WALLTITE® HP+, a closed-cell, spray-applied polyurethane for superior insulation, strength and energy efficiency; and ENERSHIELD®, an air and water resistant resilient coating that creates a seamless barrier of protection to above grade wall substrates. This powerful combination into a single integrated wall system delivers exceptional control of heat, air and moisture and increased structural integrity.
The design capacity of the HP+ Wall System is up to 135 percent greater* than that of a wall built with standard construction methods, offering builders the opportunity to reduce lumber content by up to 25 percent and eliminate the need for plywood or OSB sheathing.

RELATED Center for Polyurethanes Industry Announces Finalists for Prestigious Innovation Award , Spray Foam Manufacturer Icynene Introduces New 2 Hour Re-occupancy and 1 Hour Re-entry Times, UL Announces New Testing and Certification Services for the Building Envelope, EPA Honors Winners of the 20th Annual Presidential Green Chemistry Challenge Awards
The system also builds a better barrier providing higher thermal performance in a standard dimensional wall cavity and achieves optimum R-value by air sealing the wall assembly. The superior durability and performance of the HP+ Wall System can help builders meet new and challenging code requirements and improve Home Energy Rating System (HERS) index scores. In regions with specific climate- or disaster-resilience needs, the system can be further customized to help mitigate these additional challenges.
"The cost savings from reduced lumber use allows builders to incorporate once-too-costly polyurethane insulation, a component of the HP+ Wall System, into their construction," said Rick Davenport, Director of Sustainability, BASF. "Just as the auto industry reduced automobile weight utilizing carbon fiber technology, we're lightweighting homes with the HP+ Wall System to significantly boost performance. Through our consultative approach, we're helping builders to shift costs, embrace innovation and affordably construct the sustainable homes they want to build."
About BASF's Center for Building Excellence: The Center for Building Excellence (CBE) serves as a conduit to the depth and breadth of BASF's innovative technologies and provides tailored solutions for design and construction challenges. Our multidisciplinary team of building scientist, architects, engineers and sustainable construction experts thinks beyond the ordinary, adapts to changing conditions and offers insights that trigger revolutionary approaches to complex situations.
Our BEYOND.High Performance approach integrates services and innovative chemistry to help create sustainable construction projects that are more energy-efficient, more durable and more comfortable. Let us show you how chemistry is an enabler of high-performance construction. Further information on the CBE is available at construction.basf.us/cbe.
About BASF: BASF Corporation, headquartered in Florham Park, New Jersey, is the North American affiliate of BASF SE, Ludwigshafen, Germany. BASF has more than 17,000 employees in North America, and had sales of $20.6 billion in 2014. For more information about BASF's North American operations, visit www.basf.us.
At BASF, we create chemistry – and have been doing so for 150 years. Our portfolio ranges from chemicals, plastics, performance products and crop protection products to oil and gas. As the world's leading chemical company, we combine economic success with environmental protection and social responsibility. Through science and innovation, we enable our customers in nearly every industry to meet the current and future needs of society. Our products and solutions contribute to conserving resources, ensuring nutrition and improving quality of life. We have summed up this contribution in our corporate purpose: We create chemistry for a sustainable future. BASF had sales of over €74 billion in 2014 and around 113,000 employees as of the end of the year. Further information on BASF is available on the Internet at www.basf.com.
*1 HP+ Wall System calculations are based on AWC Special Design Provisions - Wind and Seismic (SDPWS), Section 4.3; Equations were derived from ASTM E2126 testing. OSB wall calculations are based on AWC Special Design Provisions - Wind and Seismic (SDPWS), Section 4.3. Results may vary depending on wall configuration.

Contact Details
Name: Joy Bryant
Email: Email Us
Phone No: 1-(980) 218-1230
Disqus website name not provided.
BASF Revolutionizes the Residential Building Envelope with the HP+ Wall System