Andy Schultze Joins VersaFlex as Marketing Associate
Andy Schultze Joins VersaFlex as Marketing Associate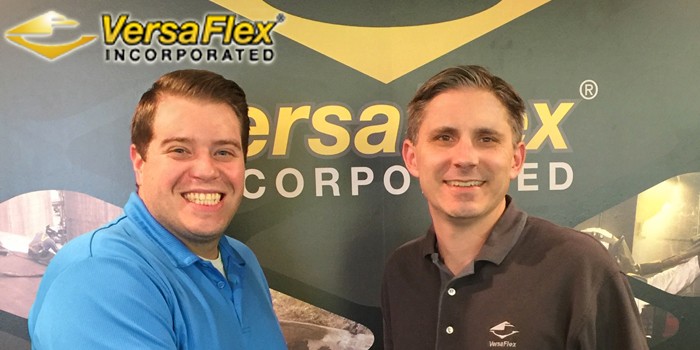 KANSAS CITY, KS – November 18, 2015 – VersaFlex Inc, a leading formulator and manufacturer of protective coatings, liners and sealants, proudly announces that Andy Schultze has joined them as their Marketing Associate.
Andy Schultze comes to VersaFlex as a recent graduate of the University of South Dakota where he graduated with a Bachelor of Science in Strategic Communication, with a minor in Business Administration. Most recently, Schultze worked as a Marketing Coordinator for Hard Rock Hotel and Casino in Sioux City, Iowa. There, he worked on various marketing campaigns, digital and print content development and distribution, and event and promotions planning and execution. This background has helped Schultze to make an easy transition into his current role with VersaFlex Inc.
"I was attracted to the company by its commitment to providing not only the highest quality products and service to customers, but also to continue to achieve the highest in human standards," Schultze said, "It is these values and commitment that will assist VersaFlex in continuing to be the technology and brand leader in the polyurea industry."
In his new role at VersaFlex Inc, Schultze will be working with strategic marketing campaigns, digital and print content development and distribution, and event and trade show management. His goals will be to make a positive contribution to the VersaFlex team by utilizing his skills and experience in strategic communications, digital and print advertising, strategic marketing and event and promotions management


RELATED
VersaFlex Announces Polyurea Training Programs for November
,
Gaco Western Launches Next Generation High Solids Silicone Coating
,
Graco's New Proportioner Combines Performance, Durability, and Reliability
,
Demilec Named Preferred Supplier By Insulate America
,
IFTI's Certified Applicator Program Assists Spray Foam Contractors with Code Compliance
,
SPI Launches New Website with User Directed Navigation

About VersaFlex Incorporated:
VersaFlex Incorporated formulates, manufactures and supplies pure polyurea coatings, liners and joint fill sealants for a wide variety of industrial, commercial and maintenance environments. VersaFlex is ISO 9001:2008 Quality Management System compliant for both Polyurea Coating Manufacturing and Design. VersaFlex is a proud supporter of Polyurea.com and endorses quality hands on polyurea training through the Polyurea University in Houston Texas.
Contact Details
Name: Doug Commette
Email: Email Us
Phone No: 855-866-7909
Disqus website name not provided.
Andy Schultze Joins VersaFlex as Marketing Associate