Spray Foam Manufacturer Demilec Awarded for Innovation in Plastics Recycling
Spray Foam Manufacturer Demilec Awarded for Innovation in Plastics Recycling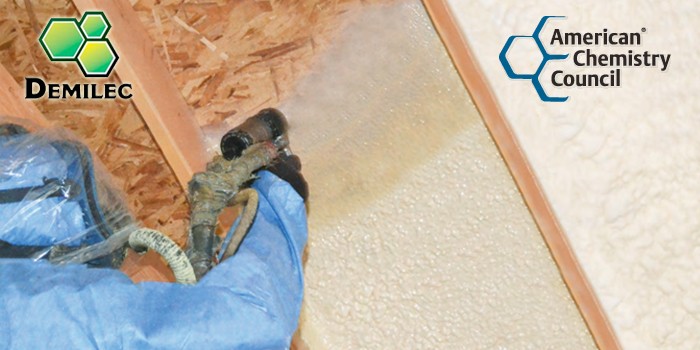 WASHINGTON, D.C. – November 19, 2015 – The American Chemistry Council (ACC) is pleased to announce that Demilec Inc., Publix, and The Recycling Partnership have been selected to receive Innovation in Plastics Recycling Awards for 2015.
The awards recognize companies and nonprofits that successfully bring new technologies, products, and initiatives to communities and the marketplace that demonstrate significant advancements in plastics recycling. ACC announced the awards today in recognition of America Recycles Day on November 15.
"We are thrilled to recognize this year's award recipients," said Steve Russell, vice president of plastics for the American Chemistry Council. "Each of these organizations is a leader in recycling innovation, and their contributions will likely inspire ongoing contributions to the rapidly growing field of plastics recycling."
Demilec Inc. converts polyethylene terephthalate (PET) scrap into polyols, which can be used in its spray foam insulation products. The company has recycled more than 300 million plastic bottles into spray foam insulation products in recent years and expects to recycle more than 35 million plastic bottles into high-performing spray foam insulation in 2015. In addition to the environmental benefits of plastics recycling, spray foam insulation helps to dramatically increase energy efficiency in homes and buildings.

Publix-Super Markets has established itself as a leader in recycling rigid plastic packaging, such as commercial-sized high density polyethylene (HDPE) and polypropylene (PP) containers. With more than 1,100 stores and 9 distribution centers, Publix optimized its back-of-store recycling stream through the use of a vertical and a horizontal baler that produce large, dense bales of clean plastic material for recycling. The result? Tons of high-quality plastics are separated, baled and made available to recyclers each week.

The Recycling Partnership facilitates public-private partnerships to significantly boost curbside recycling programs. Over the last 15 months, TRP has provided 115,000 large recycling carts and improved public education in four cities: Florence, AL; Columbia, SC; Richmond, VA; and East Lansing, MI. Thanks to TRP's efforts, 18,000 additional households now have access to a recycling program that collects wide mouth plastic containers in addition to bottles. Cumulatively these efforts are expected to recover an additional 22 million pounds of plastics over the next ten years.
ACC's Innovations in Plastics Recycling Awards contest is open to all U.S. companies, nonprofits, individuals, and government bodies (including schools) that collect or process plastics for recycling, promote plastics recycling through education and infrastructure, manufacture equipment used to collect or process plastics for recycling, or manufacture a new product made in whole or part from recycled plastic.
» Learn more about plastics recycling
RELATED Touch 'n Seal President Passes, Building a Brighter and More Sustainable Future with Covestro, Touch 'n Seal Reveals How to Find the Right Kit for a Spray Polyurethane Foam Insulation Project, James Cameron to Headline Greenbuild International Conference and Expo, Rhino Linings Releases Next Generation ThermalGuard™ CC2 Spray Polyurethane Foam, Suburban Manufacturing, Inc. Releases Spray Polyurethane Foam Hose Wrap System
About The American Chemistry Council:
The American Chemistry Council's (ACC's) mission is to deliver business value through exceptional advocacy using best-in-class member performance, political engagement, communications and scientific research. We are committed to sustainable development by fostering progress in our economy, environment and society. For more information, please visit their
website.
About Demilec: Demilec has been recognized as an industry leader in using innovative technology and advanced science to create a line of open-cell and closed-cell spray foam insulation and coatings for more than 30 years. Demilec focuses on meeting market demands for more energy-efficient products and serves a range of industries, including industrial, residential, commercial, agricultural, original equipment manufacturer, education, water, oil & gas, energy, military and civil. For more information, visit
demilecusa.com.
-
Contact Details
Name: Jennifer Killinger
Email: Email Us
Phone No: 202-249-6604
---
Disqus website name not provided.
Spray Foam Manufacturer Demilec Awarded for Innovation in Plastics Recycling