The Mask Task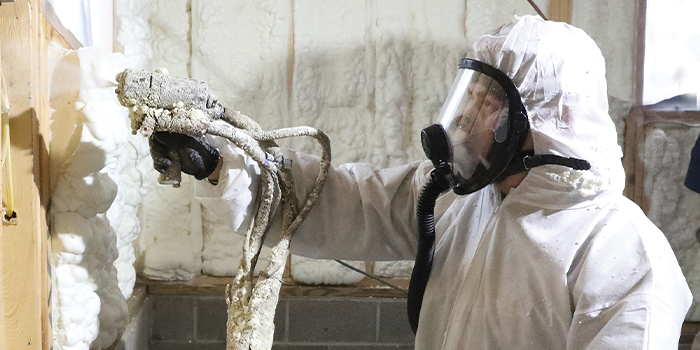 Spray Foam Magazine – Winter 2022 – Ask any experienced spray foam applicator about respiratory safety and they will preach that having the correct protection is vital to help guard against hazards such as isocyanates. The Spray Foam Magazine Team (SFMT) spoke with Precision Foam, LLC based in Midland, Texas to ask them why they believed switching from a cartridge full mask to a supplied air respiratory system was not only crucial for safety but made great business sense too.
Research data has shown that inhaling isocyanate vapors and aerosols during SPF insulation will typically exceed Occupational Safety and Health Administration (OSHA) permissible exposure limits (PELs), and therefore skin, eye, and respiratory protection is needed. Having good quality personal protective equipment (PPE) that does the job properly, is indispensable. Kim and Tyler Riley, owners and workers of Precision Foam, LLC launched their spray foam company five years ago when Kim encouraged Tyler that this was the right move for them. They are aware that exposure to isocyanates can cause a severe allergic reaction, such as an asthma attack, and that these hazards can continue throughout the application until the product is cured. These fumes can also cause painful headaches and other health effects. However, like most startups Kim and Tyler worked with a budget and when they first launched, they used full face masks with changeable filters.
After a short while, Kim was concerned these masks did not offer the full protection or longevity they needed. They also read that, according to the Environmental Protection Agency (EPA), cutting or trimming the foam as it hardens (tack-free phase) may generate dust that may contain unreacted isocyanates and other chemicals. This could also create particulates and release pockets of previously trapped isocyanate fumes, so they started to consider other PPE options.
Many of Kim and Tyler's jobs are spraying attics, and in the sweltering heat of a Texas summer, they needed to find a system that had durability, could keep them safe, and make financial sense. Heat stress for spray foam applicators is a concern, with many installers working in confined spaces with high temperatures and an improper PPE ensemble can result in dangerous heat stress. This in turn can result in a major health concern and less productivity due to needing frequent breaks every 45 to 90 minutes to reduce the stress on the body.
The solution came to light when an Intech Equipment sales representative, Robin Pence, told Kim and Tyler all about Bullard, a PPE manufacturer, and their mask, powered-air purifying respirators (PAPRs) and supplied-air respirators (SARs) for spray foam applications. These systems can provide the necessary cooling to reduce heat stress.
Tyler emphasizes, "Bullard has a cool tube as part of their supplied air respirator (SAR), which spins hot air and displaces it outside of the systems. We can adjust the airflow control valves which allows us to modify the incoming air temperature to a level that works for us. Having cool air pumped through our masks and bodies too, makes a big difference to our workday. We were concerned before that we could overheat, and we may not notice heat stroke symptoms in time. The Bullard system enables us to stay an extra thirty minutes to one hour in a hot attic, which makes a big difference in our efficiency."
Tyler and Kim also note how this system comes in useful on less desirable jobs. "Take smelly attics, we were spraying someone's duplex, and the lady next door was rescuing hundreds of cats. They were in her house and her garage, and the smell was horrendous. The Bullard system stopped us from having to smell that when we were working," stressed Tyler.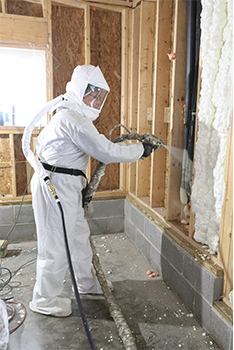 This applicator is using Bullard's supplied air system with a NIOSH- approved CC20 loose-fitting hood. This hood does not require fit testing or a clean shaven face, and provides a flexible hood option with a 1,000 assigned protection factor, which meets OSHA's respirator standard.
They also appreciate the fact that the filter lasts longer than a regular full mask filter explaining that the cost on their previous mask filters had increased in the last few years and that was burning a hole in their profits. They were also fed-up with these masks breaking.
Tyler and Kim soon realized that paying the extra money upfront was worth it. "It provides us with longevity, and you may as well do it correctly. The initial upfront price seems expensive as you can get a $200 mask with the filters being $25. Then you soon realize that you must change those filters every eight hours. We work a minimum of eight hours a day, and like us, many contractors work twelve hours a day up to 6-7 days a week. That's an average of fifty dollars a day in filters = $250 a week. Run those numbers and in six months you have spent the same amount of money as you would for one $2,500 system. You also must remember you only need to change those filters on the actual system every 200-500 hours." Tyler also points out that it's the same with their suits, they used to spend $2 for a disposable suit and would get through three a day, equaling $6 a day. In three months, that money could have bought a special suit that Kim and Tyler wear now. This suit costs $200 and lasts between six to twelve months. Tyler emphasizes, "It's really hard when you get started in the business, but if you do a little extra research and your math, it is well worth it."
Even though OSHA requires the use of respiratory protection when using SPF, not all spray foam contractors use a system that circulates clean air and cools the worker down. However, experience on the job soon makes a contractor realize the benefits of such a system. From making it easier for the worker to breathe, blocking isocyanates, protecting them against heatstroke, increasing productivity along with long-term financial savings.
The public and industries alike, are becoming increasingly aware of the need for clean air. Not only is it essential for life, health, and the environment but the economy too. During lockdown times, the increasing awareness of our surroundings and the air we breathe has shone a light on all aspects of lung health. This includes respiratory health in the spray foam industry. The effort to push respiratory awareness in spray foam is currently through SPF manufacturers, respiratory protection manufacturers such as Bullard, and organizations like the Spray Polyurethane Foam Alliance, the American Chemical Council, the Spray Foam Coalition, and the Center for the Polyurethanes Industry.
Spray foam business owners need to make a conscious effort to inform their workers about SPF hazards and provide them with high-performance respiratory protection. It could take decades for the adverse health effects to progressively manifest into chronic health conditions so, taking the right steps now will help protect a spray foam worker's future. Precision Foam owners, Tyler, and Kim will now reap the health rewards that such a system has to offer, and their business account will look healthier too.
For use by SprayFoam.com & Spray Foam Magazine


---
Disqus website name not provided.