Sensors Embedded in Protective Coatings Can Make Bridges, Turbines, Pipelines, etc. Safer
Sensors Embedded in Protective Coatings Can Make Bridges, Turbines, Pipelines, etc. Safer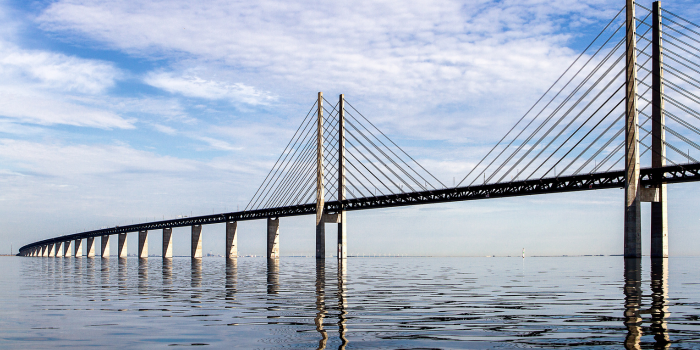 BRITISH COLUMBIA – October 23, 2023 – A team of researchers at the University of British Columbia Okanagan are reportedly developing sensors to monitor and help prevent damage to coatings on planes, bridges, pipelines, turbines and more.
According to a release from the University, the researchers are currently testing the sensors, monitoring certain structures to find how they can help keep the wear-resistant coatings from deteriorating over time.
About the Research
UBC Okanagan doctoral student Vishal Balasubramanian stated that a changing climate has escalated the need for more detailed erosion-corrosion monitoring in a number of industries such as aviation, marine transportation, renewable energy generation and construction.
Balasubramanian and others in UBC's Okanagan Microelectronics and Gigahertz Applications (OMEGA) lab are now reportedly developing sensors that can be embedded directly into the coatings instead of the current method, which is conducted using a manual probe.
This technology, researchers state, could potentially remove the chance for human errors and lower the inspection times for the process. Through the inclusion of artificial intelligence and augmented reality, the release states, the new embedded sensors could help keep an eye on the deterioration of protective coatings.
"By leveraging AI technologies into our microwave resonator sensors, we're able to detect not only surface-level coating erosion but we can also distinguish when an individual layer is being eroded within a multi-layer coating," said Balasubramanian, lead author of the research recently published in Nature Communications.
The new sensors can reportedly detect and find the eroding layer in multi-layered coatings, as well as detect the total wear depth of protective coatings. The data is reportedly gathered to give a detailed report for engineers and stakeholders about the potential damage and danger of failures.
In lab tests, the differential network device interface system was reportedly tested in multiple temperatures, including extreme hot and cold, as well as different levels of humidity and UV exposure to imitate harsh environments.
The system that was developed was then reportedly tested with multiple types of coatings while their responses were monitored in four versions of experimental setups using necessary environmental parameter variations.
"Being able to proactively monitor and address equipment degradation—especially in harsh environments—can undoubtedly safeguard important infrastructure and reduce the effect on human life," stated Dr. Mohammad Zarifi, an Associate Professor in UBCO's School of Engineering and principal investigator at the OMEGA Lab.
"For several years, we've been developing microwave-based sensors for ice detection and the addition of newer technologies like AI and AR can improve these sensors' effectiveness exponentially."
Some studies have stated that metal corrosion costs the country nearly $300 billion a year, over 3% of the country's gross domestic product. However, the report states that this new effort is not just about money.
According to Balasubramanian, erosion can cause irreversible damage to the exterior surfaces of bridges, aircraft, cars and naval infrastructure and has been determined to be one of the main reasons for structural failures.
"We tested our sensors under some of the harshest environments including various temperatures, humidity and UV exposures," said Balasubramanian. "We continue to push the limits of what these sensors are able to withstand in order to stay ahead of what's transpiring around the world."
Similar Research
In January, Researchers at Bournemouth University reportedly developed and patented a new corrosion sensor to improve the safety and reliability of large structures. According to the release, the device can detect defects and risks in major infrastructure at a much earlier stage than the methods that are currently used.
With the ability to be used with bridges, aircraft, military vehicles and gas pipelines, the sensor could potentially reduce the need for costly and time-consuming repairs.
The university reported that other corrosion sensors used by industry, including those available for purchase on eBay, require cables to be plugged into a computer, with maintenance requiring a worker to be present at the site. However, Khan's device is wireless so that it can be attached to a structure and its readings could be continuously monitored offsite.
Additionally, the sensor can reportedly be used on any kind of surface, when traditional devices only work on metallic surfaces to allow electricity from the sensor to pass through.
The technology was reportedly granted patents in the United Kingdom and the United States. Khan and his team stated they were keen to work with partners to roll it out across industry, engineering and construction companies.
Also, in October 2019, a team based out of the University of Florida, with help from a grant from the National Science Foundation, began developing a network of sensors that monitor bridges during such events, reporting that data in real time.
According to the American Road and Transportation Builders Association, more than 54,000 bridges in the U.S., out of 612,677 total, were considered structurally deficient at the time.
Jennifer Bridge, professor of civil engineering at the University of Florida, was working with students on the project. When originally setting up the sensors, the team focused on placing them on bridges that are crucial for evacuation and rescue. There was also an additional focus on getting a read on bridges similar to those that have had storm-surge-related damage.
In an interview, Bridge noted that the hub was then in use, equipped with a 32-gigabyte SD card that can hold a few weeks' worth of data in case of communication loss, is capable of withstanding high winds and rain by being mounted to the bridge railing. Some modifications were also made to allow for sensor connections and solar power component linkage. Any holes made in the hub were done so with a marine-rated sealant.
Lateral forces are read by determining the pressure difference between the two sides of a bridge, followed by taking measurements of how the structure responds. For this part of the research, the team used accelerometers and tiltmeters, which read for tilt, and extensometers or displacement transducers in order to get a read on bridge deck unseating/uplift.
Future plans included the rapid deployment of the sensor system, which will be able to capture information on waves, surge, wind and scour, on bridges that stand in the way of storm surges.
For use by SprayFoamMagazine.com & Spray Foam Magazine

Disqus website name not provided.
Sensors Embedded in Protective Coatings Can Make Bridges, Turbines, Pipelines, etc. Safer