Remediation, Renovation & Repair
Remediation, Renovation & Repair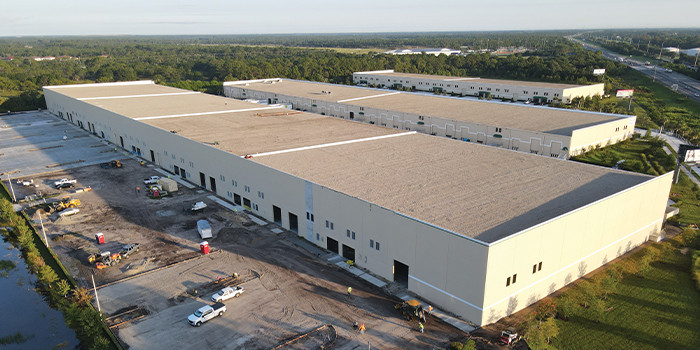 Spray Foam Magazine – Late Summer 2022 – There may be no more important decision to building owners than the integrity of their building's roof. Of course, there may be no more overlooked choice than roofing material either. Usually, the type of material is dictated by the design of the building and may be spec'd by the architect or designer, however sometimes the contractor makes the choice. Make the wrong choice, and the roof can fail when it meets real world conditions like, high winds, water, ice, snow, traversing the roof, punctures, and/or direct sunlight and heat. When this happens a roofing contractor must step back in to remediate the situation by choosing another material to replace the one that failed.
Not only is an SPF roofing system extremely durable, and three products in one—roofing, insulation, and sealing—it has also become an excellent choice for roof remediation, repair, and renovation (R-R-R). Here are five things that make an SPF system ideal (magic) for that purpose:

1. The simple application technique
2. The properties of SPF, its seamless nature, and the chosen coating
3. The durability and life of the SPF system
4. The closed-cell structure of SPF, which makes it water-resistant and adds serious insulation value
5. Amazing UV and heat protection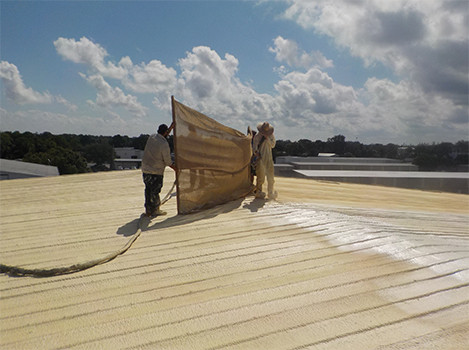 Roof remediation/renovation/repair magic
SPF's very nature makes it ideal for R-R-R applications. It begins as two liquid components specifically designed for the demands of roofing, that when mixed in the chamber of an application gun, create an exothermic chemical reaction. The single hot liquid is, in most cases, sprayed directly onto the substrate. SPF's magic lies in the fact it is a thick, hot liquid, and can, in most cases, be sprayed atop the old roofing material. This saves the contractor and building owner time and money by not requiring a building shut down for complete removal and disposal costs of the old, failed material. Another magic quality of foam is that in its temporary liquid state it enters and fills every crack, crevice, and hole thus sealing the damaged areas or potential problem areas of the roof in the application process.
SPF, like all construction foams, forms a chemical bond with the substrate, then it expands to its prescribed volume in a matter of seconds. There is more magic to SPF as the applicator can simply go back over lower-lying areas to reapply SPF to reach a uniform desired thickness or build up slope.
Obvious Benefits of SPF Roofing
Application benefits:
Begins as a liquid that fills blemishes, holes, tears, punctures, etc. then cures in place to form a rigid foam protective shield against water, heat, UV, ice, wind, and traffic
In most cases, SPF doesn't require removal of the failed roofing material
Can be reapplied once the first pass is cured to low lying or problem areas to create uniform thickness, or to build up slope
Water and UV resistance –
cool-roofing potential
Insulation value of SPF
Sheer durability of the chemically bonded foam and coating
Eliminates thermal bridging
As a temporary liquid the application of SPF makes it seamless— no channels, complex flashings, or overlapping edges for water to seep through the monolithic protective shield
Here are Some Less Obvious Benefits:
Energy Efficiency
An SPF roof system is one of the most energy efficient roofs available. Most heat enters industrial and commercial buildings through the roofing system. The traditional roof absorbs the sun's heat, which is slowly transferred to the entire building. The heat transfer process can take time, and it continues long after the sun has set. The building may only be exposed to the sun an average of 12 hours per day, but the heat continues to move throughout the entire building long after the sun has gone down. Cooling the indoor space of the building takes a great deal of running the HVAC system to lower the interior temperature. This means lots of wear and tear on the cooling system and the cost.
An SPF roofing system reflects sunlight without absorbing the heat, so it doesn't move into the rest of the building. With the right coating and the right color coating a "cool roofing solution" can reflection of most of the sun's heat and damaging UV rays and those benefits are significant: lower operating costs for the owner and improves indoor air environment quality, and less stress on the cooling system which means less maintenance there and lower operating costs.
Highest LEED Certification
That's almost enough said, but I'll say more anyway. Architects love SPF because its natural liquid state conforms to almost any design, and can help achieve even the highest LEED certification through its sustainability benefits:
– Lowering energy/operating costs
– Contributing to better indoor air quality
– Longer lifespan than other roofing systems
– High resistance to severe weather and heat and UV
– Minimal maintenance and low life cycle costs
Lightweight
SPF is polyurethane foam with an extremely high compressed strength, which means it's extremely light for an engineered building material that acts as an armor for a building. However, it is extremely durable. The lightweight nature of SPF puts less stress on the roof of a building, thus less stress on the overall structure.
Minimal Maintenance
I mentioned this in the LEED section but it's worth mentioning again. All the characteristics and benefits of SPF combine to make it the easiest roofing system to maintain. With proper installation, an SPF roof will last 30 years or more with periodic renewal of the coating. The cost of recoating an SPF roof every 8-10 years over a 30-year period comes out to a fraction of the cost of maintaining or replacing most conventional systems.
While SPF roofing sounds like the next generation roofing system solution, the quiet fact is we've been using it since the 1960s. SPF systems have been tested and retested over time, and the results are amazing roofs on buildings across the country that demand extreme roof integrity: grain mills, munitions plants, food storage, hospitals, nursing homes, schools—to protect their valuable contents. But, hey! People love new technologies, so we'll keep quiet and enjoy the current demand for this amazing roofing system without reminding everyone this "new technology" is almost 60 years old. SPF roofing systems are the future (and the past) of commercial and residential low slope roofing.

---
Disqus website name not provided.
Remediation, Renovation & Repair