Register for the PDA Applicator Spray Course
Register for the PDA Applicator Spray Course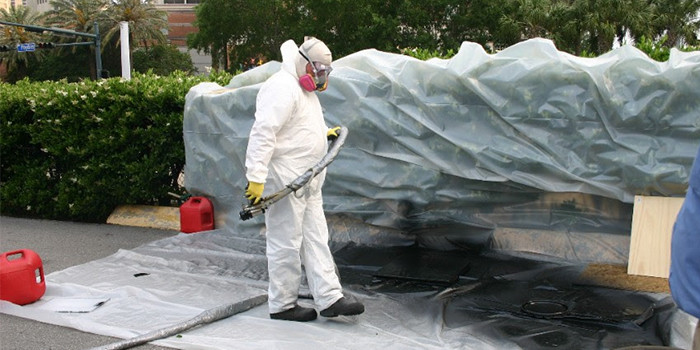 SANTA FE SPRINGS, CA – March 8, 2022 – March Applicator Spray Course
If you've been thinking about registering for the PDA Applicator Spray Course use the link below to register quickly! Registration will close on Monday, March 14, and is limited to six (6) remaining spots.
This week of training takes place March 21 - 25 at the Diamond Liners facility in Santa Fe Springs, California and covers PDA's three courses: Surface Preparation for Concrete and Steel, Basic Applicator Spray Course and Advanced Applicator Spray Course. Use the links below to register your spot today! Click here to download the daily schedule.
PDA Basic Applicator Spray Course (Monday - Wednesday)
The course identifies the many elements involved in the successful operation and set-up of Polyurea spray equipment and phases of hot spray polyurea application. It also gives attendees an in-depth analysis of commercially available equipment designs and necessary hardware components to ensure successful operation and spray application of polyureas. Field spray time is included.
PDA Advanced Applicator Spray Course (Thursday and Friday)
This in-depth course (combined with the Surface Preparation and Basic Applicator Course) takes those who spray now to the next level, allowing them to be recognized as experts. Learn the ins and outs of gun and equipment troubleshooting, understanding the spec to achieve the best result and much more. PDA Basic (Spray) Applicator Course is a pre-requisite unless granted admission by the instructor.
Diamond Liners
9507 Santa Fe Springs Rd
Santa Fe Springs, CA 90670
Member Registration (full course)
Non-Member Registration (full course)
Basic Course ONLY - Non-Member
Advanced Course - please contact headquarters for registration information.
Discounts are available for companies sending more than three (3) attendees. For questions or to request more information, please contact Meredith Carr at meredith.carr@pda-online.org
Meet Our Instructor
Dudley Primeaux III recognized worldwide for his work developing polyurea systems, application techniques and knowledge pertaining to the technology. Dudley is also an SSPC certified Protective Coatings Specialist and a Certified Coating Coatings Inspector.
Dudley has authored over 40 technical papers relating to the polyurea
industry, is named inventor on over 25 US Patents and 8 European Patents. He has experience in the preparation of new raw materials, formulation development, application equipment usage, field application work and failure analysis of coating / lining projects. He knows more about "polyurea" than most in the industry.
Contact Details
Name: Meredith Carr
Email: Email Us
Disqus website name not provided.
Register for the PDA Applicator Spray Course