PPG Completes Acquisition of Romanian Paint and Coatings Manufacturer DEUTEK
PPG Completes Acquisition of Romanian Paint and Coatings Manufacturer DEUTEK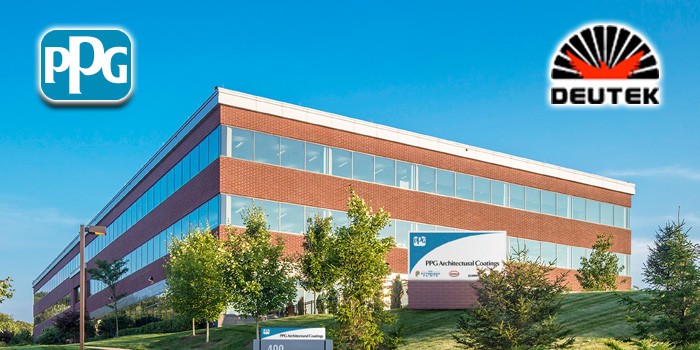 PITTSBURGH, PA – January 30, 2017 – PPG announced that it has completed its acquisition from the Emerging Europe Accession Fund (EEAF) of DEUTEK S.A., a leading Romanian paint and architectural coatings manufacturer that reported sales of 30 million euros in 2015. Financial terms were not disclosed.
DEUTEK manufactures and markets a large portfolio of professional and consumer paints, including the OSKAR and Danke! brands. Its products are sold in more than 120 do-it-yourself stores and 3,500 independent retail outlets in Romania.
"DEUTEK is a well-managed business with a long heritage of excellent customer service and a portfolio of well-recognized brands in Romania. The acquisition adds the fastest-growing paint brands in Romania, where PPG has only a small presence in architectural coatings," said Jean-Marie Greindl, PPG senior vice president, global architectural coatings, and president, PPG EMEA (Europe, Middle East and Africa). "This important acquisition in Romania extends our presence in the region and complements our positions in Poland, Czech Republic, Hungary and Slovakia."

RELATED VersaFlex Incorporated and Renner Coatings Announce Partnership for Brazil and Chile, Lapolla Industries Introduces WALL-LOK™ Exterior Elastomeric Wall Coating for Waterproofing, Volatile Free, Inc. Announces New "How to" Video Featuring SEALGUARD VFI-990 SILICONE.
Deutek CEO Gabriel Enache said, "We have always focused on building a market-leading position based on trusted brands and innovative products. This vision is fully shared by PPG, which supports the management team and its development plans. We are confident that joining PPG will accelerate our innovation and thus help us to achieve performance consistent with our vision."
PPG: WE PROTECT AND BEAUTIFY THE WORLD™
At PPG (NYSE:PPG), we work every day to develop and deliver the paints, coatings and materials that our customers have trusted for more than 130 years. Through dedication and creativity, we solve our customers' biggest challenges, collaborating closely to find the right path forward. With headquarters in Pittsburgh, we operate and innovate in more than 70 countries and reported net sales of $14.8 billion in 2015. We serve customers in construction, consumer products, industrial and transportation markets and aftermarkets. To learn more, visit www.ppg.com.
Forward-Looking Statements
Statements in this news release relating to matters that are not historical facts are forward-looking statements within the meaning of the Private Securities Litigation Reform Act of 1995 reflecting the company's current view with respect to future events or objectives and financial or operational performance or results. The forward-looking statements contained herein include statements relating to the expected benefits of the DEUTEK transaction. Actual events may differ materially from current expectations and are subject to a number of risks and uncertainties, including the risks and uncertainties discussed in PPG's periodic reports on Form 10-K and Form 10-Q and its current reports on Form 8-K filed with the Securities and Exchange Commission. Forward-looking statements speak only as of the date of their initial issuance, and PPG does not undertake any obligation to update or revise publicly any forward-looking statement, whether as a result of new information, future events or otherwise.
We protect and beautify the world is a trademark and the PPG Logo is a registered trademark of PPG Industries Ohio, Inc.
Contact Details
Name: Mark Silvey
Email: Email Us
Phone No: +1 412-434-3046
Disqus website name not provided.
PPG Completes Acquisition of Romanian Paint and Coatings Manufacturer DEUTEK