Polyurethane Innovations and Advances in Sustainability to Be Unveiled at UTECH North America
Polyurethane Innovations and Advances in Sustainability to Be Unveiled at UTECH North America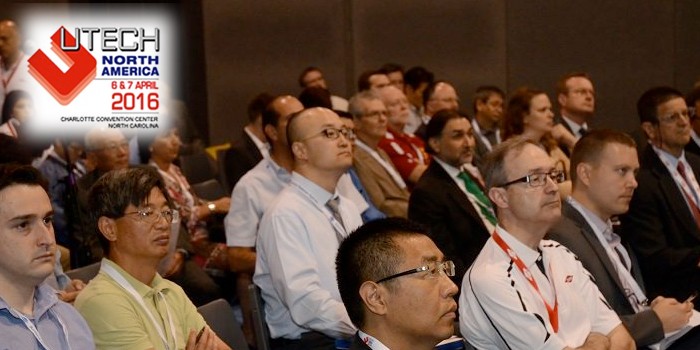 LONDON & CHARLOTTE, N.C. – April 1, 2016 – Over 120 exhibiting companies and nearly 40 conference speakers will unveil the latest developments in polyurethane technology and advances in sustainability at the UTECH North America conference and free-to-attend trade show taking place next week, April 6-7 at the Charlotte Convention Center, North Carolina, US.
At the UTECH North America conference Chris Chrisafides, Commercial Vice President, Dow Polyurethanes at The Dow Chemical Company will deliver the keynote on The Next Generation of Polyurethanes followed by Robert Outram of IAL Consultants on North American Polyurethane: Global Snapshot and Strategic Outlook. Two sessions on sustainability will examine alternative natural-oil-based polyols, bio-succinium- and CO2-based materials, and set out practical steps to foster the wider and faster acceptance of these new approaches.
Other conference sessions will look at polyurethane technology in automotive applications; coatings, adhesives and sealants; flexible foams; rigid foams; the latest processing equipment; blowing agent innovations and polyurethane science. Conference places are currently still available. Delegate rates are highly competitive and offer outstanding value to all those with a professional interest in polyurethanes.

RELATED Dow's Chrisafides to Keynote on Next Generation of Polyurethanes at UTECH North America Conference, American Chemistry Council Launches Website Highlighting Chemistry in Building and Construction Materials, UTECH North America Announces In-Depth Polyurethanes Conference Program
Major international companies exhibiting at the accompanying free-to-attend UTECH North America 2016 trade show are Dow Chemical, Wanhua of China, Cannon, Hennecke Inc, DuPont & Tate & Lyle, Repi LLC and Honeywell. Exhibitor highlights include:
DuPont Tate & Lyle Bio Products and BioAmber will launch a co-sponsored polyol sampling program designed to accelerate the speed to market for sustainable bio-based solutions.
Dow Chemical will be promoting its latest products for high-performance polyurethane coatings, home products and insulation including: DurableScience: high performance materials that protect, adhere, seal and last; ComfortScience: flexible foam technology for healthy, happy living and InsulationScience: rigid foam technology for energy and cost-efficient buildings and appliances.

Dow Corning will showcase its extensive portfolio of silicone surfactants for polyurethane foam and launch a range of new products from its Japanese joint venture, Dow Corning Toray.
Emery Oleochemicals will present its range of renewable-based and recycled polyols designed to enhance both formulation performance and end-product sustainability.
Chromaflo Technologies will feature its range of black colorant dispersions for urethanes and its Plasticolors® DTP colorants containing organic and inorganic pigments suspended in DOTP, a non-phthalate plasticizer.
Croda will showcase its next generation of bio-based Priplast™ polyols offering a combination of hydrolytic, thermo-oxidative and UV stability making them ideal for use in demanding applications such as sealants, sports equipment and automotive.
Milliken will show its award-winning Milliguard® AOX-1 antioxidant said to contribute negligible volatile organic compounds (VOCs) and outgassing condensation (FOG), making it ideal for polyol and foam manufacturers to use in the production of interior vehicle components.
Acmos Chemie present its latest developments of water based release agents for various polyurethane applications.
Urespec will be introducing its range of UreCAT polyurethane catalysts
INVISTA will showcase its Terate® and TERRIN™ polyols
REPI is to present its latest range of VOC/FOG?free black and colors for automotive applications. Foams manufactured using REPITAN high intensity black and other applications colored with latest fashionable shades will also be on display.
To book a place at the conference or to register for free attendance at the trade show visit: www.utech-north-america.com
Pre-registration via the website remains open until Friday April 1st. After that date, trade show attendees and conference delegates can register onsite at the venue during the show.
Contact Details
Name: Alan Caddick
Email: Email Us
Phone No: 44 20 8253 9631
Disqus website name not provided.
Polyurethane Innovations and Advances in Sustainability to Be Unveiled at UTECH North America