March/ April 2017 Issue Features World's Largest Harley Store
March/ April 2017 Issue Features World's Largest Harley Store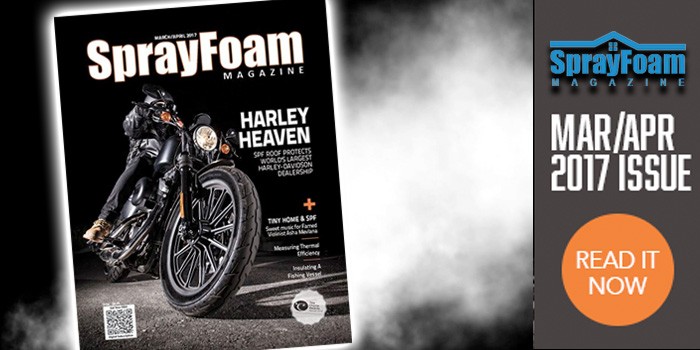 JUPITER, FL – March 6, 2017 – With two stories of Harley-Davidson motorcycles, a repair shop, an apparel store, and even a tattoo parlor, the Harley-Davidson dealership in Scottsdale, Arizona is arguably the largest in the world. All those interior amenities most be protected – especially from a leaky roof. The March/April 2017 issue of Spray Foam Magazine examines the project that helped to protect the 59,800 sq-ft roof. Read about it in the digital issue – now available online for free and on mobile devices through the award-winning Spray Foam Magazine App. The print version of the issue will be mailed to subscribers in early March.
We also look at how spray foam drastically improves energy savings and efficiency in a Tiny Home. Other features include innovations in the SPF industry – including unique marine applications, insulating large water tanks, and a variety of commercial air barrier and roofing projects that employ cutting-edge techniques and products to gain efficiency and profit.
Click Above to Read the Latest Issue

Highlights from the March/April 2017 Issue
• Tiny Home & Spray Foam
• Safety: Dressing for Success Includes PPE & Proper Fall Protection
• Insulating THE ANITA Against Icy Waters
• Depression-era Building Given New LEED On Life With SPF
• Polyurea Protects Potable Water Tank
• Roofing Hog Heaven


RELATED U.S. Green Building Council Releases Annual Top 10 States for LEED Green Building, OSHA Issues Recommended Practices to Promote Workplace Anti-Retaliation Programs, Construction Firms Add 19,000 Jobs in November as Sector Hits Eight-year High in Employment, Architectural – And SPF – Landmark, OSHA Releases Updated Recommended Practices to Encourage Workplace Safety and Health Programs
About Spray Foam Magazine: Spray Foam Insulation & Roofing Magazine is targeted to a global audience of building construction professionals and energy-conscious readers. It is distributed bi-monthly to applicators, manufacturers, distributors, specifiers, general contractors, architects, engineers, and managers in both the public and private sectors. For more information, or free instant access, please use the links provided below.
Contact Details
Name: Jen Kramer
Email: Email Us
Phone No: 561-768-9793
---
Disqus website name not provided.
March/ April 2017 Issue Features World's Largest Harley Store