Listening to the Contractor
Listening to the Contractor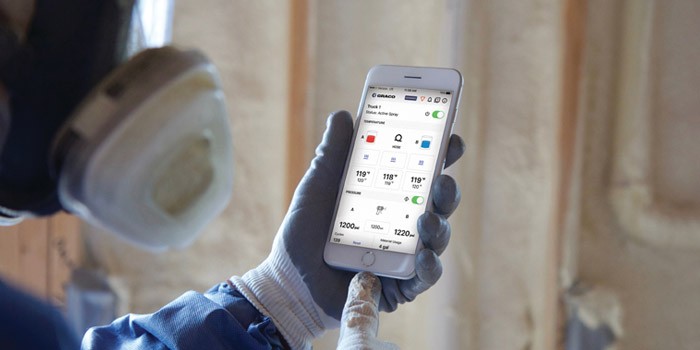 MINNEAPOLIS, MN – January 29, 2018 – The spray foam trade is an ever-changing animal, and contractors, both new and seasoned, are keen to adopt and invest in products that produce more streamlined well-executed applications. By the same token, industry manufacturers strategize products based on their ability to bring about a positive impact to said contractors that serve as the backbone of the industry.
In that aspect, Graco is a leader of the pack. Why? Because Graco stresses importance on establishing a direct line of communication with spray foam contractors in a company-wide fashion—from the commercial department to the engineering and manufacturing sectors. Furthermore, the company emphasizes an additional link to the contractor through social media; a connection that is facilitated by forums dedicated to the industry, such as the Spray Foam World Wide (SFWW) Facebook group.
Gusmer H20/35 is a high-quality proportioning machine made with simplicity to meet the needs of a select group of contractors.
"We have processes in place that ensure that we have open communication with the spray foam contractor," notes Graco's Director of Sales and Marketing, Nick Long. "We are listening, and we also want to inform them what's new and what's been happening."
It is through this approach that Graco churned out two new products that are sure to set benchmarks across the board: Gusmer H20/35 proportioning machine and a mobile app designed for use with the Reactor 2 machines.
GUSMER H20/35
Graco's newest proportioning machine, Gusmer H20/35, was built with simplicity as its nucleus. It is a hydraulic machine whose name symbolically recounts Graco's initial thrust into the industry more than a decade ago with their purchase of Gusmer—then, a spray foam equipment company. The machine itself consists of a marriage between Graco's highest performing pump line and a simple, robust platform consisting of point-to-point wiring. In other words, Gusmer H20/35 combines quality and high performance… and it comes at an economical price point.
"The Gusmer goes back to a tried and true platform and it veritably fills an industry gap," articulates Nick Pagano, Graco's Business Development Manager. "We feel that the Gusmer H20/35 meets the needs of contractors that appreciate the basic feature set that is required to spray foam properly, but that Graco didn't previously have an available product for."
Reactor 2 App
While with one product, Graco is going back to their roots and meeting the needs of a select group of contractors, they are also taking a technological step forward with another, and meeting the needs of contractors who currently operate Reactor 2 proportioners. Their new mobile application, specifically designed for use with the Graco Reactor 2, will provide contractors with the ability to control the settings of their machines using their mobile phone in real time. Through the app, the user will be able to adjust temperatures and pressures, view cycle count and material usage, get notified of error or fault codes, calculate yields, and even turn the system on and off.
"When a crewmember is in a situation that does not allow him to conveniently walk back to the rig, such as being in a crawlspace or in an attic, he can pull the phone out of his pocket and have a dashboard view of their machine at the palm of his hand," says Pagano. "It's designed to make the contractor's life a bit easier while remaining profitable."
Graco continues blazing a trail as an industry steward that builds the right equipment in regards to innovation, reliability, safety, and performance. These two new products are a direct reflection of their commitment to the contractor's success.•
The app is ideal for applicators who are working inside a crawlspace or attic in that they can adjust the settings from their phone without having to go back to their rig, making the job more efficient.
Contact Graco Inc.
Direct any questions about the Gusmer machine and the new app for the Reactor 2 to Graco Inc.:
Phone: 612-915-2111
Website: www.graco.com
*Spray Foam Magazine does not take editorial positions on particular issues; individual contributions to the magazine express the opinions of discrete authors unless explicitly labeled or otherwise stated. The inclusion of a particular piece in the magazine does not mean that individual staff members or editors concur with the editorial positions represented therein.

Contact Details
Name: Graco Inc.
Email: Email Us
Phone No: 612-915-2111
---
Disqus website name not provided.
Listening to the Contractor