July/August 2017 Spray Foam Magazine Heats Up The Summer
July/August 2017 Spray Foam Magazine Heats Up The Summer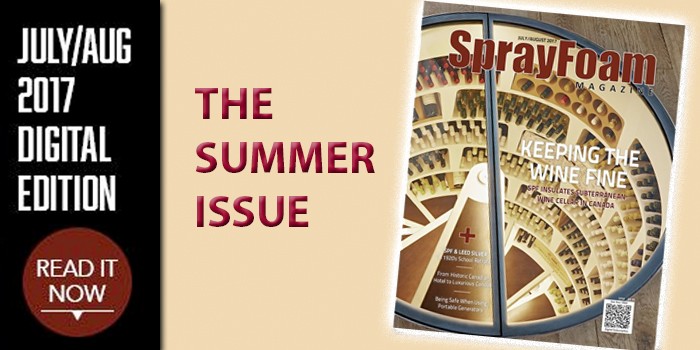 JUPITER, FL – June 30, 2016 – Summer is officially here. For those of you that have spray foam insulation in your residence, you're in luck! You'll be able to keep cool without hiking up your utility bills. For those who do not, you might want to try the beach and the pool periodically instead of overworking your air conditioner. Or you could relax and have a glass of wine – that is actually the theme of the July/August 2017 issue: Wine. That's right, wine. Did you know that spray foam plays a role in keeping the wine fine? Well, if the temperature is optimal in the cellar where these wines are kept, and spray foam can help maintain these temperatures, then this cutting-edge insulating material certainly plays a role in making the content of wine bottles to age beautifully. Read all about how spray foam accomplished just that for a wine cellar in Canada in the digital issue – now available online for free and on mobile devices through the award-winning Spray Foam Magazine app. The print version of the issue will be mailed to subscribers in early July.

The issue features a special section on the spray foam industry of The Great White North with articles detailing projects including the retrofit of a historical hotel into condominiums with SPF and an SPF insulation application to a hospital in Quebec that aims for LEED Platinum Certification. The section also features an expert's take on blowing agents and the Montreal Protocol.

Click Above to Read the Latest Issue

Highlights from the July/August 2016 Issue

• Days of Wine and Spray Foam
• History in the Re-Making
• Canadian Healthcare: An Energy-efficient Hospital
• Keeping the Rain Out of Jain Temple
• Going for Silver
• Hurricane Resistance
• 5 Ways SPF Contractors Lose Money
RELATED Profoam Corporation Discusses New R-Value Requirements , Truck Inspection Station Gets Insulated with Spray Foam , Spray Polyurethane Foam Market to Hit $1.90 Billion Globally by 2020, Report Says , Johns Manville's Corbond® Open-Cell Spray Polyurethane Foam Achieves New Code Compliance
About Spray Foam Magazine: Spray Foam Insulation & Roofing Magazine is targeted to a global audience of building construction professionals and energy-conscious readers. It is distributed bi-monthly to applicators, manufacturers, distributors, specifiers, general contractors, architects, engineers, and managers in both the public and private sectors. For more information, or free instant access, please use the links provided below.
Contact Details
Name: Juan Sagarbarría
Email: Email Us
Phone No: 561-768-9793
---
Disqus website name not provided.
July/August 2017 Spray Foam Magazine Heats Up The Summer