Huntsman Building Solutions Enhances Senior Residences with Carbon-Reducing Envelopes
Huntsman Building Solutions Enhances Senior Residences with Carbon-Reducing Envelopes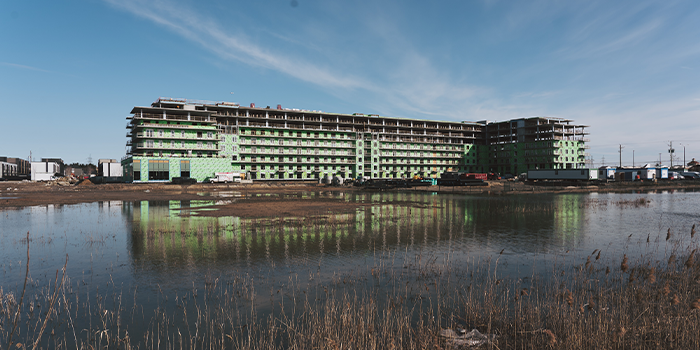 BOISBRIAND, QC – October 31, 2023 – Huntsman Building Solutions (HBS) partnered with installers from its Canadian network on two major retirement home building projects: 1- Metrotec P.G.B Insulation for a government-endorsed senior home revitalization project, Maison Des Aînés/Maison Alternatives and 2- Isolation Algon with Groupe Sélection's general contractor, Groupe CH for the modern residential building complex, Liva Mirabel, to install the perfect building envelope in each, providing a high-quality living environment for senior residents in Québec.
Maison Des Ainés/Maison Alternatives and building complex Liva Mirabel, both fulfill the needs of comfort and the high levels required for thermal insulation, water resistance, mold resistance and air and vapour barriers with Huntsman Building Solution's closed-cell spray foam insulation solution.
"We knew that to achieve the government's vision of LEED v4 certification for this new building concept of Maison Des Aînés/ Maisons Alternatives, our Heatlok Soya HFO closed-cell spray foam insulation had to be spec'd. We understood the importance of beautiful, engaging, comfortable spaces that would allow residents to live the life they deserve, and knew that we needed a flexible, high-performance product to deliver on that vision. As always, we worked with Metrotec to deliver something fantastic," says, Mickel Maalouf, LEED Green Associate and Sustainable Building Science Manager with HBS.
"Our harsh Canadian climate and the need to design Liva Mirabel for a net-zero future had to be considered without sacrificing the actual day-to-day and lifetime use. The benefit of using Heatlok Soya HFO spray foam insulation with our D-Max Wall assembly system is it allowed Groupe CH to insulate the structure from the inside, making weather a non-factor while also providing a perfect building envelope for residents." Mentions Maxime Duzyk, Global Director, Building Science and Engineering with HBS.
The Maison Des Aînés/ Maisons Alternatives project was centered on producing living accommodations, across Québec, that allow people to really feel "at home" while creating a high-quality, safe and warm or cool living environment while achieving high R-values throughout the construction. The government invested $2.4 billion across 46 projects to achieve their goals and the architects needed to meet LEED v4 for both structural integrity of the building and environmental standards.
Project Liva Mirabel is a modern residential apartment complex for active retirees. It features 348 smart apartments of different sizes, with numerous smart devices allowing residents to control lighting and temperature for their dwellings. HFO-blown spray foam insulation outperformed all alternatives, such as fibreglass or mineral wool, due to its higher R-value per inch, its much lower Global Warming Potential (GWP) and the increased energy savings and reduction in operational carbon emissions.
To learn more about Huntsman Building Solutions and the company's complete suite of energy efficient building solutions, visit https://huntsmanbuildingsolutions.com/en-CA/. Join the company on Twitter, LinkedIn, Facebook, Instagram and YouTube.
About Huntsman Building Solutions:
The Huntsman Building Solutions business is a global leader in high-performance, sustainable building envelope solutions. Its systems and solutions are widely utilized to optimize commercial and residential structures worldwide in both new construction and retrofit applications. Formed in 2020 with the acquisition of Icynene-Lapolla and its combination with Demilec, the Huntsman Building Solutions business capitalizes on legacy industry technologies, environmental stewardship, and the power of the Huntsman brand. For more information, visit huntsmanbuildingsolutions.com.
About Huntsman:
Huntsman Corporation is a publicly traded global manufacturer and marketer of differentiated and specialty chemicals with 2020 revenues of approximately $6 billion. Our chemical products number in the thousands and are sold worldwide to manufacturers serving a broad and diverse range of consumer and industrial end markets. We operate more than 70 manufacturing, R&D and operations facilities in approximately 30 countries and employ approximately 9,000 associates within our four distinct business divisions. For more information about Huntsman, please visit the company's website at www.huntsman.com.
For use by SprayFoamMagazine.com & Spray Foam Magazine

Contact Details
Name: Lamia Chahboune
Email: Email Us
---
Disqus website name not provided.
Huntsman Building Solutions Enhances Senior Residences with Carbon-Reducing Envelopes