Honeywell Challenges Spray Polyurethane Foam Insulation Contractors and Builders To "Hit a Foam Run"
Honeywell Challenges Spray Polyurethane Foam Insulation Contractors and Builders To "Hit a Foam Run"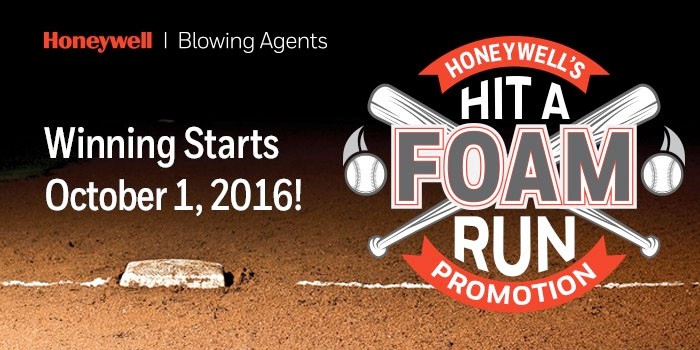 MORRIS PLAINS, N.J
. – Sept. 15, 2016 – Honeywell announced today that it will offer U.S. contractors and builders a chance to win prizes if they try new spray foam systems that contain Honeywell's Solstice® Liquid Blowing Agent (LBA) as a key ingredient.
Honeywell's baseball-themed promotion, "Hit A Foam Run" will run from October 1, 2016 to April 30, 2017. Participants can win major prizes each month, and one Grand Prize winner will receive a trip for two to watch the stars of baseball play in Miami. Spray foam contractors and builders are encouraged to contact one of the spray foam companies participating in the promotion and offering new closed-cell spray foam systems containing Solstice LBA. The list of companies offering spray foam systems formulated with Solstice LBA continues to grow.
Some of the systems are designated for wall insulation, others for roofing. Solstice LBA is a critical material that causes foam to expand and enables its excellent insulating properties.
"We have excellent feedback from many contractors who have already used the new systems," said Laura Reinhard, global business manager, sprayfoam, Honeywell. "They are pleasantly surprised that simply changing the blowing agent can have so many positive effects, such as improved thermal performance, better yields, reduced clogging of the spray gun, and a smoother finish, among other improvements. They can experience improvements in foam performance with minimal adjustments to their existing equipment. We encourage contractors to ask their systems providers for spray foam made with Solstice LBA."
RELATED Lapolla Industries Introduces FOAM-LOK™ FLX 500-EM Spray Polyurethane Foam for Insulation Applications, When It Comes To Spray Foam, Certification Matters, SES Foam Discusses Quality Control in Spray Polyurethane Foam Roofing Applications, NCFI Adopts Honeywell's Low-Global-Warming Material For Integral Skin Polyurethane Foam Systems
Global regulators are increasingly moving to phase out higher-global-warming-potential (GWP) foam blowing agents, refrigerants and other materials based on hydrofluorocarbon (HFC) technology. Last year, the U.S. Environmental Protection Agency published landmark regulations that will phase out the use of many HFC blowing agents. The new regulation, some of which become effective in January 2017, will require manufacturers to discontinue use of many standard HFC blowing agents and blends in certain applications.
Solstice LBA, which is based on hydrofluoro-olefin (HFO) technology, has an ultra-low GWP of 1, which is 99.9 percent lower than HFC blowing agents it replaces, and equal to carbon dioxide. It is non-ozone-depleting and nonflammable. Solstice LBA has received EPA approval under the Significant New Alternatives Policy (SNAP) Program, and is volatile organic compound (VOC)-exempt per the EPA. It is also registered under the European Union's REACH program. Honeywell's Solstice LBA world-scale manufacturing plant in Louisiana started up in May 2014.
Worldwide adoption of Solstice products has resulted in the reduction of more than 30 million metric tons of greenhouse gases to date, equal to eliminating emissions from more than 6 million cars.
Honeywell also manufactures Solstice Gas Blowing Agent, which replaces HFC-134a in low-pressure spray foam insulation, commercial appliance insulation and extruded polystyrene boardstock insulation for homes and buildings.
Solstice LBA is used in a variety of rigid foam insulation applications, including residential and commercial refrigeration equipment, spray foam insulation, and insulated metal panels, as well as flexible foam applications, such as molded and slabstock foam, and integral skin. For more information on Solstice LBA, visit www.honeywell-blowingagents.com.
About Honeywell: Honeywell is a Fortune 100 diversified technology and manufacturing leader, serving customers worldwide with aerospace products and services; control technologies for buildings, homes, and industry; turbochargers; and performance materials.
This release contains certain statements that may be deemed "forward-looking statements" within the meaning of Section 21E of the Securities Exchange Act of 1934. All statements, other than statements of historical fact, that address activities, events or developments that we or our management intends, expects, projects, believes or anticipates will or may occur in the future are forward-looking statements. Such statements are based upon certain assumptions and assessments made by our management in light of their experience and their perception of historical trends, current economic and industry conditions, expected future developments and other factors they believe to be appropriate. The forward-looking statements included in this release are also subject to a number of material risks and uncertainties, including but not limited to economic, competitive, governmental, and technological factors affecting our operations, markets, products, services and prices. Such forward-looking statements are not guarantees of future performance, and actual results, developments and business decisions may differ from those envisaged by such forward-looking statements. We identify the principal risks and uncertainties that affect our performance in our Form 10-K and other filings with the Securities and Exchange Commission.
Contact Details
Name: Jeannine Sohayda 973-455-2706
Email: Email Us
Phone No: 973-455-2706
---
Disqus website name not provided.
Honeywell Challenges Spray Polyurethane Foam Insulation Contractors and Builders To "Hit a Foam Run"