Got Milk?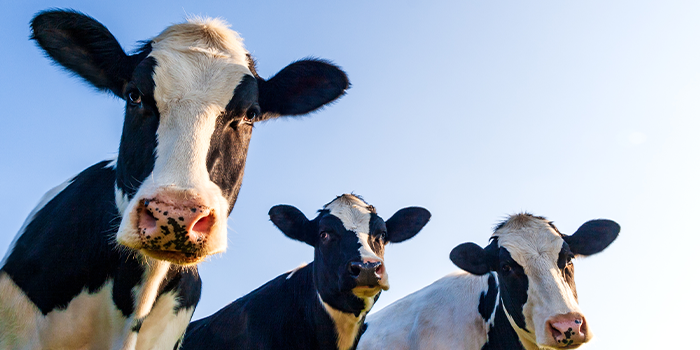 SPRAY FOAM MAGAZINE – With 21.5 fatalities per 100,000 workers each year, the farming and agricultural industry can be complex and even dangerous. An example of one of these tragic events actually occurred this year, when a fire and explosion at South Fork Dairy Farm in Dimmitt, Texas killed 18,000 cows. It has officially been labeled an "accident" by the Texas State Fire Marshal's office. The belief today is that the fire was the result of equipment failure and the presence of liquid fuel, hydraulic oil, and other flammable and combustible materials allowed the fire to grow so fast that the operator could not control it with fire extinguishers. This tragedy was not related to SPF.
The Spray Foam Magazine Team (SFMT) wanted to find out about working and applying spray foam in agriculture and the importance of surrounding yourself with industry knowledge, good workers, and high standards. We caught up with Joseph Lewis, owner of Ag Spray Foam, LLC to discuss his knowledge and why SPF performs well on dairy farms.
Ag Spray Foam, LLC is an insulation company focusing on the agricultural market. They are committed to increasing building life and farm/dairy production, and they are passionate about energy efficiency and cost-saving standards, while maintaining the integrity of the buildings from the impacts of rust, corrosion, noise, odors, and other environmental threats. Lewis got involved in insulation in 1994 and extended into the SPF business in the year 2000. When he discovered SPF in the 1990s, he was working for a large insulation company in Phoenix, AZ. He started upselling to his main customers at the time, custom home builders, and by meeting municipal code officials, Lewis would get them to approve the spray foam and educate the officials on performance over prescribed codes. SPF was a big hit, resulting in many of the custom homes in Phoenix having it installed.

During the recession, when there were hardly any houses being built, Lewis was offered a job selling Demilec spray foam in the western part of the country to spray foam contractors. He worked directly for the manufacturer for five years and it was during these years that Lewis thought that SPF would work well in agricultural buildings. He knew it was being used in potato warehouses, helping to maintain the temperature and minimizing the condensation inside the storage, but he thought it would also work well in the dairy industry.

Lewis had been promoting SPF to dairies, but at first, he could not get anyone interested in buying it. That all changed when one day, after traveling to pick up a horse in central Arizona, he noticed a big construction project going on. With horse in tow, he pulled over and found out that a dairy was being built. He asked for the architect's name, and they discussed the issues of dairy production when the temperatures rose above 100°F. This is a real issue as Arizona averages above 100°F 110 days a year.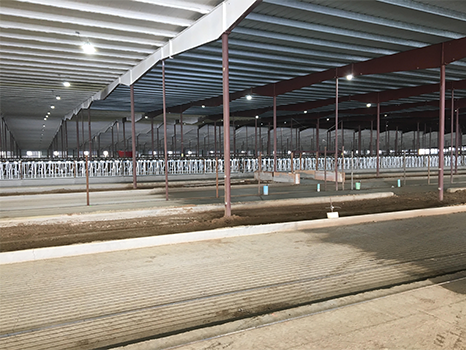 LINE IN THE SAND Here you can see how the SPF stops moisture. The line on the ground separates the foam side, which is dry, and the wet sand under the unfinished side.
After the benefits of spray foam were discussed, the architect said he would be interested in having it installed and Lewis got the contract for the 840,000-sq-ft project at the Zinke Dairy Farm, which also happened to be the first fully enclosed dairy in Arizona.
Lewis and his crew sprayed two inches of closed-cell spray foam to the underside of the dairy's roof deck to:
Help maintain the temperature
Help protect the metal building against water, rust, rodents and bugs
Help increase the racking strength
Provide a superior R-value compared to traditional insulation
Following the completion of the Zinke Dairy Farm, Lewis met with the manufacturer of the building who was impressed that the foam helped regulate the temperature, leading to a 25 percent increase in milk production during the summer months. He informed Lewis that a company was building another dairy in Idaho and introduced him to the contractor of Bettencourt Dairies. Lewis is now on his sixth dairy job with them and sprays between 650,000 to 850,000 sq ft of dairy space yearly.
Lewis has three spray foam rigs with all the required equipment, including a Gusmer H-20-35, PMC H-25, and H-40's plus two coating machines. He is proud of his crew who are well trained and trustworthy. The crew sprayed two inches of closed-cell, primarily Huntsman's HEATLOK HFO, getting through an average of two to six sets a day each. On average, that's between 16,000 and 30,000 sq ft they spray per day. The Bettencourt Dairy buildings range anywhere between 650,000 and 850,000 sq ft. Over the foam, they use a Huntsman roof coating to help protect the SPF. Additionally, due to the scale of these buildings, the coating provides reflectivity for the lighting system, making it much brighter, and thus helping the cows and the workers see better.
The owner of Bettencourt Dairy, Luis Bettencourt, is the first production dairy builder in Idaho that has specified SPF in his dairies. In opposition to the heat of an Arizona summer, Idaho can experience bitterly cold temperatures in the winter months. The cows therefore spend a lot of their energy just trying to stay warm, which results in their milk production in the wintertime dropping noticeably.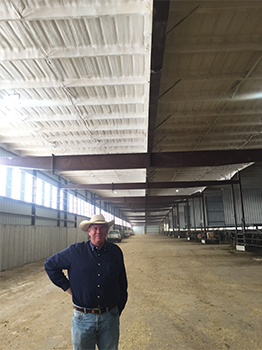 Joseph Lewis stands proud at Bettencourt Dairy from a job well done.
Most of the Bettencourt dairies are cross-vent, which is a large, enclosed area with a perimeter wall that divides that space. There are fans on one side of the building, misting systems on the other side and computer-controlled curtains that go up and down to control how much air is let in. In the summer months, the misters help keep the cows cool and there is constantly a movement of air going across the whole dairy building. Due to this movement of air, there's a lot less flies which is usually a big problem for the cows who are constantly being bothered by these pests. With the controlled airflow, the misters, and spray foam installed, the dairies stay at a steady temperature all year round. This results in comfortable cows and an increase in milk production.
Lewis explains how these agricultural jobs are dissimilar to a regular residential and commercial build, "You can't price these projects like you do a regular SPF application on a residential house. For example, we don't have to put plastic all around the windows or protect the floors. We install the foam and coatings, do the job well and efficiently, and leave."
Lewis has also taken his crew to spray potato warehouses in Idaho and Nebraska, "In 2020, we were even approached by a contractor in India to spray potato farms and this year we are scheduled to go to Alexandria, Egypt to do the same thing.
The contractors in these countries had heard about my company specializing in SPF installation in agricultural buildings and they approached me. We can pretty much go anywhere in the world and do a better job cheaper than anyone else." Traveling to India, Lewis and his crew applied SPF to four potato warehouses. They then trained an Indian crew there to use SPF, which helped them with their subsequent projects.
The SFMT then asked Lewis about his future business plans. He replied, "If you are not expanding, and you don't have a goal to grow, you are dying. I'm very happy with the work I have now, but I am constantly trying to grow the business. The biggest problem that I have is trying to find quality applicators. People that are not only knowledgeable about the foam but are also willing to work. My growth is limited by my ability to find trustworthy labor. The crews I have – I trust them and they are loyal. It's hard to find that."
Even though Ag Spray Foam is small, they are mighty in performance and complete these monumental agricultural buildings to a high standard. Keeping the temperature even in these dairy farms is crucial, helping keep the cows' content and therefore their milk production plenty. Without the knowledge of the materials applied, the agricultural industry experience, and a trustworthy crew, these cows would be in a moo-d, which is udderly ridiculous when superior spray foam can be applied by an experienced crew.
For use by SprayFoamMagazine.com & Spray Foam Magazine

Disqus website name not provided.