GacoPatch Silicone Roof Patch is Released in New Colors
GacoPatch Silicone Roof Patch is Released in New Colors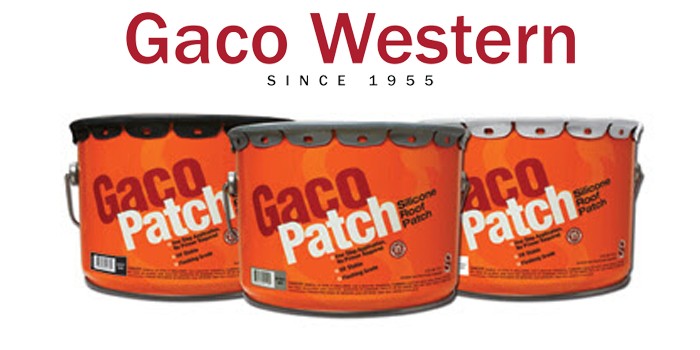 SEATTLE, WA
– August 11, 2017 - GacoPatch is a fiber reinforced silicone roof patch from Gaco Western designed for roof leak repairs in a one-step application. Primers, seam tapes, and top coats are not required.
Due to the success of GacoPatch Gray, Gaco is now introducing GacoPatch White and Black to use on existing roofs without leaving unsightly patching spots. Additional colors allow for more flexibility, depending on the type of roof needing repair.
"Understanding that roof substrate colors vary, creating solutions to meet the needs of our customers was important to us," says Jason Loftus, Director of GacoFlex Sales.
A waterproof, monolithic seal is created within 30 minutes of applying GacoPatch, quickly protecting roofs from leaks. Long-term, GacoPatch is suitable as a standalone roof patch and will not degrade under UV, temperature extremes or ponded water. The convenient 2.5-gallon wide top pail makes GacoPatch application easy to do with a trowel or a brush.
GacoPatch comes with a 25-year limited material warranty.
When you need a patch to be permanent, choose GacoPatch.
About Gaco Western
Gaco Western was founded in 1955 with its roots in technology and product innovation. The Gaco family of brands offer best-of-class solutions for a variety of commercial, industrial, and residential applications including specialty coatings for roof, pedestrian and traffic decking, and spray polyurethane foam insulation.
Contact Details
Name: Gaco Western
Email: Email Us
Phone No: 866-422-6489
Disqus website name not provided.
GacoPatch Silicone Roof Patch is Released in New Colors