Foam Supplies, Inc. Celebrates 45 Years of "Success Through Innovation"
Foam Supplies, Inc. Celebrates 45 Years of "Success Through Innovation"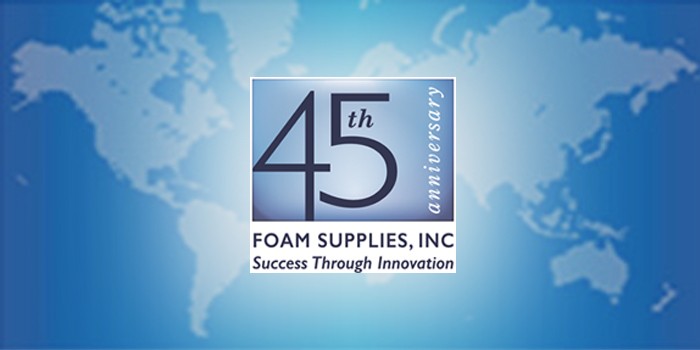 EARTH CITY, MO
– JULY 18, 2017 – Foam Supplies, Inc. (FSI), the industry leader in environmentally responsible polyurethane products, has reached its 45th Anniversary.
Founded in 1972 by David G. Keske, an industry veteran and innovator, Foam Supplies has grown into a global enterprise and one of the world's premier polyurethane "systems houses." FSI currently operates 2 US manufacturing facilities, 6 international companies and has technology partners and distributors around the world.
"My late father founded Foam Supplies because he wanted to fill the gaps and serve customers that larger companies deemed insignificant to their business strategy," said Todd Keske, president of FSI. "The philosophy was simple: provide the best and most consistent polyurethane systems, as well as uncompromising customer service and technical support, to every customer. This and other value-based principles remain the backbone of FSI and are responsible for our success."
As the company's slogan, "Success through Innovation," implies, FSI's history has been rich with innovation, being the first company to patent HCFC technology to reduce the harmful effects of ozone-depleting CFC products. This was followed by the commercialization of HFC-based products to further mitigate damage to the environment. Then, in 2002, FSI patented and introduced ecomate® technology – a monumental breakthrough that continues to be the most environmentally benign blowing agent available today.
"With more than 15 years of commercialization, PU products powered by ecomate outperform competing technologies today," says Keske. "As the world transitions away from damaging HCFCs and HFCs, we have the products to meet both regulatory requirements and consumer demands. Whether it's rigid, flexible, spray or other polyurethanes, Foam Supplies is prepared to help our customers meet their sustainability and business goals."
Contact Details
Name: George Snyder
Email: Email Us
Phone No: 314-336-1300
Disqus website name not provided.
Foam Supplies, Inc. Celebrates 45 Years of "Success Through Innovation"