Foam in the Fast Lane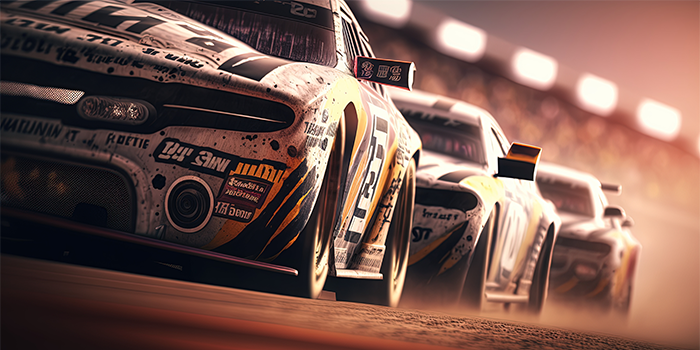 SPRAY FOAM MAGAZINE – The history of car racing in the Carolinas dates back over a century. That was a time when the engines and stakes were oversized, the racing was dangerous, and the transportation of moonshine was big business. From its modest roots to an industry which is now full of the glitz and glamor of fame, fast cars, and big money, this legendary racing series runs deep in the veins of the South. It's one of the largest spectator sports in the United States and one of the top ranked motorsports organizations in the world, so what does it take for a contractor to build a long relationship with one of the most famous teams in this series?
Houston Bros Spray Foam Insulation is a family business based in Ferrum, Virginia. In addition to spraying residential and metal buildings, they offer commercial roof repairs, coatings, and air barriers. Owner and operator Daniel Houston (aka Dan) has been working with spray polyurethane foam and plural components since 2000. He and his brothers, Tom and Matt Houston have been installing spray foam insulation since 2011. The Spray Foam Magazine Team (SFMT) caught up with Dan to ask him how he landed such an impressive gig and why this client keeps on coming back for more.
Prior to starting his own business, Dan Houston was a commercial roof repair technician for 10 years. He worked on single ply, metal, standing seam, and torch down roofing systems. He learned a lot of the pitfalls of spray foam roofing early on. "In my opinion, it can be scary for SPF applicators to spray the walls and then go into spray foam roofing. There really is a different art to being a foam roofer." Dan jokes that in the industry, "You can take a roofer and turn him into a wall guy, but you can't take a wall guy and turn him into a roofer because he thinks he knows how to spray." However, he does highlight the complications of SPF roof application going on to say. "There is a lot of technique to getting the foam roof to lay in correctly without ponding water. It needs to be an inch and a half without any dips or bumps. It comes down to a lot of training."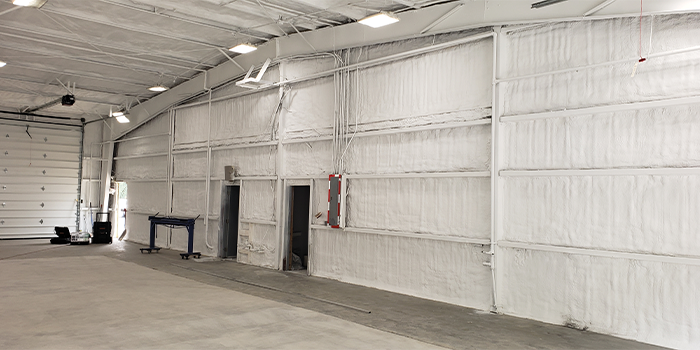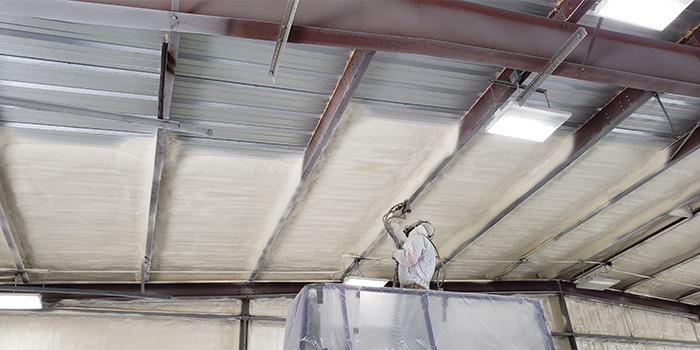 The Houston Bros Spray Foam Insulation crew installed UPC 2.0 HFO closed-cell foam to the 40ft x 80ft building. In total, five sets of closed-cell foam were applied with three inches on the ceiling and two inches on the walls.
By the time Dan was 22, he was running two crews at the company he was working for. He was trained on a classic rig, the old Gusmer H-20/35. "I'm an old school Gusmer guy," as he likes to put it. "I'm a PMC guy now and I love that technology because it's simple and dependable. Throughout my entire spray foam career, I have always gone with hydraulic and never electric. I have had minimal breakdowns and love the design. I really fell in love with SPF and the equipment at a young age."
12 years ago, Dan was ready to set up his own business and launched Houston Bros Spray Foam Insulation working with a basic setup and within three years, he had sold a $150,000 spray foam roof for a company and upgraded his rig.
Dan purchased a PMC GH-25 2000 rig back in 2014, which is before the PH series. Dan likes this model because it's easy to use and came with two Fusion AP guns. He has since switched over to the new PC Connect with cartridges. Dan and his crew use shore power and don't have a generator, as Dan is familiar and comfortable with working with breaker panels. He currently runs one rig, and while he may consider buying a second in the future, he just borrows an additional rig when needed now. He prides himself on how he and his crew keep the rig immaculate, "I don't spray isocyanate all over the place. I don't understand people who don't take care of their equipment. Your rig is a representation of your company. You don't want anyone, especially a client, to come and see it in a real mess. What would that say about us?"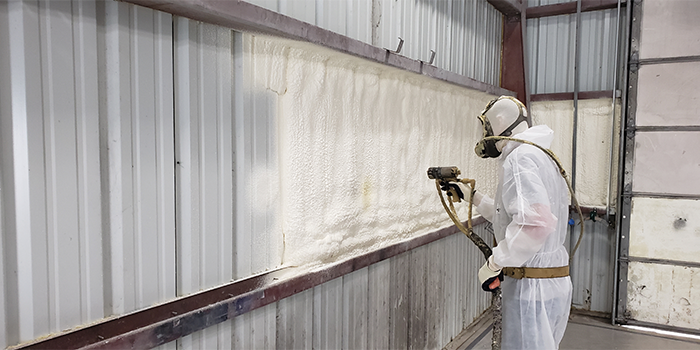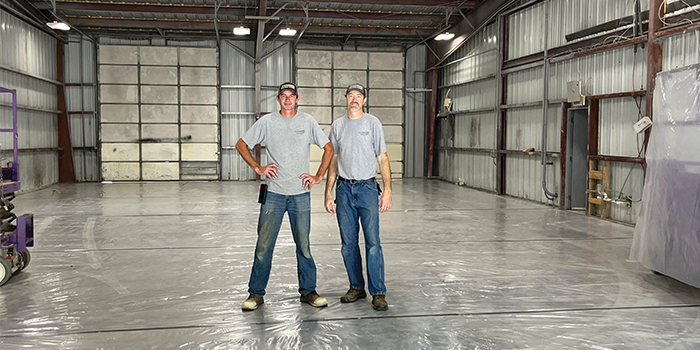 The Houston Bros – Dan (left) and Tom (right) in the facility
Following the COVID lockdown, Houston Bros Spray Foam was contacted by a very famous motorsport company. The next thing Dan, Tom and Matt knew, they were visiting the headquarters and being interviewed. The client had previously used batt insulation. "The fiberglass must be installed perfectly to maintain the R-value, but it was crushed between the purlins. My client needed to update the building because it had not been modernized since the 80s, so they started to investigate SPF. Once they spoke with us and understood our values and knowledge of the material with its air sealing capabilities and durability, we were awarded the job." Houston Bros were soon on site and finished the application.
Dan and his crew of three, recently sprayed a 40ft x 80ft metal shop building for this famous motorsport team. Sworn to secrecy and NDA's, Dan could not reveal what exact team the shop belonged to, however, what he divulges is that he and his crew applied UPC 2.0 HFO closed-cell foam, applying five sets, with three inches on the ceiling and two inches on the walls.
Once the crew had applied the SPF, his client, who has a large paint department, sprayed an intumescent coating over the top. "We can do that too, but they had everything there ready to go," said Dan.
The client was very impressed with the quality of Houston Bros Spray Foam's work and how efficient the building was after the SPF was installed. Some of the earlier buildings Dan and his crew sprayed had a very low roof line, so the temperature difference was phenomenal. The crew also sprayed a building which was next to the team's dyno shop, which is extremely loud. They had the SPF applied, some fiberglass and some sound mitigation sheet rock to help try and alleviate some sound with the results being a hybrid insulation system that the clients were very happy with.
Reflecting the work ethic of these clients, Dan, and his brothers are hard workers, they do a proper job, and they have good old Southern manners, humor, and family values. The client was so impressed with the first project, they have since hired them to spray seven additional buildings.
Dan is 6'7" and his brother Tom is the same height. His 'shorter brother' Matt is a mere 6'4". "We don't use a lot of ladders," jokes Dan. They do however use full PPE, but Dan makes his own custom sleeves for his Tyvek suit, due to the length of his arms and not wanting to get foam on his arm hair. "I use the sock that's put on people before they have a cast put on their arm."
The renowned race team appreciates Houston Bros Spray Foam Insulation's work, high standards, good quality materials and respecting their company's policies, including discretion. That's why they give them repeat business. The crew are now familiar faces around the complex and are on a first name basis with a lot of this famous motorsport's employees. Dan emphasizes how his brothers have helped him during the journey to success saying, "My two brothers are amazing and great at what they do. However, my youngest brother has just left the company after he was recruited by a Fortune 500 company. He had been my lead sprayer for 12 years, but I supported him in his move. It's bittersweet. We miss working with him, but he has had his own great opportunity and goals to follow. I even gave him a crystal plaque to say how I appreciated his 12 years of service. Today I'm training our new applicator."
Houston Bros Spray Foam Insulation's attitude and professionalism has gained them some impressive projects, and with dedication to the job, and with a new crew member, this positive attitude will always win the race!
For use by SprayFoamMagazine.com & Spray Foam Magazine

Disqus website name not provided.