Dodge Data & Analytics to Present 2018 Construction Industry Forecast at Annual Outlook Conference
Dodge Data & Analytics to Present 2018 Construction Industry Forecast at Annual Outlook Conference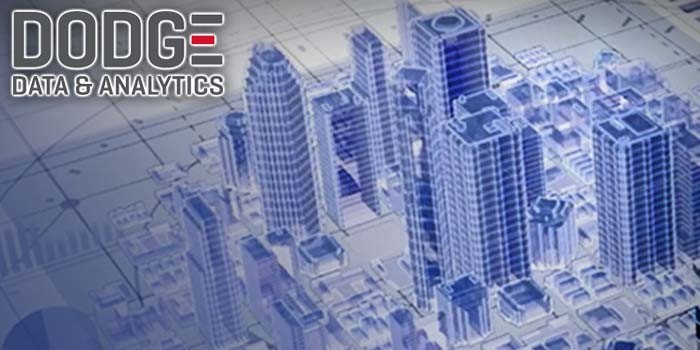 NEW YORK – October 18, 2017 – Dodge Data & Analytics will unveil its much-anticipated construction industry forecast at the 79th annual Dodge Construction Outlook Executive Conference, November 1-2, 2017 at the Swissôtel, Chicago. Known as the industry's premier construction forecasting event, the Dodge Outlook will focus this year on the growing trends of connectivity, collaboration, and integration among design professionals, builders, and the companies that make and supply building products and materials.
The annual forum brings together attendees from across the construction industry – including architects and designers, contractors, engineers and building product manufacturers – to hear vital economic forecasts and guidance for their businesses. Following a positive reception to its debut in 2016, this year's event will also include the construction outlook for Canada. The conference will culminate in the U.S. outlook for the coming year, a benchmark for the industry, delivered by Dodge Chief Economist Robert Murray.
"This year's Outlook theme of 'Connectivity, Collaboration, and Integration' has been found by our research to be gaining momentum in the industry, particularly between the design and construction communities," said Mike Petrullo, Chief Executive Officer, Dodge Data & Analytics. "At Outlook 2018, we will focus on this trend, analyzing how it generates powerful efficiencies, reduces cost and schedule overruns, helps ensure safety and quality and increases overall performance for all parties in the project delivery process."
Outlook 2018 will open with a networking reception November 1 from 6 – 7:30 p.m., with presentations the following day from 8:00 a.m. – 3:30 p.m. Delivering the luncheon keynote will be Billy Beane, the baseball executive whose innovative statistical methodology of utilizing analytics to identify undervalued assets to create and sustain a competitive advantage has come to be known as the "moneyball" philosophy.
RELATED Dodge Data & Analytics Introduces Dodge PreQual, a Prequalification Module for Dodge PlanRoom, 2018 International Builders' Show Registration Opens, Construction Employment Increases in May to Eight-Year High , Majority of Construction Firms Plan To Expand Headcount in 2017
Scheduled presentations include:
"The U.S. Economy: Major Issues 2017/2018" by Cristian deRitis, Analytics Senior Director, Moody's

"The Business Value of Connectivity, Collaboration and Integration in Construction" by Steve Jones, Senior Director of Industry Insights Research, Dodge Data & Analytics

"2018 Canada Outlook" by Richard Branch, Senior Economist, Dodge Data & Analytics

"Moneyball: The Art of Winning an Unfair Game" by Billy Beane, Executive Vice President of Baseball Operations for the Oakland Athleticsand subject of the bestselling book and Oscar-nominated film, Moneyball

"2018 Construction Outlook" by Robert Murray, Vice President, Chief Economist, Dodge Data & Analytics

Sponsors of the 2018 Dodge Construction Outlook Executive Conference include the American Institute of Steel Construction, HKA, Lockton Companies-Northeast Construction Practice, Modern Marketing Concepts, Inc., and Sweets.
For more information and to register: Visit 2018 Dodge Outlook. For press registration: Dodge Data & Analytics provides a limited number of complimentary press passes to credentialed editorial members of the media who are on assignment to cover the event. To request a press pass, please email contact given.
About Dodge Data & Analytics
Dodge Data & Analytics is North America's leading provider of analytics and software-based workflow integration solutions for the construction industry. Building product manufacturers, architects, engineers, contractors, and service providers leverage Dodge to identify and pursue unseen growth opportunities and execute on those opportunities for enhanced business performance. Whether it's on a local, regional or national level, Dodge makes the hidden obvious, empowering its clients to better understand their markets, uncover key relationships, size growth opportunities, and pursue those opportunities with success. The company's construction project information is the most comprehensive and verified in the industry. Dodge is leveraging its 100-year-old legacy of continuous innovation to help the industry meet the building challenges of the future.
Contact Details
Name: Benjamin Gorelick
Email: Email Us
Phone No: 1-212-943-5858
Disqus website name not provided.
Dodge Data & Analytics to Present 2018 Construction Industry Forecast at Annual Outlook Conference