Dodge Data & Analytics Construction Project Information Now Integrated With Microsoft Dynamics® CRM
Dodge Data & Analytics Construction Project Information Now Integrated With Microsoft Dynamics® CRM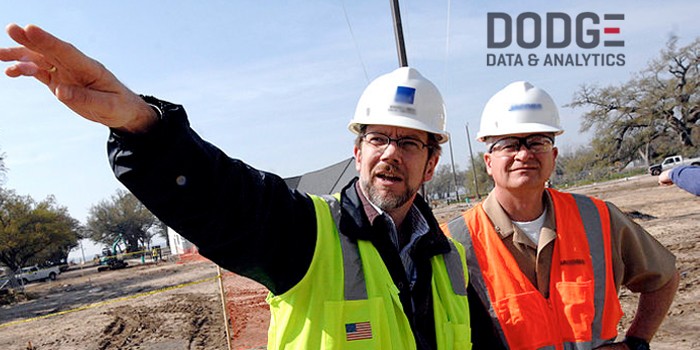 NEW YORK, NY – May 11, 2017 – Dodge Data & Analytics has launched PipeLine for Microsoft Dynamics, a new software application that integrates construction project information directly into Microsoft Dynamics, a popular customer relationship management (CRM) system.
Contractors and building product manufacturers using Dynamics can now more easily find and track construction projects, tying them directly into their opportunity, account and reporting workflows. An introductory webinar on the intuitive new software is available here.

RELATED SES Foam: Should We Believe the Hype? , BPI Certifications Provide Florida Home Builders with an Affordable Path for Blower Door Code Compliance, Dodge Momentum Index Springs Forward in March, New Homes Strengthen Economy, Spur Job Growth
"Dodge offers the most current and comprehensive information for anyone interested in finding and tracking North American construction projects," said Mike Petrullo, Chief Executive Officer, Dodge Data & Analytics. "Making this data accessible directly through Microsoft Dynamics is another example of how Dodge is working to simplify workflows and help the construction industry do business in a more efficient and productive way."
Dodge PipeLine for Dynamics can be installed and configured in just a few hours, with no additional set up or service fees. For more information, click here.
About Dodge Data & Analytics: Dodge Data & Analytics is North America's leading provider of analytics and software-based workflow integration solutions for the construction industry. Building product manufacturers, architects, engineers, contractors, and service providers leverage Dodge to identify and pursue unseen growth opportunities and execute on those opportunities for enhanced business performance. Whether it's on a local, regional or national level, we make the hidden obvious, empowering our clients to better understand their markets, uncover key relationships, size growth opportunities, and pursue those opportunities with success. Our construction project information is the most comprehensive and verified in the industry. We are leveraging our 100-year-old legacy of continuous innovation to help the industry meet the building challenges of the future. To learn more, visit www.construction.com.
Contact Details
Name: Benjamin Gorelick | Spector & Associates
Email: Email Us
Phone No: +1-212-943-5858
Disqus website name not provided.
Dodge Data & Analytics Construction Project Information Now Integrated With Microsoft Dynamics® CRM