Demilec Named Preferred Supplier By Insulate America
Demilec Named Preferred Supplier By Insulate America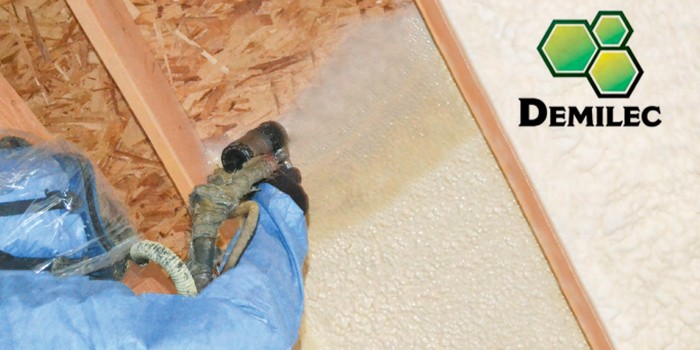 ARLINGTON, TX – August 6, 2015 – Demilec, one of North America's largest manufacturers of spray foam insulation and polyurea products, has been selected by Insulate America as a preferred supplier for insulation contractors across the country. Insulate America is a cooperative group of locally owned, independent insulation contractors for residential and commercial construction. The association will now include Demilec's innovative spray foam and coating products, technical support and equipment sales among its offerings.
"We are always searching for new ways to support the insulation contractor community. This relationship with Insulate America expands the supplier network and allows us to continue offering contractors complete solutions," said Paul Valle, President and CEO at Demilec.
Demilec brings more than 30 years of experience in the polyurethane market, 20 warehouses and the largest field of technical service to the insulation contractor association. As an industry leader, Demilec develops SPF solutions for residential, commercial and agricultural construction.

RELATED SPI Launches New Website with User Directed Navigation, Sprayfoam 2016 Convention & Expo to be Held in Orlando , VersaFlex Schedules New Training Program at Diamond Liners' Headquarters , SprayWorks to Host Fundraiser Supporting Veterans Currently Working in Spray Foam Industry, DC315 Announces 50+ Year Useful Life Technical Bulletin
"We are looking forward to a long and prosperous partnership with Insulate America and its members," Valle added.
With 200 locations serving 46 states, Insulate America is committed to acquiring business relationships that provide the highest quality of workmanship and service.
About Demilec: Demilec has been recognized as an industry leader in using innovative technology and advanced science to create a line of open-cell and closed-cell spray foam insulation and coatings for more than 30 years. Demilec focuses on meeting market demands for more energy-efficient products and serves a range of industries, including industrial, residential, commercial, agricultural, original equipment manufacturer, education, water, oil & gas, energy, military and civil. For more information, please use the contact information or visit demilecusa.com
Contact Details
Name: Cooper Smith Koch
Email: Email Us
Phone No: (817) 640-4900
Disqus website name not provided.
Demilec Named Preferred Supplier By Insulate America