Demilec Becomes a Global Sponsor for SprayFoam.com
Demilec Becomes a Global Sponsor for SprayFoam.com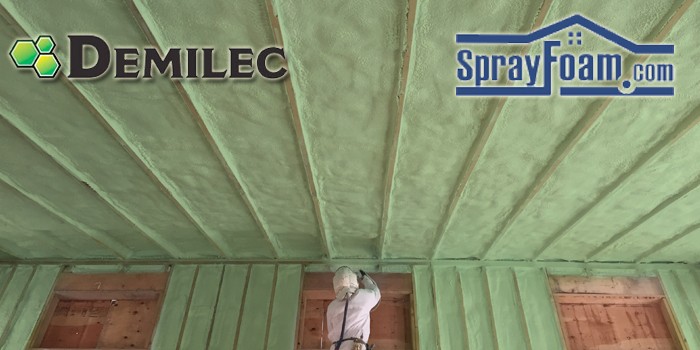 ARLINGTON, TX – April 4, 2016 – Spray foam manufacturer Demilec, Inc. and SprayFoam.com recently reached a global sponsorship agreement. The global sponsorship partnership enables Demilec to substantially extend their reach to the spray foam industry at large showcasing their existing products, as well as information about Demilec's latest advancements of newer technologies to be released in the near future.
A Crucial Partnership
"Since we opened our doors in 1983, Demilec has had a focus on the contractor," says Doug Brady, Demilec's Vice President of Product Management and Marketing. "The contractor is the driving force behind spray foam insulation as they are out there, every day, working to specify and install foam insulation. By working with SprayFoam.com, we see this as an excellent avenue to ensure all of the contractors are aware of Demilec's continued efforts in the marketplace to deliver innovative, high-quality products."
And this initiative of reaching spray foam contractors and increasing their customer base is the foundation of Demilec's partnership with SprayFoam.com. According to Brady, for one of the largest spray foam companies in the market to join forces with largest information source for spray foam contractors seemed like a natural fit.
"With in-field technical support, the ability to service and sell equipment, and industry leading spray foam, Demilec provides contractors with the products and information they need to be profitable," notes Brady. "Similarly, SprayFoam.com provides all the latest news and changes to the industry, which keeps the contractor informed on their business. Choosing to become a global sponsor was the right thing to do."

RELATED New Homeless Housing Village in Dallas Improves Sustainability and Energy-Efficiency with Demilec Spray Foam Insulation, Dow's Chrisafides to Keynote on Next Generation of Polyurethanes at UTECH North America Conference, Builder Confidence Holds Steady in March
In the Works
As far as product innovation, Demilec is currently full-steam ahead. The introduction of their Heatlok XT closed-cell spray foam, which features super high-yield and sprayability, has been a hit among Demilec-affiliated contractors. With one of the highest levels of renewable and recyclable content, over 23 percent in the finished foam, Demilec has held true to providing energy-efficient, environmentally conscious products, which allow contractors to expand their business and revenue.
There is no shortage of development in the open-cell foam side, as Demilec recently changed the color of their APX 1.2, an AC 377 Appendix X-certified product, to green.
These formulations are specifically designed to cater to the spray foam contractor's needs.
"From customer feedback, our contractors wanted a quick visual for the building inspector to understand that APX 1.2 did not need an ignition barrier," explains Brady. "With our Sealection 500 the natural foam color and our APX 1.2 Demilec Green, we now offer a clear indication of which foam needs to have an ignition barrier and which foam does not."
Not only are Demilec's product developments specifically designed to cater to the spray foam contractor's needs, but also they are coupled with the company's motion to phase out hydrofluorocarbons (HFCs) from its product lineup and the development of hydrofluoroolefin (HFO)-blown spray foam.
Stay tuned for all the latest news on Demilec and their ongoing endeavor to provide contractors with the best spray polyurethane foam products on the market.
About Demilec: Demilec has been recognized as an industry leader in using innovative technology and advanced science to create a line of open-cell and closed-cell spray foam insulation and coatings for more than 30 years. Demilec focuses on meeting market demands for more energy-efficient products and serves a range of industries, including industrial, residential, commercial, agricultural, original equipment manufacturer, education, water, oil & gas, energy, military and civil. For more information, visit demilec.com.
Contact Details
Name: Doug Brady
Email: Email Us
Phone No: 855-400-6895
---
Disqus website name not provided.
Demilec Becomes a Global Sponsor for SprayFoam.com