Covestro Announces New Open-Cell Spray Polyurethane Foam Insulation for Economical Applications
Covestro Announces New Open-Cell Spray Polyurethane Foam Insulation for Economical Applications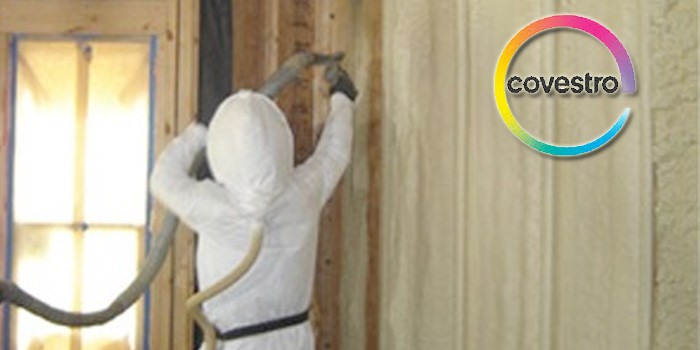 SPRING, TX – February 25, 2016 — Covestro's new Bayseal® OCX open-cell spray polyurethane foam (SPF) insulation can help contractors save time and money. It is formulated to meet the requirements of acceptance criteria (AC) 377 Appendix X. Bayseal® OCX meets IBC and IRC requirements for fire resistance without an additional ignition barrier or intumescent coating when applied in service-only attics and crawlspaces. Contractors can now comply with fire protection code requirements using one product.
Bayseal® OCX expands in place when applied, making it a one-step air seal and insulation. In addition to meeting IBC and IRC requirements, Bayseal® OCX also complies with the 2012 and 2009 International Energy Conservation Code (IECC). Complete compliance and application details are available in the ICCR report 1049, available from Covestro. Bayseal® OCX can also contribute to third-party sustainability programs like LEED and EnergyStar, and it may qualify for local sustainable building incentives; contact the respective agency for more information.
Contractors will appreciate the easy, one step application of Bayseal® OCX. Without the need to apply a separate ignition barrier, residential projects can typically be completed in substantially less time, allowing other trades to assume their work sooner.
RELATED WALLTITE® Spray Foam Helps to Insulate Restored Chapel, Building a Brighter and More Sustainable Future with Covestro, OSHA Postpones Confined Spaces Regulation
"As a former builder myself, I know time is money on the jobsite. Bayseal OCX will allow the spray foam contractor to get in and complete most jobs in one day, saving the need for an extra trip," according to Jeremy Parker, national sales manager for Covestro spray insulation and roofing systems. "By offering an open cell product that passes AC377 Appendix X test criteria, our customers have more options to assist them in running the most efficient business possible. When they win, we win."
About Covestro LLC: Covestro LLC is one of the leading producers of high-performance polymers in North America and is part of the global Covestro business. Covestro manufactures high-tech polymer materials and develops innovative solutions for products used in many areas of daily life. The main segments served are the automotive, electrical and electronics, construction, medical and sports and leisure industries. The Covestro group has 30 production sites around the globe and employed approximately 15,700 people at the end of September 2015. More information at polyurethanes.covestro.com.

This news release may contain forward-looking statements based on current assumptions and forecasts made by Covestro AG or subgroup management. Various known and unknown risks, uncertainties and other factors could lead to material differences between the actual future results, financial situation, development or performance of the company and the estimates given here. These factors include those discussed in Covestro's and Bayer's public reports which are available on the Covestro website at covestro.com as well as on the Bayer website at bayer.com. Covestro and Bayer assume no liability whatsoever to update these forward-looking statements or to conform them to future events or developments.

Contact Details
Name: Martha Vandamme
Email: Email Us
Phone No: 281-350-9000
Disqus website name not provided.
Covestro Announces New Open-Cell Spray Polyurethane Foam Insulation for Economical Applications