Building Net-Zero Affordable Homes
Building Net-Zero Affordable Homes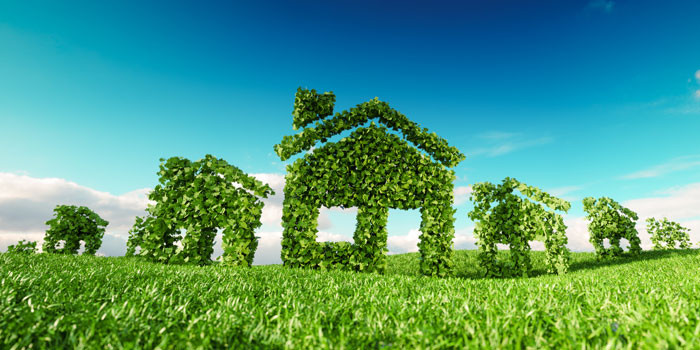 Spring 2020 – Spray Foam Magazine – Florida Home Partnership (FHP), a leading, non-profit affordable home builder in Hillsborough County in the Sunshine State, is making huge strides in affordable housing and in sustainable, energy-efficient housing. A grant to support cleaner and greener building technology from Wells Fargo in conjunction with a home grant from Hillsborough County provided the funding needed to get this project underway in Ruskin, Florida, a quiet little town with agricultural roots about 16 miles from Tampa and situated on the north side of the Little Manatee River.
This "net-zero" energy home building project is well underway with seven homes under construction slated to be completed by the summer of 2020. Net-zero energy homes are built with zero net energy consumption which means the total amount of energy used by the building on an annual basis is equal to the amount of renewable energy created on site. Simply put, the homes will be more energy efficient, saving the homeowner a great deal of money for years to come.
These seven homes will be constructed using four different green building technologies that will improve the quality of life for the residents while lowering electric and home insurance bills. The four building systems featured in these 1,400- to 1,700-square-foot, four bedroom, two-car garage homes located in the Sunset at Bayou Pass neighborhood will include Insulated Concrete Form Construction (ICF), standing seam metal roofs, solar panels, and spray foam insulation.
Insulated Concrete Form is a concrete material sandwiched between layers of polystyrene foam. The metal roof system, made partially from recycled materials, reflects more solar radiation than an asphalt roof and is considered to be the most environmentally friendly and sustainable roofing material available. The use of solar panels provide a true renewable source of energy and finally, to complete the energy efficient phase is spray foam insulation which has a higher R-value and provides an air-tight building seal to prevent heat loss in winter, keeps cooler air in during the summer months, and helps prevent outside irritants from infiltrating the home. This process is working so well that Florida Home Partnership is currently planning to build around 50 homes per year, using these four energy efficient materials.
When Mike Morena, Executive Director of Florida Home Partnership took over two years ago, he wanted to improve on what they were already doing at FHP by finding new and better ways to build. Not that they were doing a poor job at FHP, but Mike knew there were things they could be doing in the affordable housing market to make home ownership affordable in every way, all while being more environmentally friendly. Mike went to his construction manager, Jody Fitzgerald, and asked him to "find a better way for us to build." Jody wholeheartedly embraced Mike's request and quickly presented Mike with his ideas to build "net-zero" energy affordable housing.
The use of spray foam was at the forefront of his list as Jody had built two personal homes using spray foam and couldn't be happier with the results. Mike was intrigued and stated, "Let's do it. We'll find a way to make it happen," and that's exactly what he did by taking their ideas and obtaining grant monies to offset the additional costs. "When we realized just what spray foam could do and how much it could save customers, we both agreed that this was the right thing to do. With the addition of spray foam to the ICF, the solar panels and metal roof, there was nothing more that we could do to make these homes more airtight," states Mike.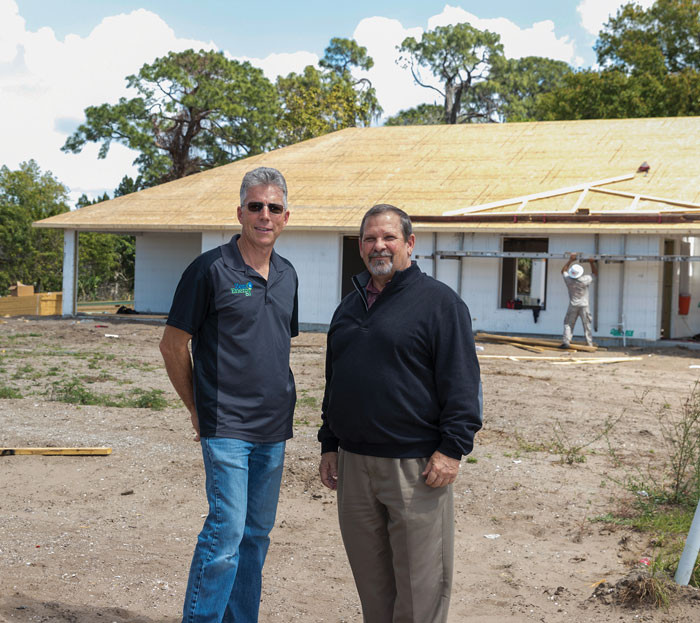 Florida Home Partnership's Construction Manager, Jody Fitzgerald and Executive Director, Mike Morina in front of one of seven Net Zero Energy Homes being constructed in Ruskin, FL
After obtaining the unwavering go ahead from Mike, Jody hired Installed Building Products as the installer on these first seven homes in Ruskin, FL and the job was specified by the architect on the project. The installers sprayed the walls, attic, crawl space, attic roof deck and floors. This was done to seal the building envelope making it energy efficient. One set of Demelic Sealection 500 was used on these homes sprayed 5.5 inches thick. The foam was blown with a Graco E30 Reactor II spray rig with Fusion AP gun. Installers wore Tyvek hooded suits with fresh air exchange respirators and eye protection.
Mike also pointed out that another advantage of using spray foam was the reduction of high attic temperatures. In the summer, in Florida, average attic temperatures can reach up to 140 degrees, but with the addition of spray foam, temperatures are more in the mid to lower 80s. The cooler temperatures not only makes attic storage more accessible, but it allows builders to place A/C equipment in the attic space. Mike adds, "We just do it because it's better. I am very proud that we decided to build this way. It is clearly the better solution and we strongly believe in what we are doing for the future of the affordable housing industry."
An added benefit for Florida Home Partnership is the working relationship they have with the Florida Center for Community Design & Research (FCCDR) at the University of South Florida's School of Architecture & Community Design. Founded in 1986, they provide design expertise, technical assistance, applied research, and community engagement services in Florida's growing communities to address urban challenges related to the building environment. They have worked with over 100 communities on more than 150 projects. Florida Home Partnership's "net-zero" energy project is one of them. Their mission is to create more livable and sustainable communities. The head of the center, Dr. Josue Robles, and his team advises FHP on the latest advances in building materials, building design, and community planning. Dr. Robles carefully looked over the plans for this "net-zero" energy project and confirmed that ICF and spray foam were the very best products to use.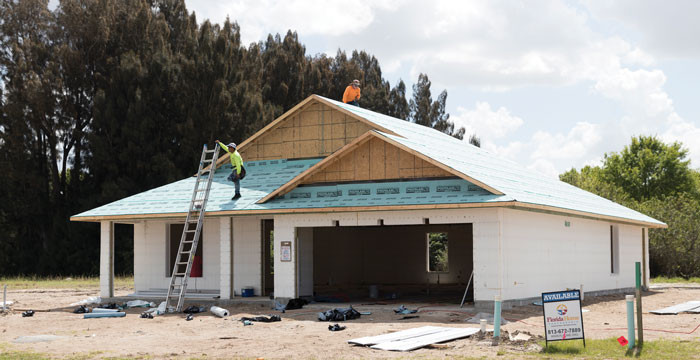 "We are fortunate to have the FCCDR working alongside us on these community projects," says Mike. He also states, "This project has been widely received by government officials which will lead to more support and funding in the future. We feel it is our responsibility to share what we are doing with the community and surrounding communities, and it is our hope that other communities across the state and the country will see what we're doing and replicate it. It's an upgrade in the building industry that we need to make the norm because the benefits to the consumer and to our environment far outweigh the initial costs."
In closing, Mike and his team at Florida Home Partnership, truly believe that this "net-zero" energy housing design takes home purchasing to the next level as home buyers will be able to not only purchase a home, but to comfortably afford to live in it for years to come.
Founded in 1993, Florida Home Partnership (FHP) is leading the way in affordable housing, using innovative technology to build high-quality homes in neighborhoods where people want to live. FHP is a 501(c)(3) nonprofit, Community Housing Development Organization (CHDO) and a certified Community Development Corporation (CDC). Based in Hillsborough County, FHP has helped over 900 families achieve the American dream. Many of FHPs clients have gone through the USDA Mutual SELF–Help housing program, which organizes neighbors to work hand-in-hand, contributing "sweat-equity" to build their community together. FHP is committed to raising the bar for what affordable housing looks like and building stronger, safer homes for less money.



Disqus website name not provided.
Building Net-Zero Affordable Homes