Be the Hero: Help Customers Choose the Right Product for Their Home with the Insulation Selector Tool by CertainTeed
Be the Hero: Help Customers Choose the Right Product for Their Home with the Insulation Selector Tool by CertainTeed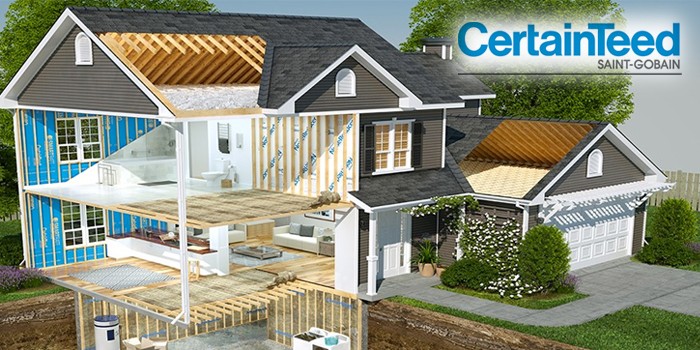 MALVERN, PA – November 16, 2016 – Building a house or undertaking a major home remodel can be a very overwhelming process for homeowners, with many looking to builders and contractors for advice and guidance. Luckily, professionals can now easily help homeowners through the process of choosing insulation, thanks to a new mobile-friendly, web-based tool from CertainTeed. By answering a few simple questions, homeowners can find and choose the best insulation systems for every area of their home.
"Too many insulation choices can be mind-boggling, especially for a homeowner who is undertaking a major remodeling project or building a new house," said Greg Silvestri, president of CertainTeed Insulation. "We created the Insulation Selector Tool to help our contractor and builder partners explain early in the decision-making process that what's behind the wall matters. Upgrading insulation later is difficult, disruptive and expensive, but now with just a few clicks, homeowners can achieve a comfortable, healthy living environment that provides utility savings and investment protection in the long run."
Found at www.certainteed.com/myinsulation, the Insulation Selector Tool works by recommending a personalized selection of insulation solutions based climate data, budget and the homeowner's specific needs for their home and family. The tool considers a wide range of variables that impact comfort, including energy efficiency, indoor air quality, moisture management and noise control. Each question within the tool includes a quick tip, allowing homeowners to learn more about each consideration involved in choosing the right insulation along the way.
Upon completion of the questionnaire, homeowners receive a personalized page of results detailing the specific insulation solutions that are recommended for them, sorted by application area (side walls, interior walls, attics and basements). Results can be quickly and easily shared with their builder or contractor via email.
RELATED Rhino Linings Introduces Hybrid Cell Spray Foam Insulation, SES Foam Launches Wall Insulation Featuring Honeywell's Low-Global-Warming Material, Natural Polymers LLC to Use Chemours' Opteon™ 1100 in New Low GWP Spray Foam Formulations, Icynene Launches New Look, Customer-centric Website

Builders can request a customized version of the Insulation Selector Tool from CertainTeed if interested by sending an email to certainteed_insulation@saint-gobain.com. Each customized version of the tool includes builder branding and a unique URL, recommending only result options specific to the builder's inventory of insulation solutions. The customized tool serves as a useful sales guide in the showroom, or can be utilized by the homeowner to complete offsite when convenient.
CertainTeed offers a comprehensive line of insulation products and equipment, including time-tested and trusted fiberglass insulation, fiberglass blow-in insulation, polyurethane spray foam, innovative vapor barrier technology, HVAC products as well as insulation blowing and foam application equipment. All of CertainTeed's insulation products can help building professionals qualify toward credits for the Leadership in Energy and Environmental Design (LEED®) through the U.S. Green Building Council. For more information, visit www.certainteed.com/insulation.
About CertainTeed: Through the responsible development of innovative and sustainable building products, CertainTeed, headquartered in Malvern, Pennsylvania, has helped shape the building products industry for more than 110 years. Founded in 1904 as General Roofing Manufacturing Company, the firm's slogan "Quality Made Certain, Satisfaction Guaranteed," quickly inspired the name CertainTeed. Today, CertainTeed® is a leading North American brand of exterior and interior building products, including roofing, siding, fence, decking, railing, trim, insulation, gypsum and ceilings. A subsidiary of Saint-Gobain, one of the world's largest and oldest building products companies, CertainTeed and its affiliates have more than 5,700 employees and more than 60 manufacturing facilities throughout the United States and Canada. The group had total sales of approximately $3.3 billion in 2015. www.certainteed.com
Contact Details
Name: Victoria Gallagher
Email: Email Us
Phone No: (610) 893-6002
Disqus website name not provided.
Be the Hero: Help Customers Choose the Right Product for Their Home with the Insulation Selector Tool by CertainTeed