Applications Made Easier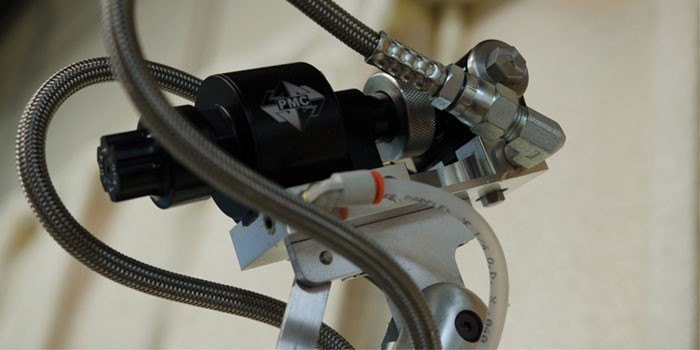 Let's be frank: Equipment innovation is paramount for the constant improvement and growth of the spray polyurethane foam industry. Although applying spray foam can become a systematic process for those who have been around the block for a few years, there's always room to streamline the process through innovation. Efficiency is what drives business success no matter what segment one is in. Innovation for job efficiency requires looking at the details: What are the materials? What are the tolerances of the parts? Where do you balance the cost of the part versus its longevity? Contractors and manufacturers are conscious of what they pay for equipment and parts because everything they can save without sacrificing quality and productivity goes straight to the bottom line.
For just over a year now, there has been a tool available in the market that has certainly added value to SPF contractors: The AP-EX Spray Foam System (AP-EX). Manufactured by Polyurethane Machinery Corporation (PMC), the AP-EX literally gives the applicator the ability to extend his reach with his spray gun, increasing efficiency on the job. Let's take a closer look at what exactly that means for the contractor.
TIME-SAVING
Finding ways to save time on the job is a major boost for productivity. PMC assures you—the end user—that by using the AP-EX versus a hand-held gun, the applicator can save a minimum of 30 percent application time on a residential 10-foot wall. The reason for that is that the AP-EX eliminates the need for ladders, scaffolding, and stilts to get to those hard-to-reach areas.
QUALITY AND EASE OF APPLICATION
Innovation and efficiency cannot diminish the quality of the installation. That's why the AP-EX puts the mixing chamber and nozzle three feet away from the operator, which increases the quality of application because the foam can be applied at the correct distance and angle to the substrate in difficult-to-access-areas, such as rim joists and crawl spaces.
SAFETY
Safety is always at the top of consideration for equipment manufacturers, so any additions or modifications to equipment that can improve operator safety are either built into existing equipment or are new innovations on their own.
The AP-EX is a good example of this. It eliminates the use of ladders and scaffolding for residential 10-foot walls and also increases the distance of the nozzle from the operator so the foam only gets on the substrate and not on the lens or coveralls of the sprayer.
Bearing these benefits in mind, it's no wonder the AP-EX has received so much acclaim from members of the industry across the board. Here's what some of them had to say:
"It's [AP-EX Extended Reach Spray System] a good, handy spray gun. I use it to spray 12-foot ceilings as opposed to climbing on scaffolding. If someone falls from a scaffold, they're going to get hurt, so using the AP-EX is much safer. I like the fact that it can turn 45 to 90 degrees, so I have used it for sharp pitches in attic and crawl spaces. I wouldn't have been able to reach those areas without it. You're only as good as your tools, and it's the right tool for high and tight places." – Dell Schneider, Manitow Insulation
"My spray foam applicators like it [AP-EX Extended Reach Spray System] because they don't have to get up on scaffolding and ladders. It saves time and energy for my crew because they don't have to constantly climb up and down. This makes it much safer too. We're able to get to those hard-to-reach places while foaming walls and other structures." – Mark Estrada, Ameriseal & Restoration, LLC
"An AP-EX goes in every rig we quote- it is an essential tool for the spray foam contractor." – Dave Penta, SprayWorks Equipment Group (PMC Distributor) •
Contact Polyurethane Machinery Corporation Direct any questions about using the AP-EX Spray Foam System to PMC (Phone: 732-415-4400 // Website: www.polymacusa.com)

*Spray Foam Magazine does not take editorial positions on particular issues; individual contributions to the magazine express the opinions of discrete authors unless explicitly labeled or otherwise stated. The inclusion of a particular piece in the magazine does not mean that individual staff members or editors concur with the editorial positions represented therein.

Contact Details
Name:
Email: Email Us
Phone No: 732-415-4400
Disqus website name not provided.