Among Mythical Creatures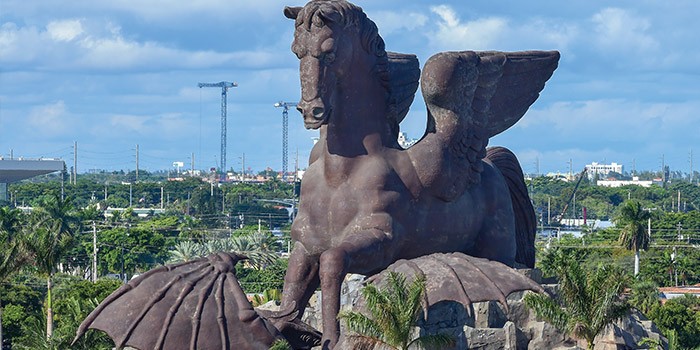 HALLANDALE BEACH, FL – June 29, 2018 – When you think of South Florida, things like heat, sandy beaches, palm trees, and tropical island drinks directly come to mind—gigantic creatures of a mythical plane combatting each other, on the other hand, usually do not. Notwithstanding, they are there.
If you're driving through Miami and Fort Lauderdale and happen to want to try your chance at the world-famous horse racetrack in Gulfstream Park, that's where you'll see it: A gargantuan monument that will no doubt merit a double take. A 100-foot tall statue made up of tons upon tons of bronze and steel of a mythical winged, divine stallion known as a pegasus fighting a fire-breathing dragon. It is the second tallest statue in the United States after New York's Statue of Liberty, and the third tallest in U.S. territories after the Birth of the New World, located in Puerto Rico. The symbolism of the statue is the impact on civilization that horses have made through the ages, so it's not accidental that the statue was erected next to one of the most important horse racing venues in the country.
| | |
| --- | --- |
| | |
The insulation application was tasked to Therma Seal Insulation Systems, who brought a truck-mounted rig and a four-man crew on site. Four inches of Icynene's ProSeal closed-cell spray foam were installed to the metal decking inside the dome
Underneath this epic battle of a statue is a rock formation supported by a domed building consisted of structural steel and metal decking that sits on a 12-foot circular concrete wall. This 5,600 square-foot dome will be home to an entertainment center that includes a 5D movie theater, carousel and pony rides, musical fountains, and at night, a special light show that will feature LED lighting and fire being exhaled by the dragon. Before any of this took place, the operators of Gulfstream Park wanted to make sure the domed building remained a comfortable environment within this conditioned space and turned to closed-cell spray foam insulation to ensure this result.
"When the areas that you're spraying on present curvatures where it's wider at the bottom and narrow at the top, applying insulation can be tricky, but spray polyurethane foam is flexible and can be installed seamlessly to such curvatures," says Brian Sharp, president of the Fireproofing/Firestopping Division at Therma Seal Insulation Systems, Inc., the contracting company that was brought onboard for the insulation installation. "It also ensures that the structure is optimally insulated and air sealed so that it performs perfectly throughout the mostly warm Floridian seasons."
At night, the statue is lit up with different colors and a musical fountain show to go along with it.
While working in concert with Gulfstream Park's management, engineers, and architects, Therma Seal recommended the use of Icynene ProSeal closed-cell spray foam insulation. The reason for its use was that the architect's specifications called for an R-30 insulating value, and ProSeal is a high-performance material that is a Class II vapor retarder at a 1.5-inch thickness and provides an R-value of R-7.1 per inch. Therma Seal sent a four-man crew onsite to install 4.25 inches of foam between the steel rafters of the entire 5,600 square-foot structure to achieve the R-30. Prior to the application, the crew used plastic sheeting to protect the 12-foot wall onto which the steel structure had been built. The Therma Seal crew then suited up in Tyveks, sand wore gloves, boots, full-face respirators, and tied-off safety harnesses for fall protection during the application. They moved through the project while working on an all-terrain man lift, which enabled them to reach heights of up to 40 feet while spray-applying the foam to the curved, galvanized, fluted metal decking.
Then came the thermal barrier application for which Therma Seal brought in a different four-man crew and utilized Carboline fireproofing products. First, the Therma Seal crew primed the foam with Carboline's Pyroprime 775 WB with a fireproofing pump to provide adhesion for the following protective coating. The crew then applied one inch of Pyrocrete 239, a medium-density cementitious fireproofing coating over the foam. Aside from achieving a thermal barrier, the Pyrocrete product added sound attenuation value to the building.
"With this system in place, you won't be able to hear the roar of the dragon or be afflicted by his fire breath," quips Sharp.
It took two weeks to complete the SPF and thermal barrier applications. Now that the dome has been insulated, folks will be able to eventually access the area below the Pegasus and Dragon and see what it is like to be beneath mythical creatures in the most comfortable of settings.
For more information, please visit www.thermaseal.net and www.icynene-lapolla.com.
Disqus website name not provided.