SprayWorks Equipment Company Launches New Store
SprayWorks Equipment Company Launches New Store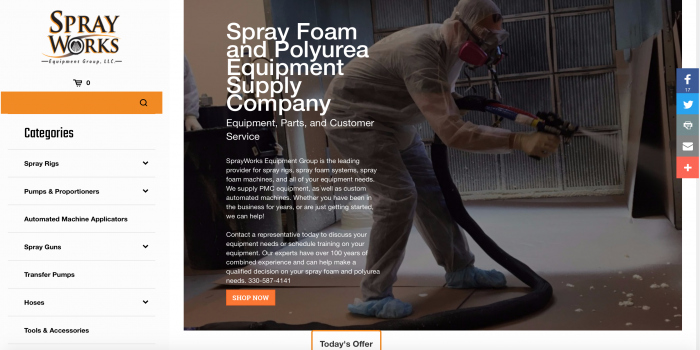 Canton, OH
– July 3, 2017 – SprayWorks Equipment Group has launched a new online store. Complete with a fully responsive website to help with consistency between different devices and a fully searchable mobile view. In addition to the new store, SprayWorks is also offering special discounts to celebrate.
Some of the store's features include:
Responsive Website: creates consistency between devices
Searchable: full search on all devices (mobile, tablet, desktop, etc.), in addition to a more detailed search, allowing you to narrow down products by category, manufacturer, and more
New Payment Options: PayPal is now available - along with AMEX, Discover, VISA, MasterCard
Simpler Design: We've made the store easier to navigate and find the equipment and parts you need
Today's Offer: a new tab at the bottom of each page to easily see the daily discounts and specials
About SprayWorks Equipment Group
SprayWorks Equipment Group is a spray foam and polyurea company; supplying equipment, training, mobile rigs, and parts – and the #1 distributor for PMC equipment. With nearly 100 years of combined experience, SprayWorks has knowledge in commercial and residential buildings, bridges, and infrastructure. SprayWorks provides training and education for new contractors and equipment operators; open cell, closed cell, polyurea & coating applications for interior & exterior building envelope design, waterproofing, below grade, bridge deck, barge, secondary containment all types of roofs and structures. For more information, visit Store.SprayWorksEquipment.com or YouTube. Call 330-587-4141.

Contact Details
Name: Jennifer Davidson
Email: Email Us
Phone No: 614.454.1981
---
Disqus website name not provided.
SprayWorks Equipment Company Launches New Store